Easy-to-use and multifunctional uninstall support software with an excellent user interface
Ashampoo UnInstaller Is a German software vendor Ashampoo GmbH & Co. KG It is an uninstall support software developed by the company, and it also implements tools such as application uninstall, Windows application uninstall, browser cleaner, file deletion, and startup management.
Ashampoo UnInstaller has a free version of the old version with limited functions and a paid version of the latest version, and the paid version version 12 hides the advertisement displayed in the free version, and also from the automatic monitoring and installation log of the installation You can use functions such as uninstalling and uninstalling multiple apps at once.
System requirements
Free version 9 as of
Paid version 12. 0 Currently
OS: Windows 7/8/10/11
Where to get the software
Ashampoo Uninstaller Free Official Website Download Page
Install Ashampoo Uninstaller Free
The Ashampoo Uninstaller Free installer does not include adware or spyware.

Click "Free download" on the download page to download the installer.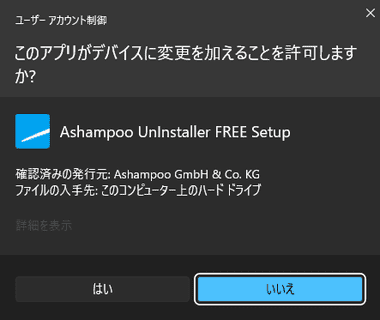 Launch the downloaded installer, and when the User Account Control dialog is displayed, click "Yes" to allow it.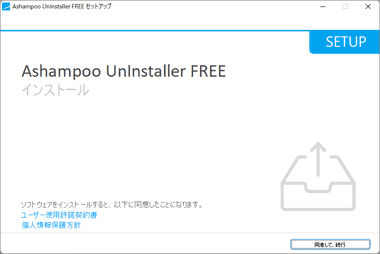 If there are no problems with the license agreement / privacy policy, click "Agree and continue".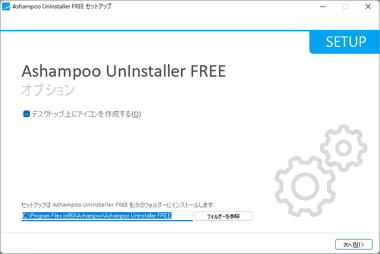 If you are not particular about the installation destination, the default setting is "Next".
If desktop shortcut icon creation is enabled, a shortcut icon for Ashampoo Uninstaller as well as Ashampoo Deals A link to the Ashampoo purchase page is created.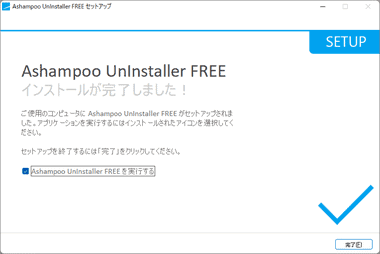 Setup is completed with "Complete".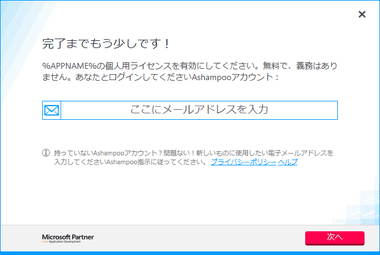 Since you need to create an Ashampoo account, enter your email address and click "Next".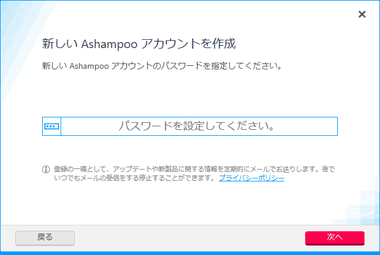 Set a password.
The password must be XNUMX or more characters, which is a mixture of letters and numbers, and can use umlauts, special characters, and uppercase / lowercase letters.

To the registered email address AshampooA confirmation email will be sent from, so click "Click here to confirm" in the text.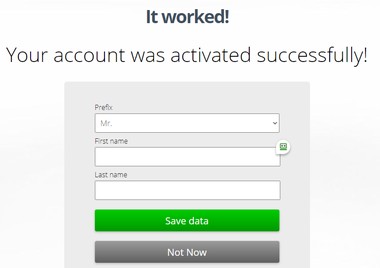 When the account is registered, the name input screen is displayed, but there is no problem with skipping with "Not Now" and closing the browser.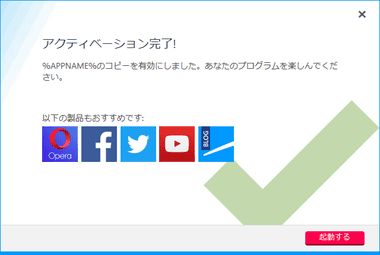 When you return to Ashampoo Uninstaller, it is activated and you can use it by clicking "Launch".
How to use Ashampoo Uninstaller Free
Ashampoo Uninstaller Application-Installation-Windows app-tool There is a menu of.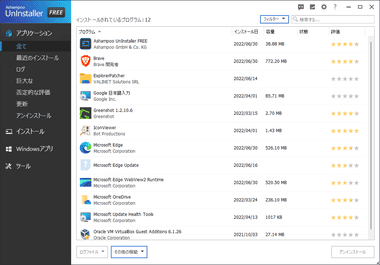 Select the menu from the left sidebar.
Application
Application Is a module that detects and removes any remaining unwanted program data or registries after running the uninstaller implemented by your app or the standard Windows uninstaller. ..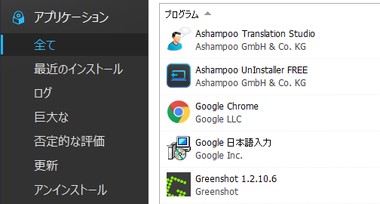 Of the submenu all Select to display a list of installed apps.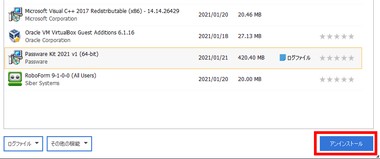 Select the app you want to uninstall and click "Uninstall".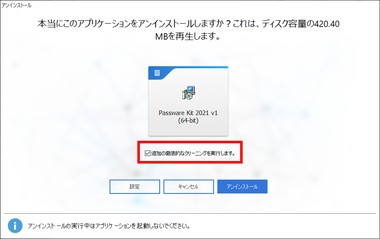 Perform additional thorough cleaning.Check the box and click "Uninstall".
Perform additional thorough cleaning.If is disabled, you just run the uninstaller implemented by the app or the standard Windows uninstaller, leaving junk files.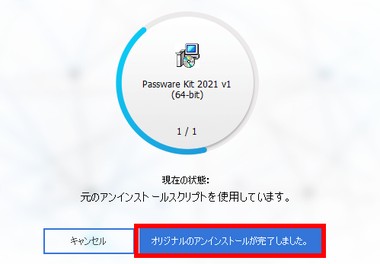 After running the original uninstaller, click "Original uninstall is complete."
Perform additional thorough cleaning..If you have disabled or enabled but there are no remaining files, click "Original uninstall completed." To complete the process.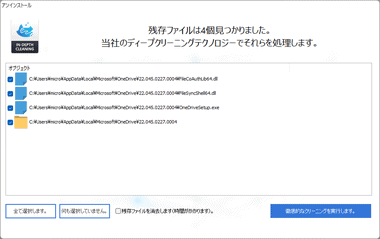 Select the objects found by Deep Cleaning Technology and perform the deletion with "Perform additional thorough cleaning."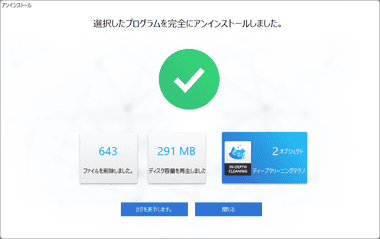 After deleting the remaining files, the contents of the uninstallation will be displayed, so click "Close" to finish.
Submenu
In the submenu, you can check the categorization of apps and the evaluation of apps.
Recent installation
Apps installed in the last month.
log
The app where the installation log is saved.
Huge
Apps that are over 100MB in size.
Negative evaluation
The app is evaluated based on the data collected by the Ashampoo Uninstaller community (many potential threats / defects, etc.) and can be used as a guide for uninstalling.
NEW
You can uninstall updates installed by Windows Update.
Uninstall
The log of apps that have been uninstalled using Ashampoo Uninstaller is displayed, and apps that were deleted only by the original uninstaller can be added or removed using deep cleaning technology.

App deleted only by the original uninstaller Thorough cleaning Item is blank.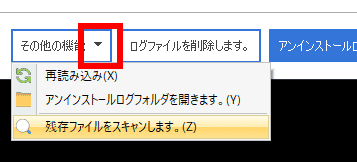 Select an app Other features From the list of Scan for residual files.Deep cleaning is performed on.
Installation
Installation Is a module that monitors the installation of apps and records added objects, and can be uninstalled based on log files, so it can be removed more reliably than uninstalling using deep cleaning technology.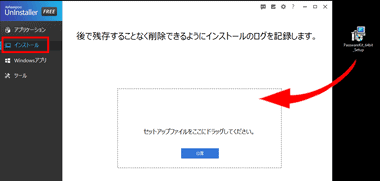 Drag the app's installer to Ashampoo Uninstaller or click Location to specify the installer.
The app installer will start, so install it as usual.

When the installation is complete, click "Installation is complete."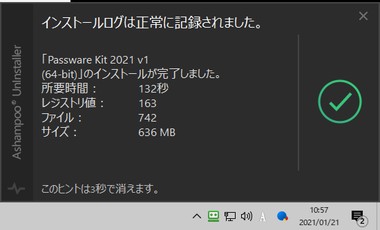 The installation log is saved.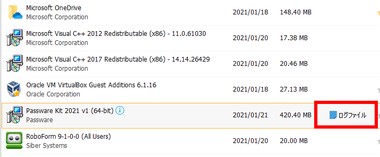 For apps that have installation logs saved by Ashampoo Uninstaller Status In the item of logfile Is displayed and the log file is used when uninstalling.
Windows app
Windows app Allows you to uninstall apps that are pre-installed on Windows 10/11 or that you have installed from the Microsoft Store.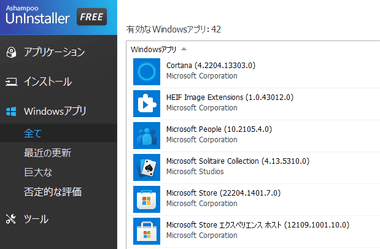 Cortana , Microsoft People Some apps that cannot normally be deleted, such asApplication It can be uninstalled by the same procedure as.
tool
tool Then. Delete internet cache and history-Delete files -Startup management-File association And so on.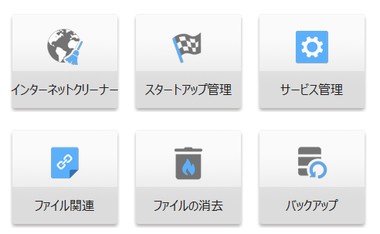 Select the tool you want to use and run it.
Internet cleaner
Delete all caches, cookies, and history stored by your web browser.
Startup tuner
You can manage apps that run automatically when Windows starts.
Service management
Same as "Services" included in Windows administration tools, but Ashampoo Uninstaller keeps the change history and can be restored from "Backup".
File operations
You can check and edit the apps associated with the file extension.
File erasure
Completely erase objects added by dragging so that they cannot be recovered by the restore app.
backup
Startup Tuner ・ Service Management ・ You can check / restore the changes made by file operation.
How to use Ashampoo Uninstaller 12
Paid Ashampoo Uninstaller 12 is limited by the free version Automatic installation monitoring , Remove browser plugin,Creating a system restore In addition, there are many utility tools such as apps that affect the performance of the PC, registry optimization, and unlocking of files used in the process.
Ashampoo Uninstaller 12 download page
Ashampoo Uninstaller 12 cannot be upgraded from Ashampoo Uninstaller Free, so it needs to be installed separately.
Click "Download" on the download page to download and install the installer.
Once the installation is complete, a 10-day trial period will begin.
When Ashampoo Uninstaller 12 is started, the number of remaining days in the trial period is displayed.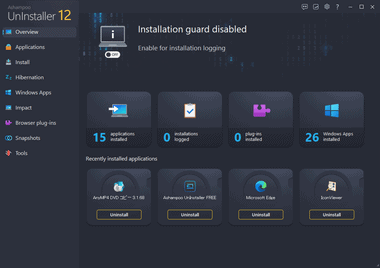 Ashampoo Uninstaller 12 starts.
Features added to the paid version
-Automatic monitoring of new installations
-Addition of context menu (right-click menu)
・ Uninstall multiple apps at once
-Create a "system restore point" when uninstalling
・ Display of apps that affect performance
-Remove browser plug-in
-Create installation log from snapshot
・ Drive cleaner
・ Registry optimization
-Restore deleted files
-Registry fragmentation
· Unlock files used in the process
Automatic monitoring of new installations
Enabling automatic installation monitoring records installed files and allows thorough uninstallation.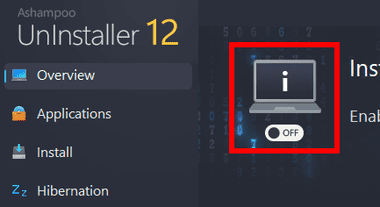 Automatic installation monitoring Overview Enable with.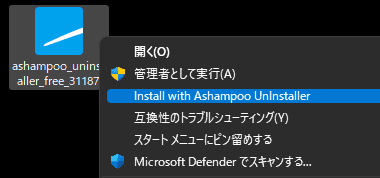 If Ashampoo Uninstaller doesn't start when you install the app, select the installer from the context menu Install with Ashampoo UninstallerSelect or click the Ashampoo Uninstaller icon in the task tray and drag the installer onto the screen that appears.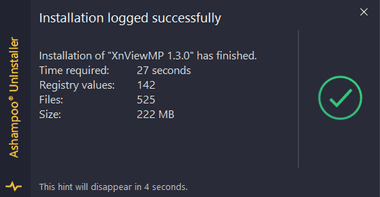 The log will be displayed when the installation is complete.
Shred File/Folder
You can also permanently wipe files, folders, etc. from the context menu so that they cannot be recovered.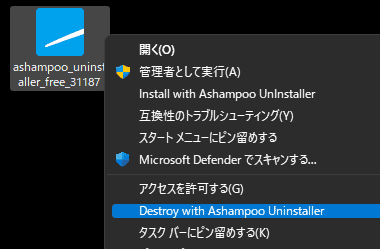 After selecting the item to shred, in the context menu Destroy with Ashampoo UninstallerCan be executed from.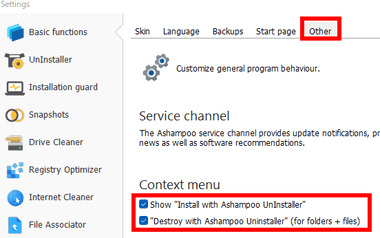 To show/hide the context menu, open the setting screen from the setting icon on the title bar, Basic functions Of Other Edit with tabs.
Uninstall
Uninstalling the program Select multiple apps and delete them all at once it can.
Uninstall apps on your desktop Drag and drop uninstall Drag it onto the icon to launch Ashampoo Uninstaller 12 and start uninstalling.
Applications to uninstall can be checked and multiple selection is possible, select the program to uninstall and click "Uninstall".

Perform additional in-depath cleaning (Perform Thorough Cleaning) is enabled by default, so before uninstalling System restore point If you want to create Create a system restore point before uninstalling Enable and run with "Uninstall".
snap shot
If you install an app whose installation cannot be monitored,snap shotCan be created to create an installation log.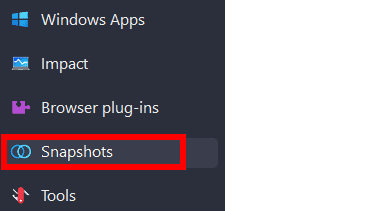 From the left sidebar Snapshots and click "Wizard".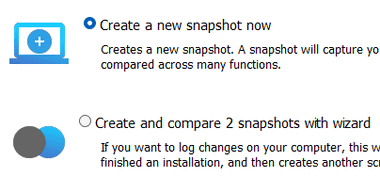 When creating a new snapshot Create a new snapshot now, If you want to install the app Create and compare 2 snapshots with wizard choose.
How to Buy and Activate Ashampoo Uninstaller 12
Ashampoo Uninstaller 12 is only a one-time purchase type, and minor version upgrades are free.
Ashampoo Uninstaller 12 page Click "Buy now" from
Payment method is credit card and Paypal Payments are handled by Cleverbridge, a German payment agency.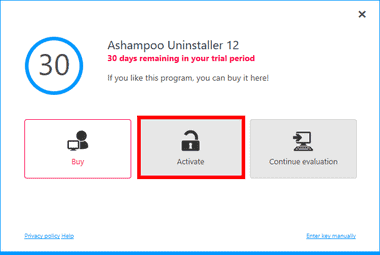 Click "Activate" from the dialog displayed when Ashampoo UnInstaller 12 is started.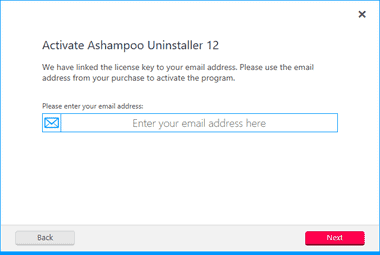 Enter the email address you registered at the time of payment and click "Next".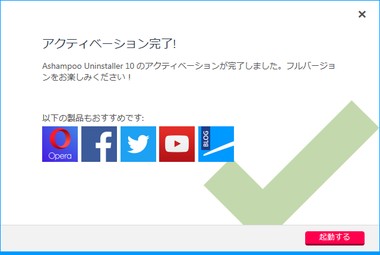 Activation is complete.
Related article
Geek Uninstaller is a free uninstall support app that allows you to uninstall Windows store apps. Geek Uninstaller is a program development support software developed by Thomas Koen […]