Kindle / Kobo and ACSM formatAn open source ebook management app that can also remove DRM from ebooks
Caliber - ebook management Is india Kovid GoyalMore He is developing an open source ebook management app that allows you to organize, browse, search, and convert ebooks, and by installing a plug-in, you can use Amazon Kindle, Kobo, and Google Play Books & Manga. You can also remove DRM from ACSM format ebooks that use Adobe's DRM.
System requirements
Version 6 as of
OS: Windows 10/11 (64bit only)
The programming language is version 5 Python 3 Changed to the application framework in version 6 QT6 Since it has been migrated to, plugins that have not been updated will not be available at the time of major update.
Where to get the software
Caliber Official Download Page
Caliber installation
Caliber's installer does not include adware or spyware.

Download Caliber Click the link to download the installer.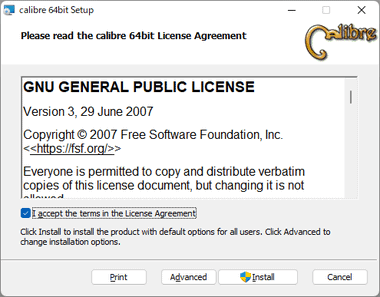 Start the downloaded installer, and if there is no problem with the license agreement I accept the terms in the License Agreement Check "Install".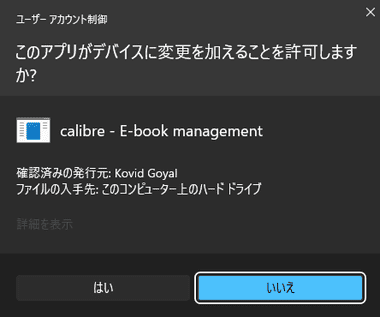 When the User Account Control dialog is displayed, click "Yes" to allow.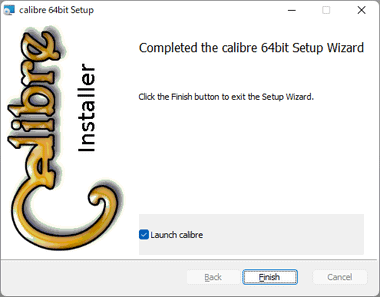 Setup is completed with "Finish".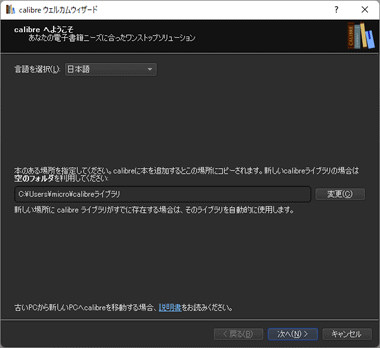 Caliber starts and the initial setup begins.
When you add an ebook, the files will be copied into the Caliber folder and created into a database.Library Pay attention to the disk capacity of the save destination.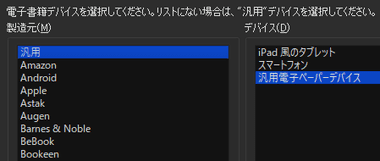 Ebook devices Manufacturer The General purpose ,device The General purpose electronic paper device Set to.
Setup is completed with "Complete".
Installation of DRM removal plugin
Amazon Kindle と Rakuten Kobo, Using Adobe's DRM ACSM format E-books can be read/edited with Caliber by removing the DRM by adding a separate plug-in.
Article 30 of the Copyright Law Reproduction for private use で Avoiding technical safeguards is prohibited, so removing DRM is illegal.
GitHub DeDRM tools download page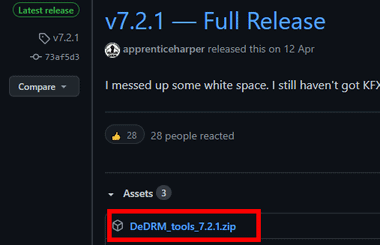 The latest version from GitHub DeDRM tools download.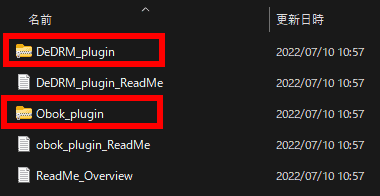 Unzip the downloaded Zip file and put it in the folder DeDRM_plugin-Obok_plugin Confirm that there is.

From Caliber's tool icon Configuration Click

Advanced settings It is in Plugin Click

" Load plugin from file ' Click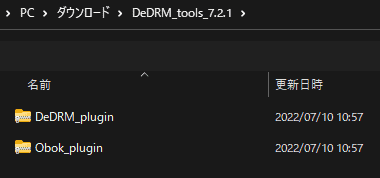 Unzipped Kindle DeRM DeDRM_tools In the folder DeDRM_Plugin Specify.

A security risk warning will appear, so "Yes".

Installation of the DeDRM plugin is complete.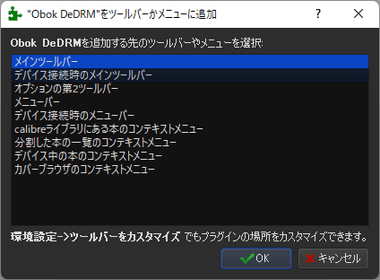 Follow the same procedure for the DRM removal plugin for Kobo Obok_Plugin After selecting, when the dialog to add to is displayed Main toolbar Specify and click "OK".

Installation of the DRM removal plugin for Kobo is complete.
Click Apply to close the settings screen and click Caliber Reboot And activate the plugin.
Install KFX I / O plugin
.kfx The files are a new type of ebook format used by Kindle, and Caliber isn't supported by default, so install more if needed.

Configuration Of Plugin Click "Get New Plugin" from.

Narrow down by name で kfx Search forKFX input/ KFX Output Is detected, click the "Install" button to install.
Kindle installation
If you want to remove DRM on your Kindle with Caliber Amazon Kindle for PC Install and remove DRM Download the title.
Amazon Kindle for PC Installation and Downgrade Procedure Amazon Kindle for PC is a Kindle app for PCs provided by Amazon that you can purchase on your Kindle […].
Install Rakuten Kobo
Rakuten kobo also installs a desktop app.
Change the save destination of the library
Save the library from the tool icon Caliber library Can be changed from.

Of the tool icon Caliber library When you select , a dialog opens, so specify the save destination in "New location".
How to use Caliber
Caliber is an ebook sort out-Browse-Search Products-conversion-Print In addition, it also implements a function to access from other devices on the network as a content server, and since version 4, vertical writing can be displayed, and the current version (0) can display right-bound books.
Supported file formats
azw, book, djv, doc, epub, fb2, htm, ibook, imp, kepub, kfx, mobi, odt, pdf, rar, txt, xps, zip etc.
Add a book
You can import ebooks from folders into Caliber all at once.

When adding books one by one Add book Click the icon.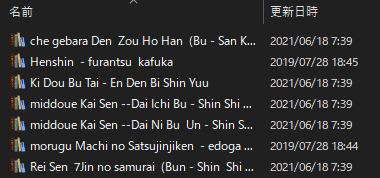 Select a file (multiple selections are possible) and click "Open" to add it.

If you want to add all the files in the folder Add book From the drop-down list Add from folders and subfolders choose.

A dialog will be displayed Select "No" to import all the ebooks in the folder.
display
Caliber's e-book viewer has been improved in version 4.00 and can now display vertical books, but some books such as comics may not be displayed correctly.
Caliber's eBook viewer allows you to select the ebook you want to view and use the tool icon. display Click or double-click the eBook to open it.
Vertical writing is displayed after version 4.00.
Full-text search
Starting with version 6.0, Caliber allows full-text search of books.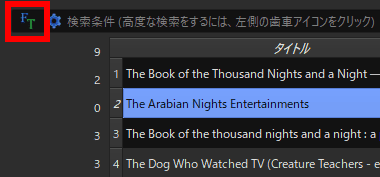 Full-text search requires indexing, so in the search bar FT Click the icon.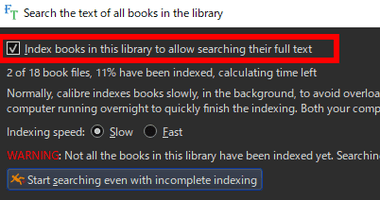 Index books in this library to allow search in their full text Enable and click "Start searching even with incomplete indexing".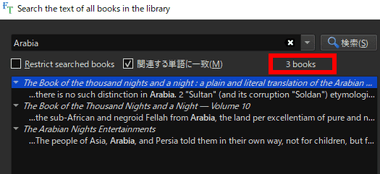 If you enter a keyword and search, books containing the search word will be hit.

If you add a book to your library, rebuild the index from "Show indexing status".
conversion
conversion Is an encoding feature that converts files added to Caliber to another file format, and can only convert files that can be viewed in the viewer.

To perform the conversion Select the book you want to convert and then select the icon menu. Convert book choose.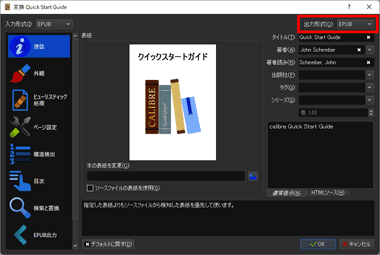 In the upper right Output format If you want to select a file format from the list and change the resolution of the output format Page setup Of Output profile Edit with and click "OK" to start the conversion process.
If the source is an ebook, meta information such as title and author will be read automatically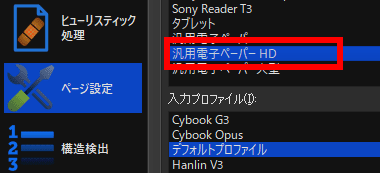 conversion The default setting for is a resolution of 525 x 640 px General-purpose electronic paper BecausePage setup Output profile with General-purpose electronic paper HD By changing to, the image quality equivalent to that of the source can be maintained.
If you want to change the default settings, Environmental setting から Conversion settings Of Common options Select andPage setup Output profile of General-purpose electronic paper HD change to.
Amazon Kindle
If you want to convert Amazon Kindle ebooks, download Kindle books to your PC.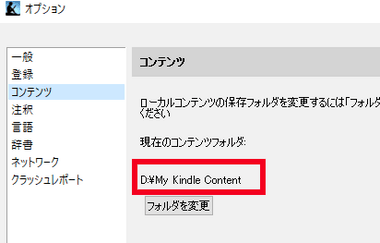 Open Amazon Kindle for PC and go to the menu bar tool It is in Options Of content Check the Kindle download destination with.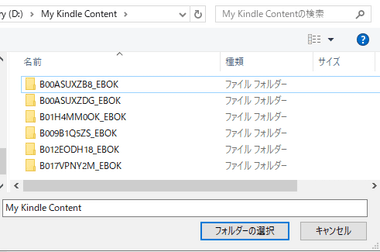 Start Caliber,Add a book で My Kindle Content Select a folder or a file in a folder to import,Convert book Convert to e-PUB etc.
Rakuten Kobo
When converting Rakuten Kobo ebooks Rakuten Kobo Desktop Download the title at.

Added to Caliber's menu Obok DeDRM Click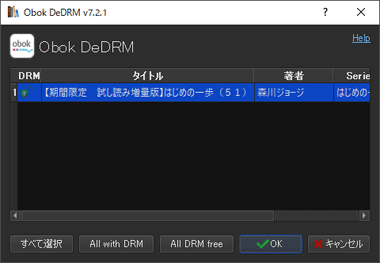 The titles added to the library will be displayed, so select the title you want to convert and then click "OK".

The DRM of the selected title is removed, converted to ePUB, and then added to Caliber.
Google Play Books & Manga
Ebooks that use Adobe's DRM, such as Google Play Books & Manga,Adobe Digital Editions Install on your computer to remove DRM Download the title.
Adobe Digital Editions download page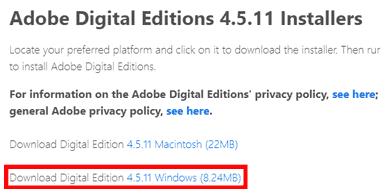 Download the Adobe Digital Editions installer from the download page and install it on your computer.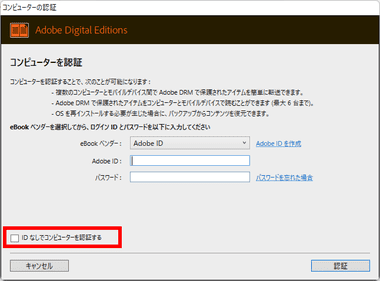 Because the authentication of the personal computer to be used is required,HELP Of Authenticate computer Use your Adobe ID orAuthenticate computer without ID Check the box and click "Authentication".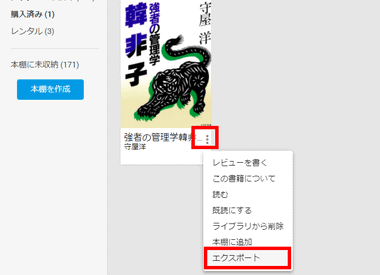 After purchasing a book on Google Play Books & Manga, from the 3 book reader export choose.

Protected titles will display a dialog, soExport in ACSM format (for EPUB) Click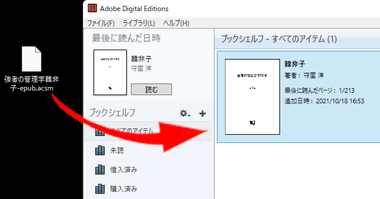 downloaded ACSM Drop the file into Adobe Digital Editions or in the menu bar File It is inAdd to library Download the e-book when you import it with.

Launch Caliber and use the Adobe Digital Editions library My Digital Editions Ebooks in the folder conversion To do.
Export conversion file
Caliber Save to disk You can output the file to the directory specified in, but since the metadata file and cover image file are also output, drag the title directly to the desktop.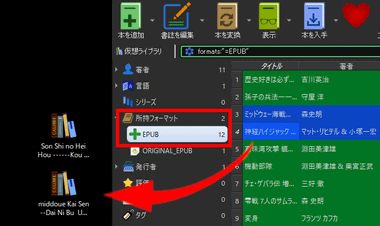 On the left sidebar Possession formatAfter selecting the file format with, drag the title you want to export out of Caliber to copy the file.
update
Caliber checks for updates at startup, and when it detects an update for Caliber itself or a plug-in, it's displayed at the bottom of the home screen.

To update, click the displayed link.
If you select "Get Update" for Caliber update and "Update Plug-in" for plug-in update, Caliber will open the download page. Download the installer and install it by overwriting. Plugin update Install from the screen.
Related article

Kinoppy for Windows, an e-book app that allows you to synchronize and share libraries between devices, is an e-book reader developed by domestic software vendor INFOCITY and released by Kinokuniya Bookstore.