DVDFab's strongest ripping / copying app with DVD / Blu-ray deprotection function
DVDFab All-in-One Is a Chinese software vendor DVDFab SoftwareA ripping integrated software developed by (formerly Fengtao Software) that implements the copy protection release function for DVD / Blu-ray / UHD Blu-ray, enabling copy, ripping, encoding, and authoring.
Illegality
Although the Japanese copyright law permits reproduction for private use, Avoiding technical safeguards is prohibited, even for personal use, it is a violation of copyright law to reproduce content protected by electronic, magnetic or other imperceptible methods.
Copyright law and illegal activities
System requirements
Version 12. 1 Currently
OS: Windows 7/8/10/11
CPU: Intel Core 2 Quad compatible 2 GHz or higher
RAM: 512 MB (2GB or more)
HDD: 20 GB or more free space
The following specifications are required when using 4K UHD BD
OS: Windows 7/8/10/11 (64-bit only)
RAM: 4 GB or more
HDD: 200 GB or more free space
Where to get the software
DVDFab 12 All-in-One Installation
The DVDFab 12 installer does not include adware or spyware.
Click the "Download" button on the download page to download the installer.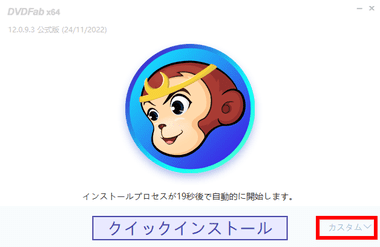 Launch the downloaded installer and when the setup wizard opens Custom Click

If there is no problem with the license agreement, click "Quick Install" to install.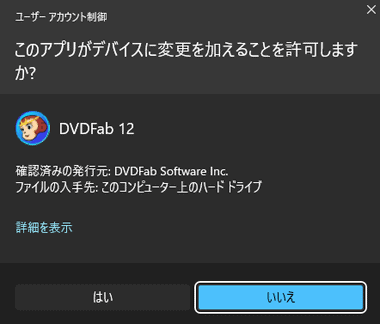 When the User Account Control dialog is displayed, click "Yes" to allow.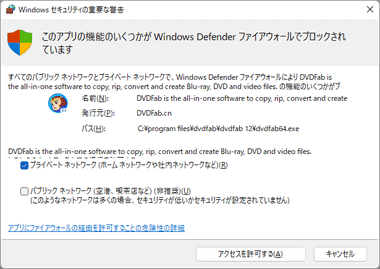 "Allow access" if blocked by Windows Defender's firewall.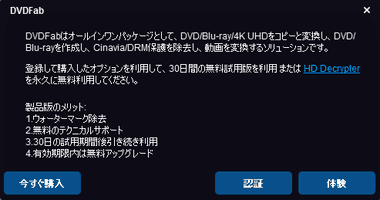 When the dialog is displayed, select "Experience".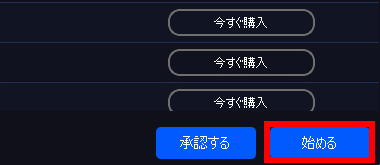 The license status is displayed, so "Experience".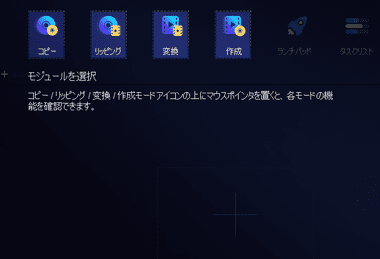 When you start up for the first time, the navigator will be displayed, so follow the guidance and select the module.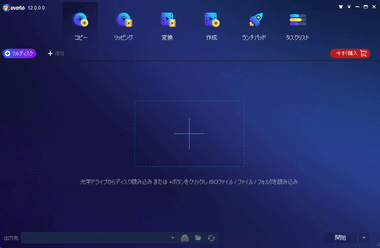 When the main screen is displayed, you are ready to use.
Change skin
DVDFab skins can be changed to dark mode or light mode.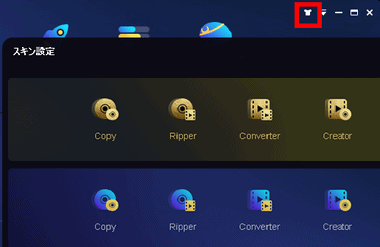 To change the skin, click the T-shirt icon in the control box at the top right of the main window and select the desired skin.
DVDFab Mini
DVDFab Mini Is the main feature of DVDFab 12 Copy と Ripping This is a standalone app that is installed at the same time as DVDFab 12 and works standalone.
General settings
Check the destination of temporary files and the settings of the user experience program.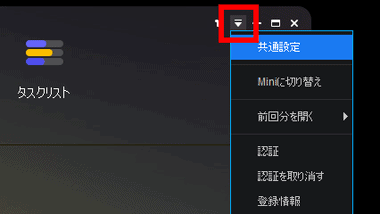 Click ▼ at the top right of the main screen from the menu Common setting choose.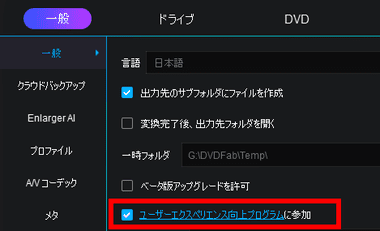 At the time of installation User experience program If you disableParticipate in user experience improvement programCheck if is unchecked, and if it is enabled, uncheck it to disable it.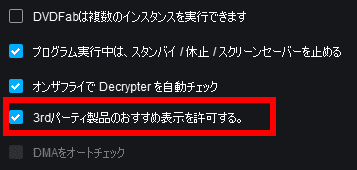 Allow 3rd party product recommendations To disable.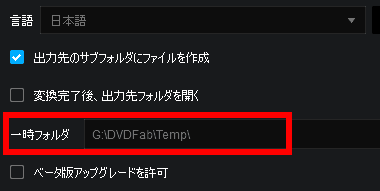 Temporary folder To a drive with sufficient disk space.
Automatic update program
When you install DVDFab 12 DVDFab update (LiveUpdate) Startup It is registered in, automatically starts when the PC starts, operates in the background, and displays a dialog when an update is detected.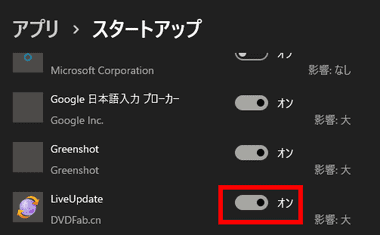 Checking for updates is also performed when DVDFab starts, soConfiguration Of App or Application or Sakurabook App から StartupOpen live update Is disabled.
How to use DVDFab 12 All-in-One
DVDFab 12 All-in-One has all the features of DVDFab, including DVD / Blu-ray / UHD Blu-ray copying and ripping, encoding to convert video files, and authoring to create original DVD / BD.
When you start DVDFab 12 and insert the disc into the Blu-ray / DVD drive, it will automatically analyze the disc and execute the capture, which will be displayed in the main menu.
Copy module
What is registered in copy mode DVD copy -Blu-ray copy -UHD copy -Blu-ray to DVD converter -DVD to Blu-ray Converter-UHD Blu-ray conversion 6 features.
Full disk-Main movie -Customization -segmentation -Combine-Clone writing The DVD copy -Blu-ray copy -UHD copy It is automatically recognized by the media used in the common menu of.
Copy
DVDFab Copy is the most popular single item for DVD / Blu-ray / UHD Blu-ray Output in folder format-Output as an ISO image file-Writing to blank media Full disk, main movie, split, combine, and custom are available as copy types.
Media conversion
Blu-ray to DVD converter -DVD to Blu-ray Converter-UHD Blu-ray conversionIs an authoring function that converts media.
Ripping module
Ripping outputs DVD, Blu-ray, and UHD Blu-ray contents as video files.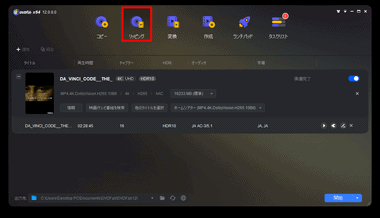 Supported video formats include MP264 and MKV that use H.4 / AVC as the video codec, as well as M2TS / FLV / AVI / TS / VOB / WMV, and the latest video codec H.265 can also be used.
Conversion (encoding) module
conversion Can perform encoding processing to convert video files to other formats, and can be encoded simply by selecting the prepared profile.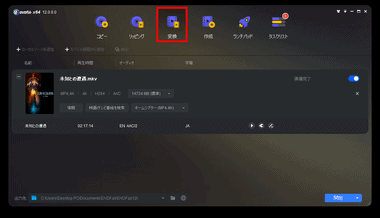 The operation screen is Ripping As with the above, if you have specialized knowledge, you can change the codec, bit rate, frame rate, encoding method, etc. that you are using.
Cinavia removal module
Copy -Ripping -conversion Copy guard that embeds a watermark (digital watermark) in the voice when using the module Cinavia Cinavia is automatically removed when (Cinavia) is detected.
Create (authoring) module
Create Can author DVDs, Blu-rays, and UHD Blu-rays, and can create any media from video files.
DVD burning と Blu-ray creation Supports major video formats, UHD creation Can only select file formats that are compatible with UHD.
Launchpad
Launchpad Is the launcher of each module implemented by DVDFab 12, and when you click the work you want to do, the desired module opens.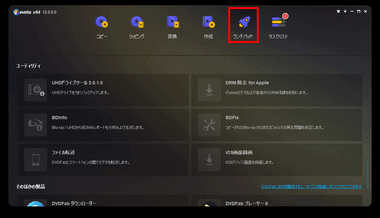 File transfer
A tool that allows you to send video files from your computer to mobile devices in the same network or import video files from your mobile device to your computer by installing a dedicated app on your Android or iOS device.
UHD drive tool
Required when ripping 4K UHD Blu-ray UHD Friendly drive With the firmware downgrade tool, you can complete the firmware downgrade with just a few clicks.
Enlager AI
DVDFab Enlarger AI uses TensorFlow, a software that supports deep learning released as an open source by Google, with artificial intelligence. SD image quality to full HD image quality,Full HD quality to 4K quality An additional module that performs upscaling to.
DVDFab All-in-One Purchase Procedure
DVDFab All-in-One is available only in the "Permanent Edition", which has no license expiration date and can be permanently updated, and there is no subscription version.
DVDFab All-in-One Purchase Page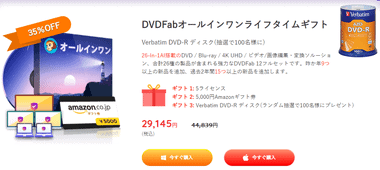 Latest sale information and how to buySee the page below
Related article