by deep learning Easy upscaling and sharpening
DVDFab Photo Editor AI ( Photo Enhancer AI ) is a Chinese software vendor DVDFab Software(Formerly Fengtao Software) is a photo quality enhancement module using artificial intelligence that allows easy processing such as upscaling and sharpening using AI, as well as coloring monochrome images and turning them into American comics.
Deep learning
Deep learning (Deep learning) is an algorithm similar to neurons (nerve cells) that process and transmit information in the brain. neural network It is a machine learning that can perform various analyzes from one piece of information, and a general image enlargement algorithm analyzes a specific range of pixels to increase the approximate color, so the larger the enlargement ratio, the more The image quality looks blurry, but in theory, deep learning can be used to obtain clearer image quality than the source.
System requirements
Version 1. 2 Currently
OS: Windows 8/10/11 (64bit only)
CPU: Intel Core i7 (7th generation or later) / AMD Ryzen 7 or above recommended
RAM: 16 GB or more recommended
GPU: CUDA Compute Capability 3.5 or later
Requires an NVIDIA graphics card with CUDA Compute Capability 3.5 or later or an AMD CUDA compatible environment / INTEL TensorFlow support environment.
DVDFab Photo Editor AI Support Graphics Card
Where to get the software
Install DVDFab Photo Editor AI
The installer of DVDFab Photo Editor AI does not contain any adware or spyware.

Click "Free Download" on the download page to download the installer.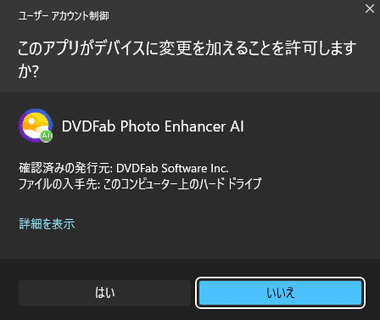 Launch the downloaded installer, and when the User Account Control dialog is displayed, click "Yes" to allow it.

When the setup wizard opens Custom Click , and if there is no problem with the license agreement, start installation with "Quick Install".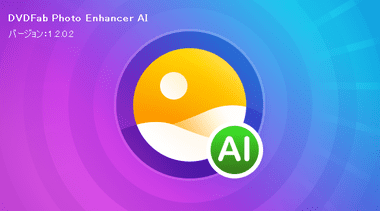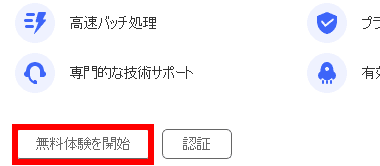 Since the setup wizard does not close even after the installation is complete, click "Start Free Trial" on the welcome screen displayed behind the wizard.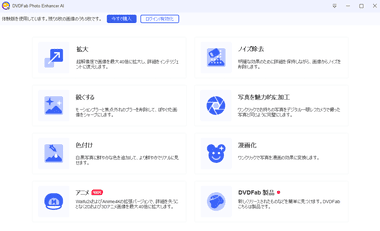 DVDFab Photo Editing AI is now available.
How to use DVDFab Photo Editor AI
DVDFab Photo Editor AI can be run by simply adding an image to edit and selecting the menu to use from the home screen.


On the home screen Expansion-Noise reduction-sharpen-Make your photos attractive-coloring-Cartoonization-Anime There, Make your photos attractive-coloring-Cartoonization Menus such as , and some AI models need to be downloaded when used for the first time.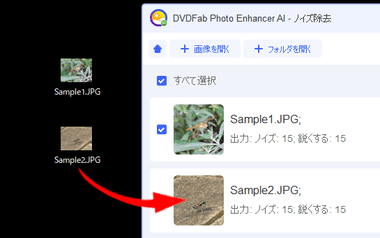 After selecting the menu to use, add image files/folders by dragging.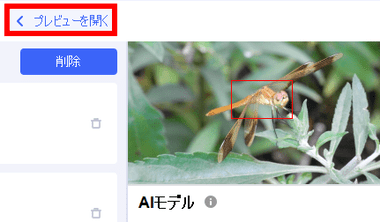 open preview Click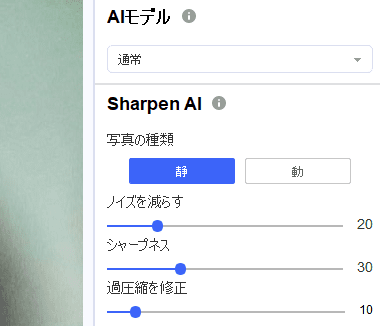 Adjust Image Quality in the right side panel.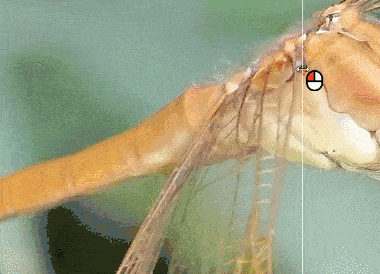 automatic previewis enabled by default, so you can check the image quality after setting in real time.

The preview can be switched with the icon at the top.

Once you have made the settings, click "Start processing" to specify the save destination and output.
Expansion
Expansion can sharpen and upscale the original image.
The more you increase the magnification, the stronger the correction, so the details tend to be lost, but up to XNUMXx, you can make it clear without any discomfort.
Noise reduction
Noise reduction can reduce colored noise and white noise and sharpen image quality.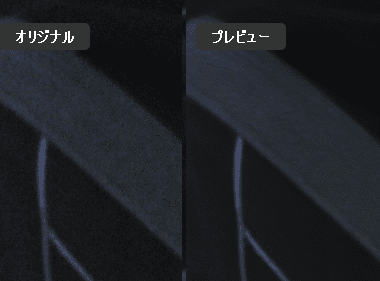 You can sharpen while reducing color noise.
sharpen – sharpen
sharpen Then. Motion blur (Blur when shooting a moving subject)・lens blur-soft blur You can select an AI model such as Noise Reduction/Sharpening and Overcompression Correction.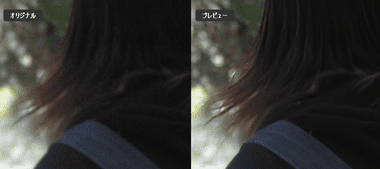 Texture is reproduced even in images that are slightly blurred.
Make your photos attractive
Make your photos attractive is an AI model that optimizes image quality.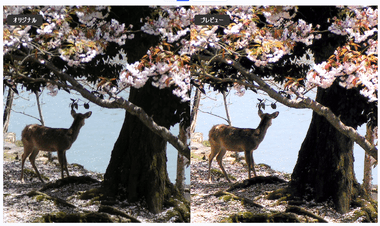 The optimization mainly adjusts the exposure and produces an image with emphasized light and dark areas, but some blurring occurs at the borders of areas with clear light and dark areas.
If the preview image is the same as the source, just drag the image a bit and the process will start.
coloring
coloring is an AI model that colors monochrome photos.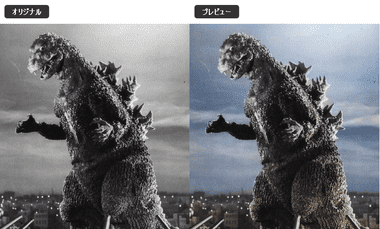 Color processing results in very different results depending on the original image, sometimes sepia or almost no color.
Cartoonization
Cartoonization Is an AI model that is described as an American comic on the official website, and a filter similar to oil painting of photo retouching software is applied.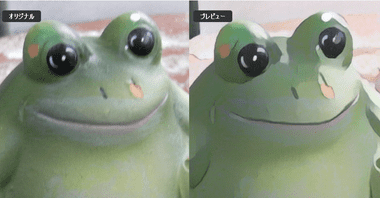 There is no setting item and it is output in the state of preview.
Anime
Anime is an AI model trained for anime upscaling waifu (a coined word from my wife) and anime 4k can be used to upscale anime images.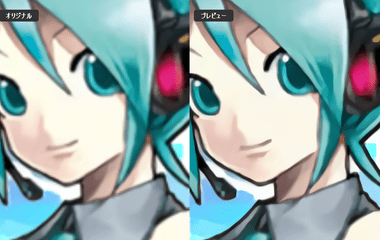 Effective when upscaling low-resolution images.
How to purchase DVDFab Photo Editor AI
DVDFab Photo Manipulation AI offers an "indefinite version" that has no license expiration date and can be updated permanently, and a subscription version with an expiration date, and the subscription version is automatically updated. Cancellation procedure If you do not, you will be billed regularly.
DVDFab Photo Editor AI purchase page

To purchase a license, go to "Buy Now" on the product page.
Click "Buy Now" in the plan you want to purchase to proceed with the purchase procedure.
After paying with a credit card, register as a member of DVDFab and activate the product with the registered email address and password.
Latest sale information and purchasing method ・ Cancellation of subscriptionSee the page below

DVDFab sale information and purchase procedure ・ Introducing license registration method DVDFab can remove the copy guard developed by DVDFab Software (formerly Fengtao Software) in China […]
Related article

DVDFab sale information and purchase procedure ・ Introducing license registration method DVDFab can remove the copy guard developed by DVDFab Software (formerly Fengtao Software) in China […]