DVDFab sale information and purchase procedure ・ Introducing license registration method
DVDFab Is in China DVDFab SoftwareA total solution app for ripping that can remove copy protection developed by (formerly Fengtao Software). It can perform processing such as copy / ripping of DVD / Blu-ray / UHD Blu-ray as well as encoding / authoring in 2020. DRM Downloader (currently DRM Downloader) that removes and downloads content from video streaming services such as Netflix and Amazon Prime Video in December of the year. StreamFab ) Has been released.
table of contents
in Japan Copyright law prohibits "avoidance of technical protection measures", Since it is not possible to sell devices and software that are released from protection in Japan, they are sold on Amazon and Yodobashi Online. Jungle Is the seller DVDFab The protection release function is sealed, but if you purchase it from the original site, you can get it in a state where the full function is available.
The DVDFab provided by the original site is issued an account when the license is purchased, and license authentication can be managed. Therefore, when replacing a PC, deactivate it on the existing PC and reactivate it on the new PC. You can continue to use the license with.
Current Sale (Updated June 2023, 1)
title:Year-end and New Year Super Sale
Period: June 2023, 1 ~
Sale contents
DVDFab All in One (Lifetime) XNUMX% OFF
DVDFab boasts the best cost performanceDVDFab 12 All-in-oneWhen you purchase the lifetime version of
Get an Amazon Gift Certificate worth 5,000 yen and 5 licenses!
In addition, a Verbatim DVD-R will be presented by lottery.
DVDFab's strongest ripping / copying app with DVD / Blu-ray deprotection function DVDFab All-in-One is a Chinese software vendor DVDFab Software (formerly Fengtao […]]
StreamFab All-in-one ( Lifetime ) XNUMX% OFF
A total downloader solution that can download content from over 1000 video sites such as YouTube and Netflix / Amazon Prime Video / U-NEXT / Disney Plus / Hulu / AbemaTV / DMM TV / FOD / FANZA StreamFab All-in-one Get an Amazon gift card worth 3,500 yen and 5 licenses when you purchase!
Plus, we'll give away a Roku Streaming Disc in a raffle

Download videos from video streaming services and video sites StreamFab All-in-One was developed by Chinese software vendor DVDFab Software (formerly Fengtao Software) […]
DVDFab purchase procedure
DVDFab is an all-in-one that can use multiple modules, or you can purchase only the required modules (functions) separately.
All-in-one The license is permanent Indefinite edition Only, even if you make a major version upgrade, you do not need to renew the license and the update will be applied.


Additional purchase is required to use newly added modules after license purchase.
DVDFab Official Store Pagecan be selected with Indefinite edition Only for subscription version purchase from each product page.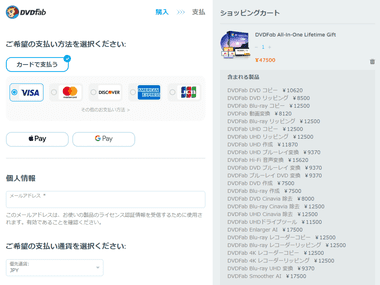 Campaign page , Store page If you purchased the indefinite edition from, the shopping cart will be displayed.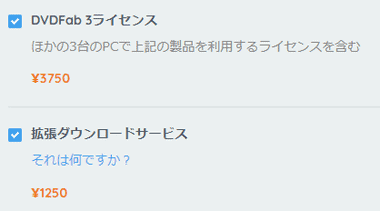 Lifetime version is a paid option Multiple licenses と Extended download service is enabled, so if you don't need it, uncheck it to exclude it.
Extended download service The Download rights for older versions With, you can download the old version when you update the product and a problem occurs.

The coupon code is automatically entered when you purchase a sale item,Do you have a coupon code? If it is displayed, click it and search for the coupon code displayed on the site and enter it to get a discount.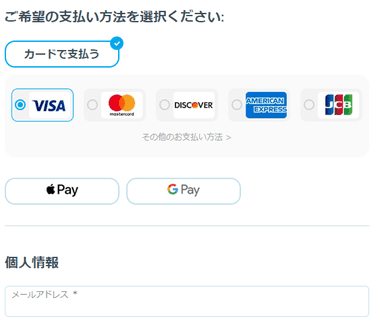 Select payment method Personal Information Enter your email address in .
There are three payment methods: credit card, Apple Pay, and Google Pay, but currently PayPal is not available.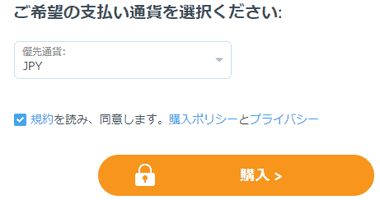 When paying in Japanese Yen Preferred currency The JPY in "Purchase".
If you change the currency to US dollars, Australian dollars, or euros, payments will be made in the specified currency, and the payment amount will differ depending on exchange rate fluctuations.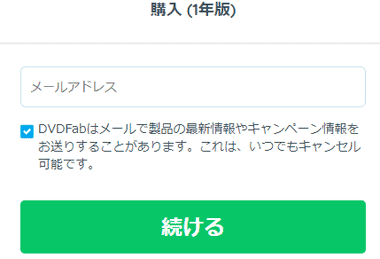 If you select the subscription version from the product page, a pop-up will ask you to enter your email address.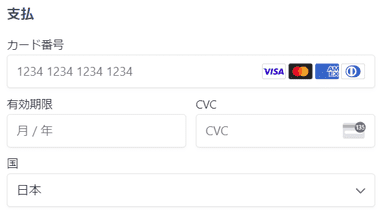 Enter payment information and settle.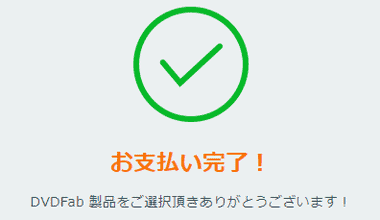 Once payment is complete Member Registration and License Authentication I do.
Member Registration
DVDFab activation uses the registered email address and password instead of using the registry key. Authenticate your PC And registered at the time of product purchase E-mail address and password are also required for PC deauthorization and reauthorizationTherefore, keep it in a safe place so as not to lose it.

After purchasing the license Registration information for DVDFab You will receive an email saying, click the link in the text.

Since the user registration screen opens User name と Password to "Send".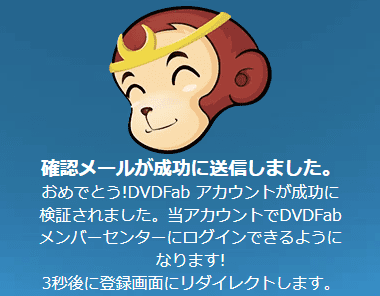 A DVDFab account is created.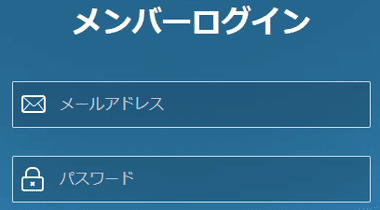 member login pageEnter your account information and click "Login".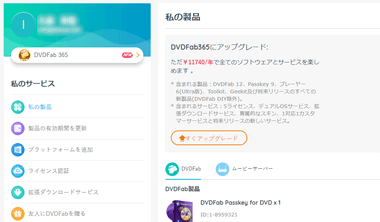 The management page is displayed.
The management page is the hamburger button at the top right of the official DVDFab website. Login Can be accessed from.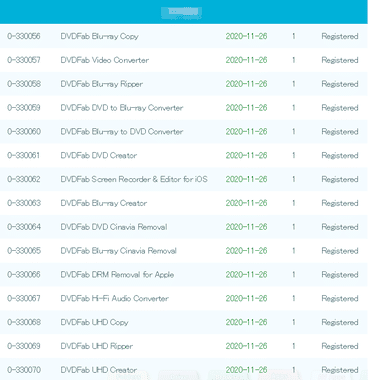 On the member page, you can check the purchased products, the latest sale information, change the registered e-mail address, change the password, and so on.
Activation
Register your email address to activate the product.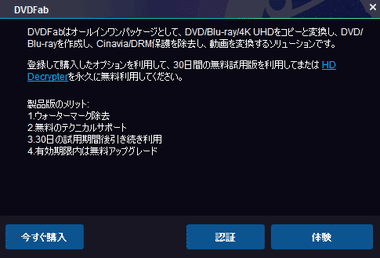 After installing DVDFab, if you start it in the trial version, the difference between the trial version and the product version will be displayed. If you have purchased the product, click "Authentication".
If you are using the trial version, use the control box menu at the top right of the window. Authentication Click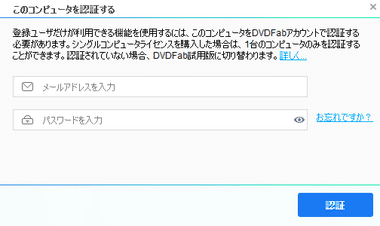 Enter your registered e-mail address and password and click "Authenticate".

If your email address and password are correct, your PC will be authenticated.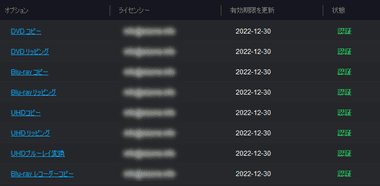 Registration information Is displayed on the purchased product Activated Is displayed.
See below for deactivation and reactivation
DVDFab / StreamFab license deactivation and re-authentication procedures required when moving a personal computer When DVDFab activates the product, it is linked to the hardware information of the personal computer and saved as user information […]
Unsubscribe
You can cancel your subscription from the administration page.
As of October 2022, the subscription cancellation process is not reflected, so it is necessary to contact support to cancel the subscription in the chat on the management screen.

After logging in to the administration page, from the left sidebar My subscription information in the Subscription Products displayed in the right pane by selecting Management Click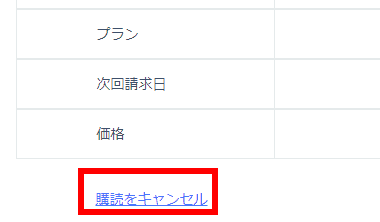 Product details are displayed cancel subscription Click

Since it will be an upgrade screen to the unlimited version continue to cancel .

A dialog will be displayed, so click "Cancel Subscription".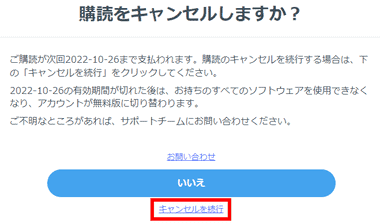 Continue canceling Click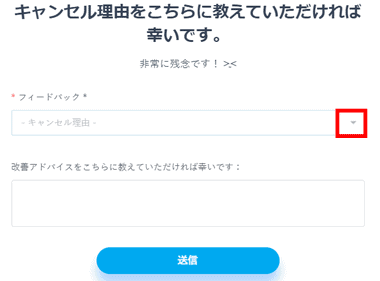 Reason for cancellation Is a required item, so select it from the list and click "Send".
Click "OK" to send an email, so check your mailbox.

Confirm cancellation of DVDFab subscription plan Click the link in the text.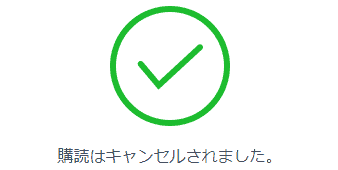 The subscription is cancelled.
Receiving an Amazon gift card
DVDFab All-in-One-StreamFab All-in-one Received as a gift when purchasing Amazon Gift Certificate of DVDFab 30 days after the date of purchase Account management screen You will see a link to get it.

After logging in to the management screen From the left sidebar check my product choose.

Click the link displayed at the top of the page.

Since the purchased product is displayed Verification Click to scan the credit card used for payment, blur out the central 8 digits of the card number and upload it.
If you are reluctant to send a credit card image, you can receive the gift card after 120 days without sending the image.

If you upload an image, you will receive an e-mail with the results of the review on the next business day.Amazon Gift Certificate From the list of 5000 JPY for amazon.co.jp Select to issue a code.
Related article
DVDFab's strongest ripping / copying app with DVD / Blu-ray deprotection function DVDFab All-in-One is a Chinese software vendor DVDFab Software (formerly Fengtao […]]

DVDFab PassKey, a DVD/Blu-ray protection removal tool for DVDFab that also supports CPRM, is a copy guard developed by Chinese software vendor Fengtao Software […]

Download videos from video streaming services and video sites StreamFab All-in-One was developed by Chinese software vendor DVDFab Software (formerly Fengtao Software) […]

Media player that can play streaming video / video files / DVD / BD / UHD BD PlayerFab All-in-One is a Chinese software vendor DVDFab Software (formerly Fengt […]]
DVDFab / StreamFab license deactivation and re-authentication procedures required when moving a personal computer When DVDFab activates the product, it is linked to the hardware information of the personal computer and saved as user information […]