Free backup software to back up your drive or system
EaseUS Todo Backup Free Is a Chinese software vendor CHENGDU YIWO Tech Co., Ltd. Is a backup support app developed byDrive file backup, System backupIt is also possible to schedule backup work and execute it automatically.
System requirements
Version 2023 as of
OS: Windows XP / Vista / 7/8/10/11
CPU: x86 series 500 MHz or higher
RAM: 1GB or more
The x86 series 500MHz class CPU is a model such as Pentium III, Celeron, Athlon (K2000) and Duron released around 7.
Where to get the software
EaseUS Todo Backup Free Official Download Page
Install EaseUS Todo Backup Free
The EaseUS Todo Backup Free installer does not include adware or spyware.

Click "Free Download" on the download page.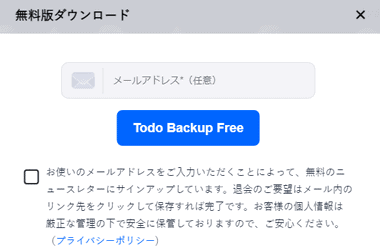 Registration of e-mail address is optional, so close the window if you do not register.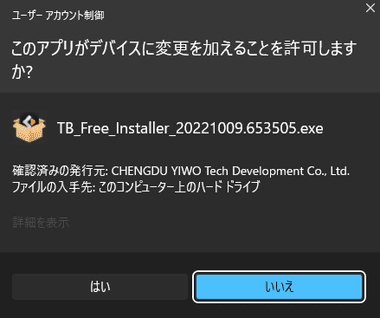 Launch the downloaded installer, and when the User Account Control dialog is displayed, click "Yes" to allow it.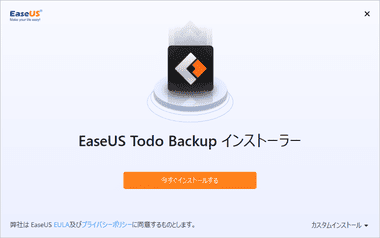 If you are satisfied with the license agreement and privacy policy, click "Install Now".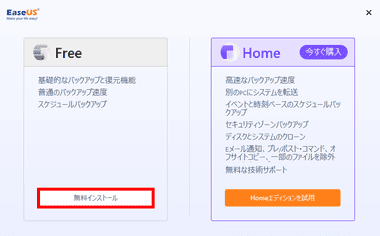 Select "Free installation" to perform the installation.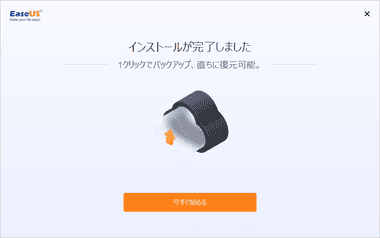 When the installation is complete, "Start Now".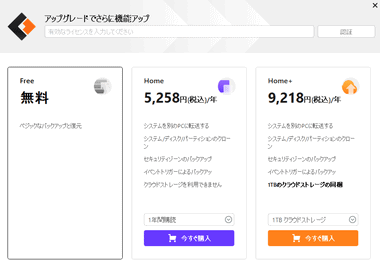 When the license authentication screen is displayed Free Select or close the screen.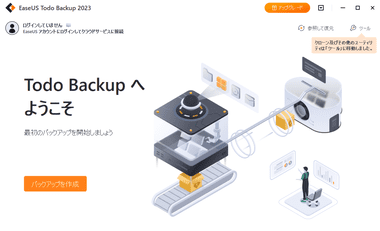 EaseUS Todo Backup Free will be available.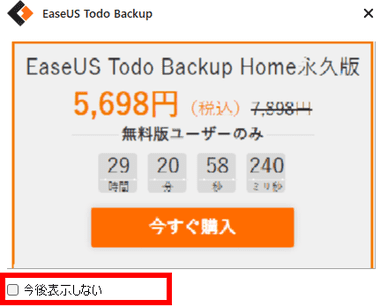 If you see ads in your notifications Will not be displayed in the future Check to close.
Configuration
EaseUS Todo Backup Free by default Anonymous data transmission と Residency in system tray is enabled, so if you want to deny Configuration Disable with.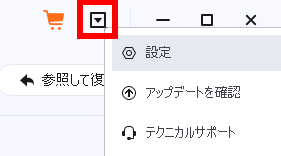 From the menu list in the upper right Configuration choose.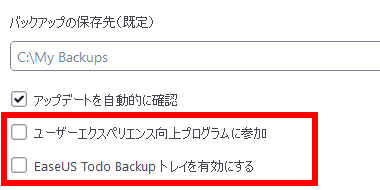 If you refuse to send anonymous data Participate in user experience improvement program If you want to stop system tray residency, disable it by unchecking Enable EaseUS Todo Backup Tray Uncheck to disable.
How to use EaseUS Todo Backup Free
The operation of EaseUS Todo Backup is a wizard format, and when you perform a backup by specifying the backup target and save destination, EaseUS Todo Backup's own image file .pbd backup data is created.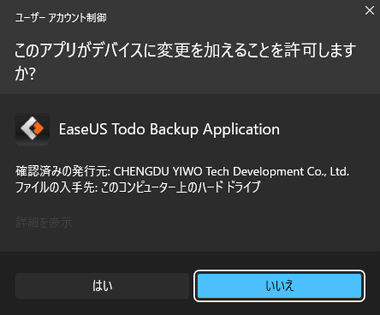 Start EaseUS Todo Backup and when the User Account Control dialog is displayed, click "Yes" to allow it.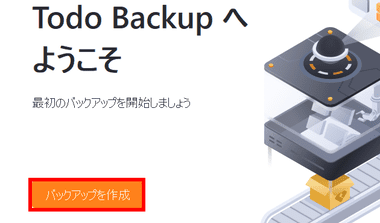 Click "Create Backup" on the home screen.

What to back up File-disk-System Choose fromFile-disk Specifies the item to back up.
File
Back up the specified folder / file with the user file backup function.
disk
Back up disks and partitions.
System
Back up all files on C drive, including unallocated partitions required for Windows to work.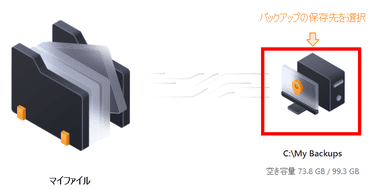 The backup destination is the C drive by default My Backups Since it is a folder, click the PC icon.

Backup destination Local drive- EaseUS cloud-NAS Specify from
EaseUS cloud Is a paid cloud storage service provided by EaseUS, and if you want to use it, create an account and EaseUS Todo Backup Home & Cloud Need to purchase.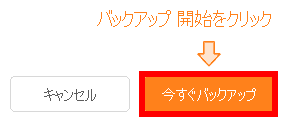 After specifying the backup destination, execute the backup with "Backup Now".
Schedule
If you want to run the backup task you created on a regular basis Schedule To set.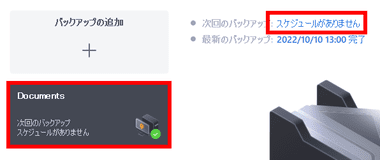 From the home screen, select the task for which you want to scheduleNext backup Is displayed in There is no schedule Click the link.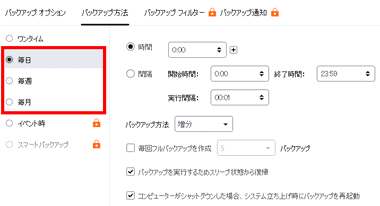 Backup timing in the left sidebar every day-Weekly-monthly Select from and set the date and time to execute.
Backup method
complete
Since all files are backed up every time, the backup takes a long time and the free space of the save destination is squeezed, but since it is possible to restore from all the backup files, even if some files are damaged, other files Can be recovered with.
incremental
It backs up the change history of the file from the backup file executed in "Complete", and while the backup can be executed in a short time and the file size is small and the most efficient, it is all increments to restore the latest state. A backup file is required, and if a file in the middle is missing, you can only recover from a complete backup to the missing file.
Difference
It is a redundant version of "Increment" and backs up all files that have changed from "Complete", so it takes longer to back up than "Increment" and uses disk space, but all backup files are required during recovery. It can be recovered with "complete" and the latest differential backup file.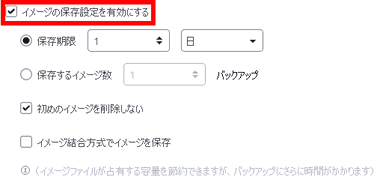 By default, the backup image file is not deleted and is saved altogether.Image save settingsTheEffectivenessIf set to, files can be deleted automatically according to the set conditions.
Delete backup task
When you perform a backup, the task will be added to the home screen, so delete it if you do not need it.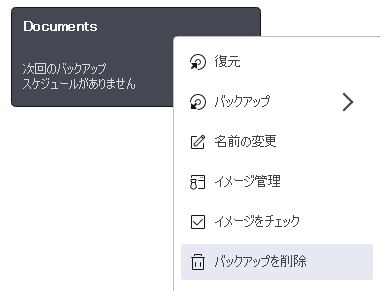 After selecting the task to be deleted, from the context menu (right-click menu) Delete backup The task is deleted with.
Check the image
The saved backup data is an image file unique to EaseUS Todo Backup. .pbd Since it is saved in, it is recommended to check if the image data is damaged after the backup is executed.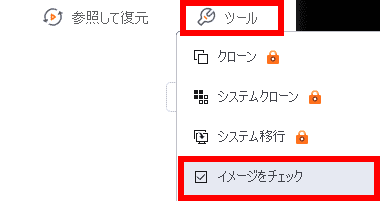 At the top right of the home screen tool から Check the image choose.

reference Extension created in .pbd Error checking is performed when the image file of is selected.
復 元
Restoration of backup data is executed from EaseUS Todo Backup, so in case Windows does not start normally, Bootable disc To create.
Creating bootable discs
The data size of the bootable disc (boot disc) is about 500 MB, and CD-R, DVD-R, and USB memory can be used.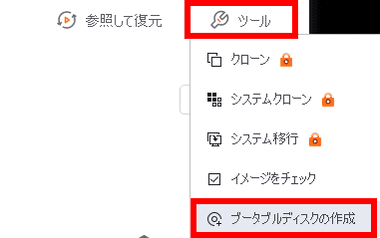 After setting the media to be used on the computer, it is in the upper right corner of the home screen. tool から Creating bootable discs choose.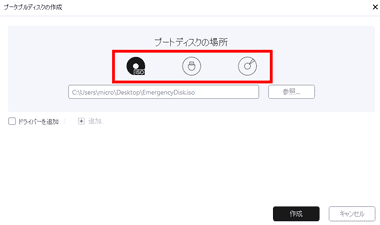 Select the media to use from ISO file, USB drive, and CD / DVD.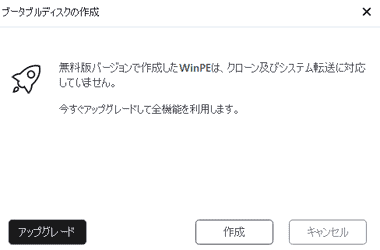 A dialog will be displayed, so click "Create" to execute.
Win PE (Windows Preinstallation Environment) is a customizable OS that can be run from a CD / DVD or USB stick with minimal Windows functionality, and boot media created with EaseUS Todo Backup can only be run by EaseUS Todo Backup. There is.
If EaseUS Todo Backup fails to create a USB drive or CD / DVD ISOSelect to create an ISO image file and the USB drive will Rufas, CD / DVD BurnAware Free Create using an app that can create boot media such as.
Restore from EaseUS Todo Backup
Restoration File-disk-System Extract the image file created in.

Select the task you want to restore and click "Restore"Restore referrer Specify the image file directly from.
File
file/folder Performs a restore by specifying the version to restore and the restore destination.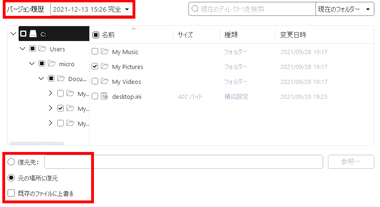 The data to be restored can be overwritten on an existing file, saved in a different location, or restored by specifying a specific folder / file contained in the backup data.
disk
disk For the backup data of, select the version and mode to restore and execute the restore.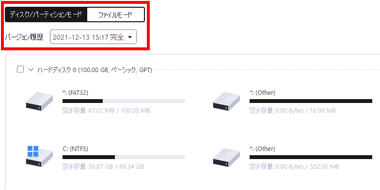 Disk partition mode
Restore by specifying the entire disk or partition.
File mode
Restore by specifying a specific folder / file contained in the backup data.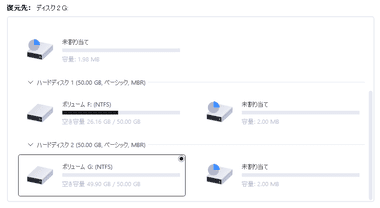 Disk partition mode Specifies a disk or partition as the restore destination.
Advanced options Used when the restore destination disk is SSD Optimized for SSD , Used when you suspect that the disk has bad sectors Sector by sector restoreCheck if necessary.
Restoring a disk / partition requires a reboot, which overwrites the disk.
System
System For the backup data of, select the version to restore and the disk to restore to.
Restore from boot media
If Windows does not boot due to a problem, you can restore it from backup using the boot media of EaseUS Todo Backup created in advance.
Set the boot media and start the computer.
When the bootable media starts, the EaseUS Todo Backup logo is displayed.
After booting, the drive connected to the PC will be searched, and the saved EaseUS Todo Backup image file will be read and displayed, so select the backup data to restore.
The disk is overwritten on reboot.
Upgrade to EaseUS Todo Backup Home
EaseUS Todo Backup HomeIf you upgrade to, the functions restricted by EaseUS Todo Backup Free will be released.
Features available in Home
clone
Ability to write data directly to disk without saving it as a backup file.
System migration
Ability to create a system drive for a new PC using disk or OS backup files.
Create a portable Windows USB drive
Create a USB drive that can boot Windows by copying the existing system.
Outlook email backup
Ability to back up Microsoft Outlook emails when using Microsoft Office.
-Exclude unnecessary temporary files from backup
・ Improved processing speed
·technical support
clone At runtime, delete the partition of the data migration destination disk UnallocatedIf you copy the system disk to the above state, there is a drive letter problem, so remove all HDDs / SSDs other than the clone disk and start Windows.

EaseUS Todo Backup Home has a monthly/yearly subscription and a perpetual license plan with free upgrades to new versions.
EaseUS Todo Backup Home purchase page
Unable to connect in VPN environment.
The payment service is a payment agency service founded in Germany, and there is also a Japanese corporation. Clever bridge And the payment method is Credit card - PayPal -Convenience store settlement Is available.

EaseUS Todo Backup Free In the upper right of Cart icon Open the license authentication screen from and enter the license code that will be sent by email after the payment is completed. Activation Then EaseUS Todo Backup Home Becomes available.
Related article

Create a portable USB drive from your desktop environment with 1 click EaseUS OS2GO is a software vendor in China that is developing CHENGDU YIWO Tech. It copies an existing OS to a USB drive […]