Free multifunctional email service with anti-virus and anti-spam measures
gmail The Google It is a free webmail service provided by , which also implements anti-virus and anti-spam measures, and is excellent in operability, functionality, and stability even though it is a free service.
Gmail specifications
・Available storage capacity: 15 GB (shared with Google Drive and Google Photos)
・ Number of receptions: 1 per minute / 60 per hour / 1 per day
・ Number of transmissions: 1 per day /
・ Recipients who can send one email: Up to 1
-Maximum receivable size: 50 MB
-Maximum size that can be sent: 25 MB *
・ Number of attachments that can be received in one email: Up to 1
・ Number of emails that can be received in the inbox: 25 (Archive is required for 25 or more)
System requirements
Browser : Latest version of Google Chrome/ Firefox/ Edge/ Safari and previous version
If you use an unsupported browser Simple HTML format It is displayed in , and chat, spell check, keyboard shortcuts, adding and reading contacts, customizing the From address, rich text format, etc. are not available.
GOOGLE account
A Google account is required to use Gmail, so if you haven't obtained one, get one.
Creating accounts and security settings required to use various Google services Google accounts are Gmail, YouTube, Chrome browser, Google Drive, Karen […] provided by Google.
Where to get the software
The desktop version does not have a dedicated app and is accessed with a browser.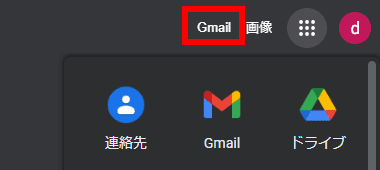 to Gmail Google Gmail or go directly to Google's Top Page In the upper right Gmail link , Google app Open from.
Gmail settings
Configuration Then. Display name-signature-Format-label In addition to editing the POP reception , チ ャ ッ ト/ Meet etc. can be set.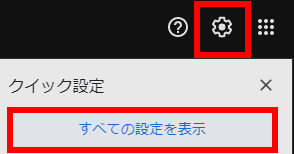 To edit the settings, click on the upper right. Configuration From the icon Show all settings choose.
Smart features and personalization
Smart features and personalization is a module necessary to improve the convenience of Gmail. When enabled, Google can analyze and process the contents of Gmail, Chat, and Meet.Inbox tab-Important mark-smart creation-grammar correction-spell check etc. will be effective.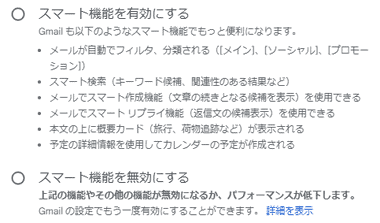 smart function is required for features that require message scanning and content analysis.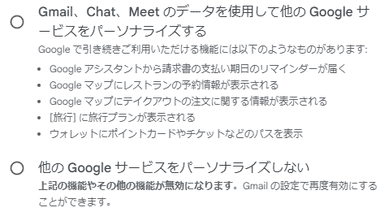 Personalizewill associate information obtained from not only emails but also Google services to provide more personalized information, but on the other hand, it will allow Google to access personal information.

Smart features and personalization The setting of 全 般 Of tabs Smart features and personalization Can be edited with.
Categories
Show category tab The Maine-social-promotionIn addition to the New Products と Forum Can be added,Maine If only, it will be in the general inbox state.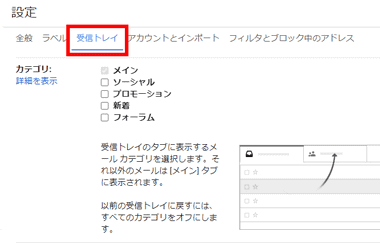 Category display settings Configuration Of Inbox It is in Category You can edit the items inReservation-Buy and Any Category cannot be added, and Ads are displayed at the top of tabs other than the main one.
Maine - primary : All emails that are not classified in other tabs.
social - social : Emails from SNS, Youtube, etc.
promotion - promotions : Promotional emails such as sales and coupons.
New – updates : Emails such as notifications, confirmations, receipts, and invoices.
Forum – Forums : Emails from online groups and message boards/mailing lists.
予 約 - reservations : Emails regarding flight confirmations, hotel reservations, restaurant reservations.
purchase - purchases : Emails related to orders, shipping and delivery.
Categories can be used in Search as well as displayed in tabs,Reservation Classified in JAL If you want to search emails for category: reservations JAL Enter.
Important mark
Important mark Gmail Opening an email-Sending / receiving party and frequency-Archive operation It learns the user's operation and makes a judgment automatically.
Inbox It is in Important mark Of Do not display the mark Check "Save changes".

For threads that are determined to be important, the icon displayed in front of the sender will be displayed in color.
ス タ ー
ス タ ー Is a marker that users can attach to any thread and can use up to 12 stars.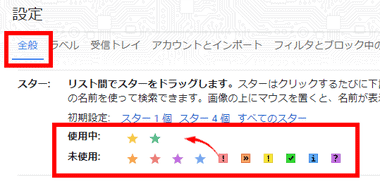 If you want to add a star to use 全 般 Of ス タ ー で unused Icon In use Drag to.

If you have registered multiple stars, click to change the star.
Keyboard shortcut
Gmail is Keyboard shortcut is supported, but disabled by default, so if you want to use 全 般 Enable it in tabs.

When the shortcut is turned on Shift+C With , you can perform operations such as popping out and opening a new compose message window.
Display name
When Gmail sends an email, the name of the Google account is displayed to the other party.

To change the display name Configuration Of Account and import It is in Name Of Edit information Click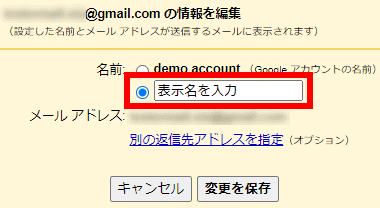 Enter a name of your choice in the textbox, select the radio button for the name you want to use, and click Save Changes.
signature
To add a signature to your message 全 般 Of tabs signature Add with.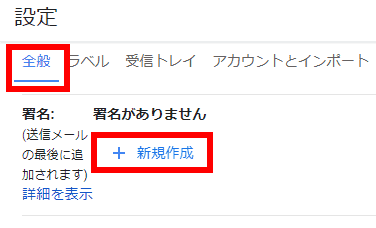 Creating a signature Configuration Of 全 般 It is in signature Of Create New When you select Signature from Give it a descriptive name and click 'Create'.

Enter your signature in the text box that appears to the right of your name.

New email と Reply / Forward Select the signature to use in from the list.
sending accountIf you are adding Email Address Select an account with and select the signature you want to use.
label
label is an email organization tool that users can arbitrarily create.

Create a new label is on the left sidebar View more から Create a new label choose.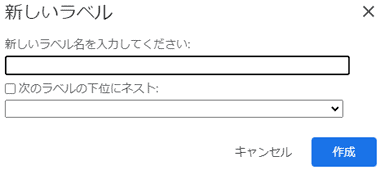 Enter an arbitrary label name and click "Create".
the label is Nest(Nested) is possible, and when you want to create a label under the previously created label, after entering the new label name Nested below the next label , and select the top label.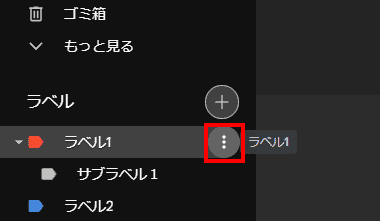 The label you created is on the left sidebar Garbage can You can color the label, edit the label name, delete the label, add sub-labels, etc. from the 3-point reader displayed below and displayed by hovering over the created label.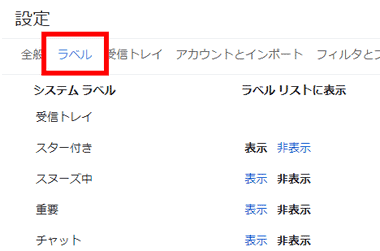 The system labels and categories displayed in the left sidebar are Configuration Of label It is in Show in label list で Show/Hide Can be switched.
Filter - automatic mail sorting
You can specify criteria for Gmail's search function. Search options , and the contents of the search options are filterBy registering as, you can automate processing such as labeling and skipping the inbox for threads that meet certain conditions.

Search bar Click the icon to the right of Search options open.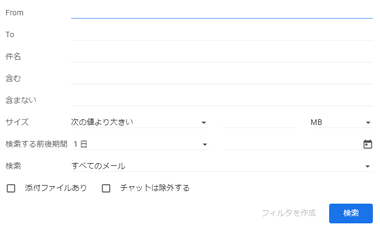 Search options If you want to search only with the conditions of , set the search conditions and click "Search", and if you want to create a filter, click "Create Filter".
from : Extracted by the sender's email address.
That's it : Extracted by the destination email address.
Subject : Extract the "subject" of the email by partial match.
include or not include : Extract the specified phrase in the subject / body with "includes / does not include".
Size : Extract threads including attachments by size.
There is an attachment : Extract threads with attachments.
Exclude chat : Exclude chats from Hangouts.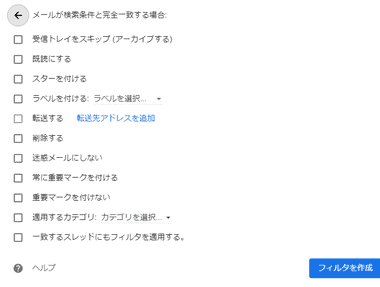 If you want to create a filter, the screen for processing messages that match the search conditions will open.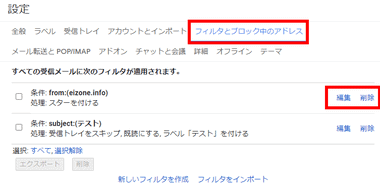 To edit or delete a created filter,Configuration Of Addresses in filters and blocks It is in The following filters are applied to all incoming emails.Of the filters registered in Edit Delete Operate with.
Cancel transmission
Gmail lets you unsend for 5 seconds by default after you click the Send button.

After sending a message, in the dialog displayed at the bottom left Undo Click to cancel the transmission.
Cancel transmission Is possible time Configuration Of 全 般On the tab Cancel transmission Of Time to cancel Can be edited with.
Chat and Meet
The chat function (Google Chat) and video conferencing (Meet) are disabled by default, so if you want to use Configuration Enable with.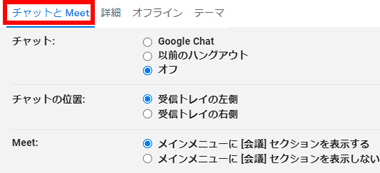 Configuration Of Chat and Meet Activate the service you want to use.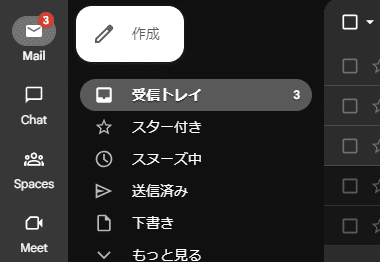 The panel is displayed on the right side by default.
Spaces (Formerly Rooms) is a team communication tool (chat room) that allows you to share files and tasks, and is different from Google Spaces, which was discontinued in 2017.
Surrogate function
Ability to grant access to your own email account and delegate Gmail operations to delegates.

Delegation function to grant access to Gmail Gmail has a delegation function to grant access rights to one's own email account. […]
Google Mail Fetcher
Ability to receive POP emails in Gmail.

Gmail can also move Receive POP mail and set additional sending account Gmail implements Google Mail Fetcher that can receive POP mail, enable POP mail and send a message […]
Gmailify
Ability to associate Yahoo Mail and Hotmail/ Outlook.com to send and receive from Gmail.

Send and receive from Gmail by associating Yahoo Mail and Hotmail / Outlook.com Gmailify enters Yahoo! Mail and Hotmail / Outlook.com login information […]
How to use Gmail
Since Gmail is webmail, you can access the Gmail server directly from your browser and operate it. Mozilla Thunderbird , Windows standard mail application You can also send and receive emails with other email apps.
Access and receive Gmail
If you open your browser and log into Gmail, you'll receive new messages without much lag.
Gmail failure status
If you have trouble sending or receiving Gmail, you can check it on the failure status page.
Organize and manage your email
Gmail messages are Inbox Or Archive , and can be managed by automatic sorting such as important marks and categories, and labels set by the user.

Archive The Storehouse It's like moving a message to a folder. After selecting a message, click the tool icon Archive Click

label can set multiple labels for one message, and after selecting the message, the tool icon label Or mobile Click
Label: Label the message / thread.
Move: Label and archive messages / threads.

Delete will move messages to Trash, and Trash messages will be automatically deleted after 30 days.
On the left sidebar Garbage can After opening and selecting a thread Permanently deleted When you execute, the corresponding thread is deleted immediately, Empty the trash now Will erase all threads in the Trash.

Snooze is a function to re-notify after the specified time has passed, and snoozed mail disappears from the inbox and appears as a new mail in the inbox at the set time.

Add to task will set the selected message as a task ToDo list in the tool icon after selecting a message. Add to task Click

Report junk mail is a function that selects and learns spam that has been sorted into the inbox. After selecting spam, the tool icon Report junk mail Click
Gmail has a powerful spam filter, and most spam emails are automatically blocked by Gmail. spam After selecting the corresponding email from Not junk mail Click to learn.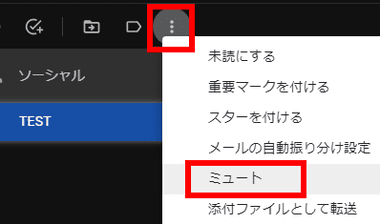 muteis a function that does not display replies to emails received with CC/BCC in the inbox. mute choose.
Mute by sender A That's it To B, CC If you send an email to C and D with, C or D will send an email with content that is not related to B. Reply to everyone It is assumed to be used in cases such as sending by , and if you directly enter the address in To, it will be displayed in the inbox as a new mail.
Send email
Gmail is by default Google contacts When you send an email, it is automatically added to the address book and the autocomplete function is enabled.
To compose a message, click Compose at the top of the sidebar.

The compose screen of new mail pops out with the right end stuck, so if you want to pop out completely, click on the control box Arrowthe icon Shift key-click.

destination Enter the email address of the person you want to send email to, ordestination Click Google contacts Select your email address from.
When you send an email, the destination address is automatically registered in the contact, and the autocomplete function will be enabled from the next time onward, so if you are the person to whom you sent the email once, enter the first letter of the address and candidates will be displayed. NS.

CC and BCC destination To the right of Cc Bcc Click to expand the input box.

To reply to or forward a received email, click " Reply "" transfer ", or you can select Reply/Forward from the "Reply" icon under the title or the 3-dot reader.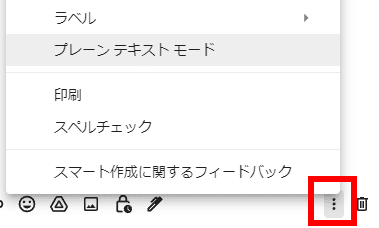 Change the email format for outgoing emails to Plain textIf you want to change to , select from the 3 dots at the bottom right of the compose email window.
New Gmail emails are by default rich text format When replying or forwarding, the mail format of the received mail is inherited.

Formatting-File attachment-Insert link-絵 文字-Insert file from Google Drive-Insert photo-Protected mode-signature The SEND Select from the tool icons next to the button.
Formatting
You can set the font type, size, decoration, indentation, etc.
File attachment
You can add files by specifying files from the tool icon or by dragging them to the body of the email. Can not.
Insert link
Embed URLs in message strings.
絵 文字
Add standard Android emoji to messages.
Insert file from Google Drive
Google drive This is a function to share and send files stored in .If the file size is 25MB or less, it will be sent as an email attachment, and if the file size exceeds 25MB, only a link will be sent.
Insert photo
Google Drive, Google Photos, Local
Send image files inline (embedded in text) or as attachments.
Information protection mode
Restricts forwarding, copying, downloading, and printing, and prevents access to messages and attachments after the specified expiration date.
You can send and receive messages between Gmails without a passcode, but if you want to send to an address other than @gmail.com, you need to set an SMS passcode.
signature
Switch registered signatures or hide signatures.
Newly created emails have auto-save enabled, so even if you close the window draft You can re-edit it from , and if you want to discard a newly created email, click Garbage can Click the icon.

You can also set the date and time to send the message.
Side panel
The side panel Information protection mode Also implemented in the April 2018 update, from the right side panel Google calendar-Keep-ToDo list-Contact Information You can access to.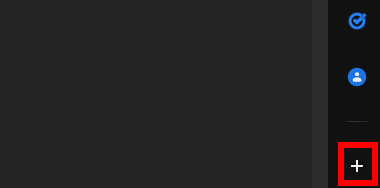 You can also add add-ons that work with Gmail from the "+" on the side panel.
Gmail extension Dropbox for Gmail is an add-on for Gmail provided by Dropbox, and Gmail […]
Delete Gmail account
Google account has account closure and deletion for each service, and Gmail can also delete the account alone.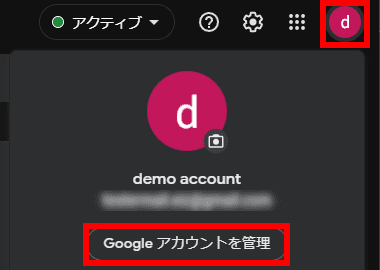 To delete your Gmail account, click "Manage Google Account" from the account icon displayed in the upper right of Gmail.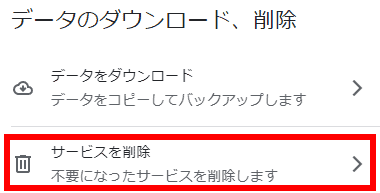 Since the management page of the account opens, from the left sidebar Data and privacy Select and Data of your application or service から Delete service , enter your password and click Login.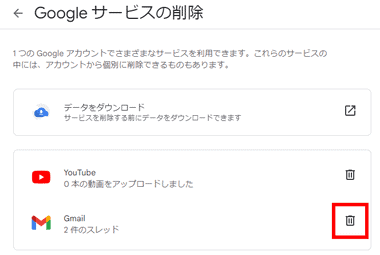 If you want to back up your messages Download data Export the data from the link and when you are ready to delete gmail Of Garbage can Click the icon.
Enter an alternative email address other than Gmail to be used as a Google account and click "Send confirmation email".
You'll be prompted to verify your email, so open the email you entered as an alternate account Gmail deletion confirmation Open a message titled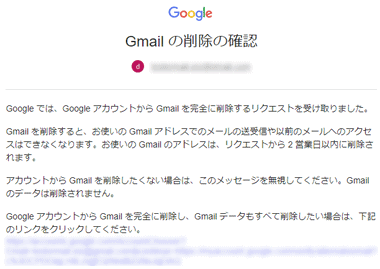 Click the link in the confirmation email.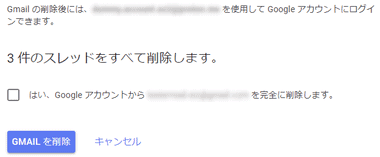 A final confirmation screen will open.Yes, from your Google account Gmail address completely remove the Check the box and select "Delete Gmail" to delete your Gmail account.
Related article

Password reset and data recovery procedures used with Proton Mail and ProtonVPN The password set in your Proton account recovers encrypted and stored data such as messages and contacts […].