An open-source alternative to Evernote with end-to-end encryption
Joplin is a UK software engineer Laurent cozic An open source memo app developed by Mr. Evernote In addition to implementing the base function of , it is also possible to encrypt notes end-to-end.
See below for Windows version

Joplin, an open-source alternative to Evernote with end-to-end encryption, is an open-source note-taking app developed by British software engineer Laurent Cozic […]
System requirements
Version 2 Currently
OS: Android 5.0 or above
Where to get the software
Data collected
No data collected by the developer.
Installing Joplin for Android
Set up after installing the app from the Google Play store.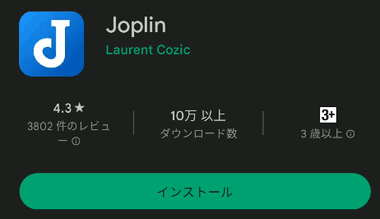 Install the app from the Play Store.
grant of authority
to Joplin files and media-カメラ-location information Allow access to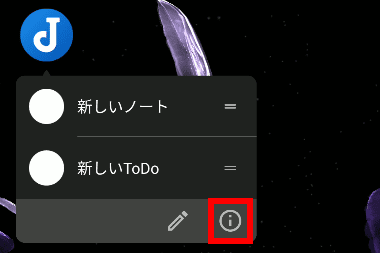 Long tap the Joplin icon App information open.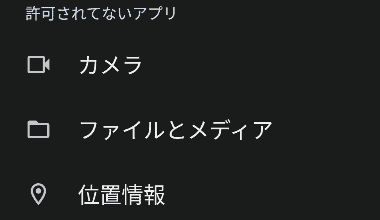 Authority Open App not allowed Of files and media-カメラ-location information Tap to allow access.
Sync settings
If you want to sync Joplin across multiple devices Joplin Cloud or purchase a subscription todropbox-OneDrive etc. Existing online storage and Nextcloud/WebDAV server And so on.
Synchronizing Joplin will save your online storage App or Application or Sakurabook App in the folder Joplin Create a folder, but you cannot edit or view notebooks or notes because the folder stores the database for synchronization.


Launch the app and click the hamburger button on the top left Configuration open.


Sync Of Synchronization destination Select the online storage you want to use from the FD Tap the icon to save and left arrow to return to home.

from the hamburger button Sync Tap.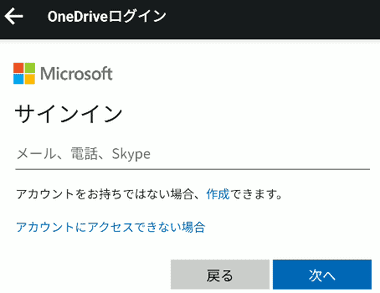 Log in to the cloud service.
If the database is encrypted and saved on another device, you will be prompted to enter the password to decrypt it.Please enter the password to be combined. and enter your password.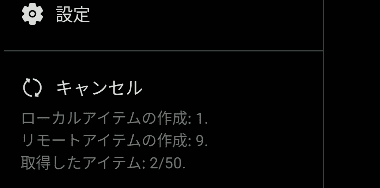 Sync starts.
encryption
Joplin defaults to encryptionis disabled and you want to use it in a more secure environment, set a master password and enable end-to-end encryption.
Enabling encryption requires encrypting and decrypting data, which slows performance compared to a non-encrypted environment.


To encrypt data in an unencrypted environment Configuration , tap "Encryption settings".

Tap "Enable encryption".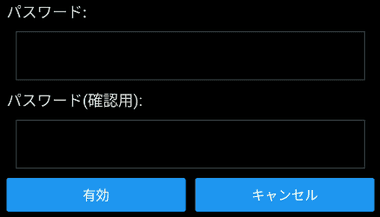 Set the master password that will be used for the encryption key and click OK.

An encryption key is generated to enable end-to-end encryption.
Saving location information
Location information is saved by default when creating a note, so if you don't need it Configuration Disable with.
Configuration Of Note It is in Save location information to notes Turn off.
How to use Joplin for Android
A major feature of Joplin is that it uses markdown notation, and the created notes are notebookと Tag Manage using.
Markdown syntax is Joplin's markdown guide See.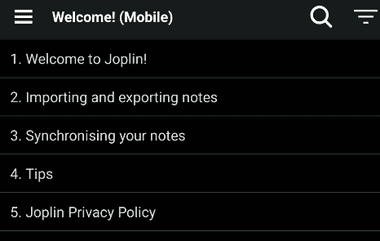 By default Welcome! (Mobile) To say notebook Stored in Note list Is displayed.


notebook is like a folder to save notes, and to create a new notebook, click the hamburger button new notebook Tap.

After entering the notebook title FD Tap the icon to confirm.

If you want to move an existing note to another notebook, tap and hold the note go to notebook Specify the destination notebook from the list of .

Long tap the notebook change name , Delete it can.
Note
Noteis the basic unit of Joplin, memos, to-do lists, attachments, etc. are all Note Saved as.
Tap "+" for new note Note Or ToDo list choose.
Select a destination from the list of notebooks at the top.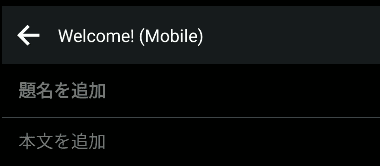 Enter the note title and memo.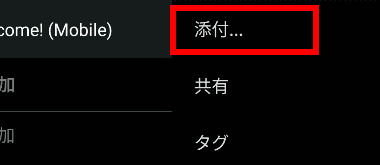 To attach a file to a note or save an image taken with the camera, from the 3-point reader Attachment choose.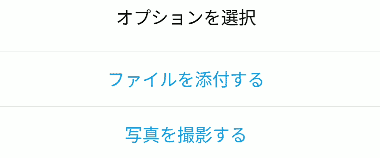 OptionsSelect to attach.
View mode/Edit mode
On Android, new notes are automatically Edit mode Open and saved notes with Browse mode Is displayed.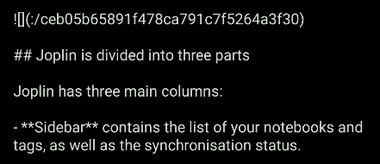 Markdown notation is a markup language, so the set format and images are not displayed during editing.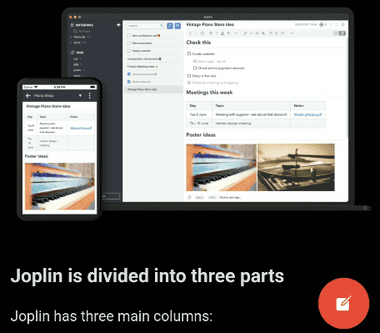 Saved notes reflect formatting and images Browse mode Open withEdit mode A switch button will appear.
Tag
Tag is a keyword for managing notes, and in the Android version you can add tags from the note creation screen.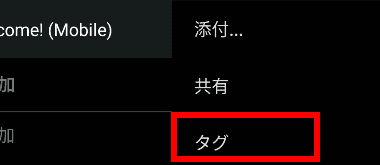 From 3 point leader Tag choose.

Select Add New Tag or Existing Tag.
Related article

An easy-to-use multi-functional organizer app that is ideal for personal use UpNote is a multi-functional organizer app that supports Japanese, developed by Mr. Thomas Dao ( Dao Xuan Dung ) of Vietnam […]