A total solution app related to ripping and copying that implements the DVD / Blu-ray protection release function.
Leawo Prof. Media 12 Is a Chinese software vendor Leawo software (In China Shenzhen Moyea Software ) Is a copy-ripping total solution app that implements the copy-guard removal function. In addition to DVD / BD / UHD BD copy-ripping, video file encoding, DVD / BD authoring, and YouTube video download functions. A total of 11 modules are available.
Illegality
Using this application to remove disk protection will violate copyright laws. Avoiding technical safeguards Conflict with.
Copyright law and illegal activities
System requirements
Version 12. 0 Currently
OS: Windows 7/8 / 10 / 11
CPU: Intel / AMD 1 GHz or higher
RAM: 256 MB (512 MB or more recommended)
Graphics: nVIDIA GeForce GTX 260 equivalent or higher
Where to get the software
Leawo Prof. Media Download Page
Install Leawo Prof. Media 12
The Leawo Prof. Media installer does not include adware or spyware.

Click "Download" on the Leawo Prof. Media 11 page to download the installer.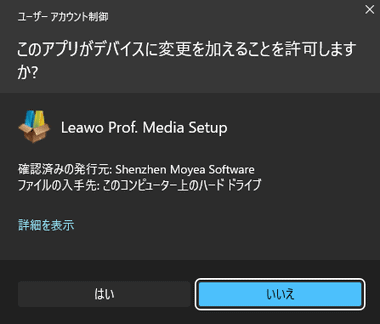 Open the downloaded installer, and when the User Account Control dialog is displayed, click "Yes" to allow it.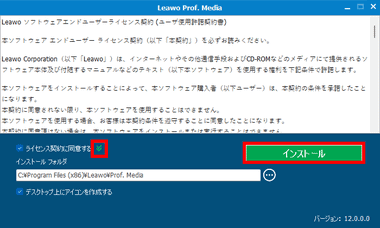 Accept the license Click the arrow icon to the right of, and if there is no problem with the license agreement, check it and click "Install".
Click Finish when the installation is complete Leawo Prof. Media Start.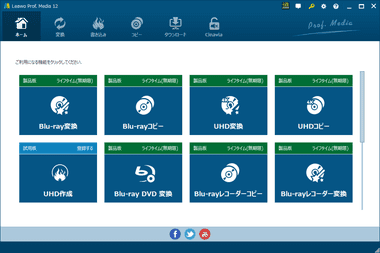 Restart Leawo Prof. Media because drag and drop of files does not respond when it is started after installation.
GPU acceleration
NVIDIA CUDA Or AMD AMD APP If you have a graphics card that supports GPU accelerationEnable to improve video encoding / decoding performance.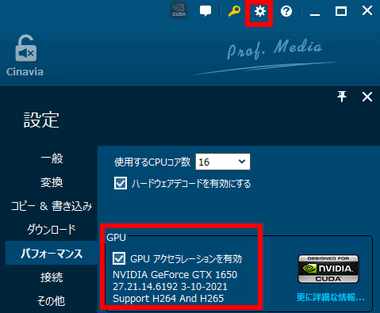 If you want to enable GPU acceleration, go to the top right Configuration から performance Select andEnable GPU acceleration Check "Save".
How to use Leawo Prof. Media 12
Leawo Prof. Media can handle DVD/BD/UHD BD.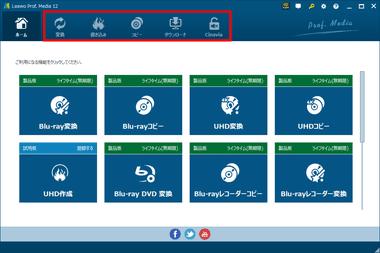 Each module is at the top Tool icon Or Home Access from.
youtube download As a successor to Module CleverGet Video Download Has been released.
Conversion module (ripping / encoding)
conversion Now you can remove the copy protection of DVD / Blu-ray / UHD Blu-ray, convert the content to a video file, and perform the encoding process to convert the file format of the video file to another format.

Write module (authoring)
writing DVD / Blu-ray authoring is possible, and you can create media that can be played on general players from video files.

Copy module
Copy Removes copy protection for DVD / Blu-ray / UHD Blu-ray, duplicates discs, outputs ISO image files, outputs to BD / DVD folders, and compresses single-sided dual-layer discs into single-sided single-layer discs. (Transcode) Yes.

Cinavia
Protective technology for watermarking audio Cinavia Module to release (Cinavia).

How to purchase Prof. Media
Leawo Prof. Media purchase pageAfter selecting "Buy Now" from, pay by credit card or bank transfer, enter the order number on the 2Checkout site and get the license code.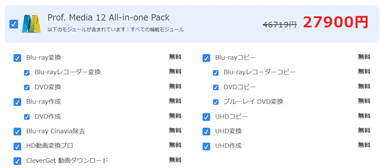 The license has a subscription type that is valid for one year and a permanent version that can be permanently updated and upgraded.
Please refer to the following page for the detailed purchase method and the flow after purchase such as license authentication.
Related article

A reasonable all-in-one video downloader that can remove DRM from video streaming services and video sites and download videos CleverGet is a Chinese software vendor Moyea S […]
Introducing Leawo's sale information, purchase procedure and license registration method Leawo is a brand of multimedia tools developed by software vendor Moyea Software based in Shenzhen, China, China […]
Leawo Prof. DRM is a Chinese software vendor Leawo Software (S […]
Reasonable and easy-to-use Blu-ray & DVD ripping module with unprotection function Leawo Blu-ray Ripper is a Chinese software vendor Leawo Software (Shenzhe […] in China

Leawo DVD copy module with copy protection removal function Leawo DVD Copy is a Chinese software vendor Leawo Software (Shenzhen Moyea Softw […] in China