A free multifunctional email app that's perfect for centrally managing multiple email accounts
Mozilla Thunderbird Is a wholly owned subsidiary of Mozilla Foundation MZLA Technologies Corporation It is an open source multi-functional mail client developed by , which can centrally manage multiple mail accounts such as IMAP mail and POP mail, as well as implementing a calendar, chat function, and to-do list.
Differences between POP3/SMTP/IMAP and how to set them up Currently, webmail has become mainstream and settings have been simplified, but email settings that require receiving/sending servers and port settings, etc. Bigina […]
System requirements
Version 102 as of
OS: Windows 7/8/10/11
CPU: Intel Pentium 4 or later (SSE2 support)
RAM: 1 GB or more (64bit is 2 GB or more)
Storage: 200MB or more free disk
Where to get the software
Thunderbird official download page
Install Thunderbird
The Thunderbird installer does not include adware or spyware.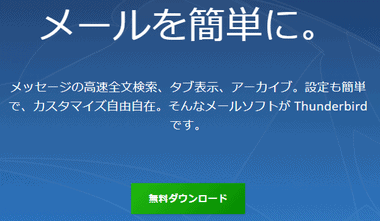 Click "Free Download" on the download page to download the installer.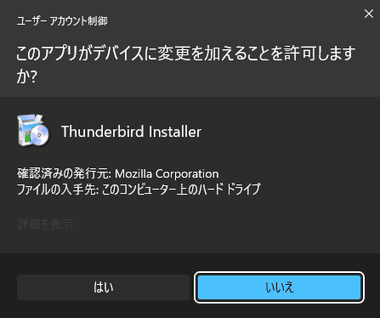 Launch the downloaded installer and when the User Account Control dialog is displayed, click "Yes" to allow it.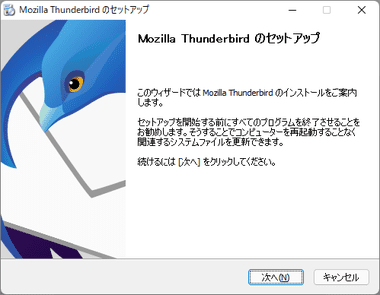 The setup wizard will start, so click "Next".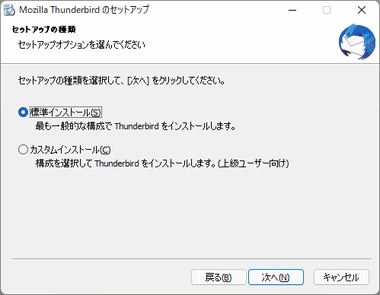 Standard installation Select "Next".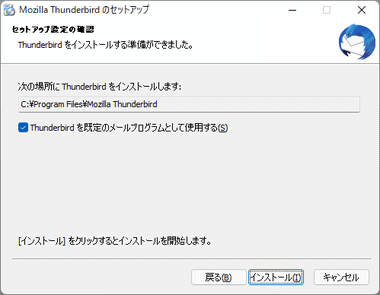 If you want to change the default mail program to Thunderbird, select "Install" with the default settings.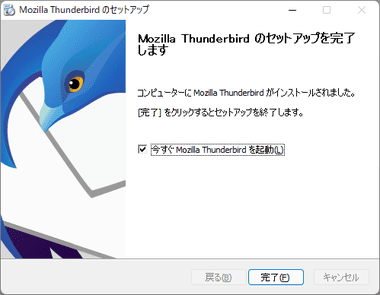 Click "Finish" to complete the setup.
After setup is complete Launch Mozilla Thunderbird Now If you click "Finish" with the check mark in, Thunderbird will start. Setting up an existing email addressStarts.
update
Thunderbird versions 91 and earlier do not automatically update to version 102, so update manually.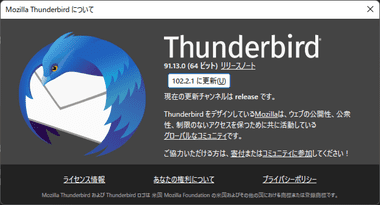 Configuration Of HELP から About Thunderbird Open and "Update to 102.2.1".
Thunderbird settings
Email address setup
The setting method for registering an e-mail address differs depending on the e-mail service used.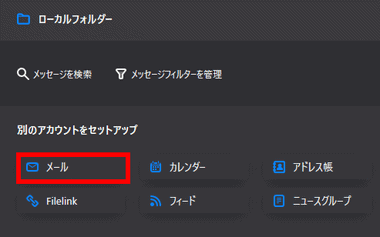 Set up your email address in the left sidebar Local folder , Registered email account in the right pane, select Set up another account Of E-mail Do from.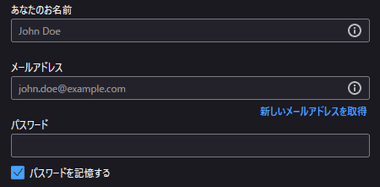 Enter your display name, email address and password, then click "Continue".
Gmail/ Outlook/ Yahoo/ iCloud
Gmail/ Outlook/ Yahoo/ iCloud are automatically recognized by Thunderbird when you enter your login information.
your name
The name that will be displayed to the recipient of the message.
Email Address
The email address of the webmail service.
Password
Webmail service password.

The account settings were found in the Mozilla ISP database. Confirm that is displayed and click "Finish".
Gmail requires opening a browser and logging in to a Google account, but for Outlook/Yahoo mail/iCloud mail account information is authenticated and registered in Thunderbird.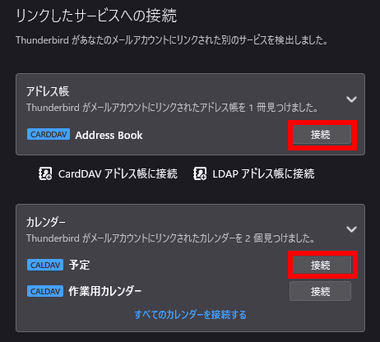 gmail When you register Google contacts と Calendar is detected, so if you access from Thunderbird, "Connect".
IMAP mail
IMAP mail provided by your own domain or ISP (Internet provider) requires you to set the host name and port number.
your name
Enter any name that will be displayed to the recipients of the message.
Email Address
IMAP mail
Email address.
Password
IMAP email password.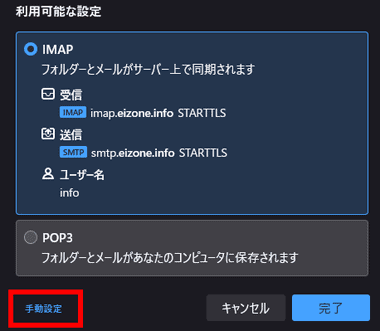 Once you have the IMAP/SMTP information manual setting Click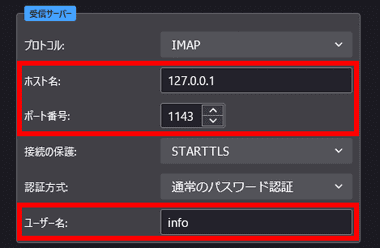 Incoming server / Outgoing server hostname-port number-User name Enter the server information provided in.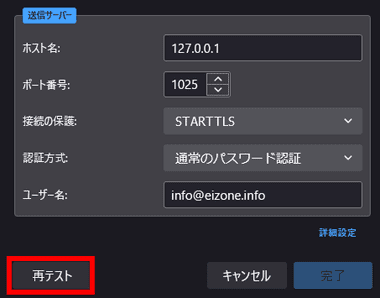 After setting, click "Retest".

The following account settings were found by examining the specified server Is displayed, click "Finish".
POP mail
POP mail is basically the same as IMAP mail settings, only the host name and port number of the receiving server are different.
your name
Enter any name that will be displayed to the recipients of the message.
Email Address
POP mail
Email address.
Password
POP email password.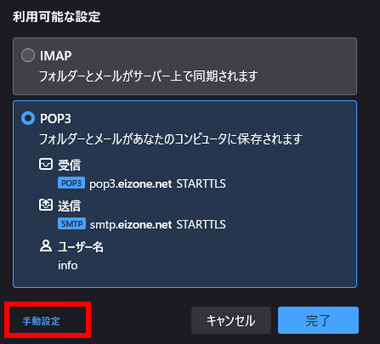 The account settings were found by searching for a common server name.Is displayed,Available settings The POP3 Change it to manual setting Click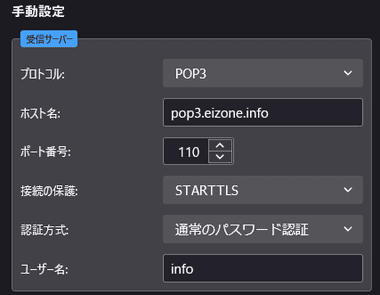 Enter the information of the receiving server and sending server retest And The following account settings were found by examining the specified server Is displayed, click "Finish".
Configuration
Make general Thunderbird settings such as fonts used and desktop notification settings.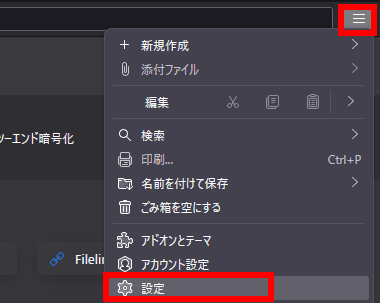 Set from the hamburger button on the upper right Configuration choose.

Open Settings, Calendar, Address Book, etc. in new tabs.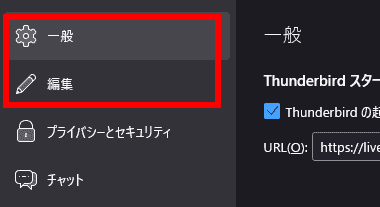 On the left sidebar General と Edit Customize the basic settings with.
Store in task tray
Starting with version 78, Thunderbird can be stored in the task tray when minimized.

When storing in the task tray General Of System integration In the item of Put the minimized Thunderbird in the task tray To enable.
Change UI font size and density
If Thunderbird's font size is too small to see display Adjust font size and density in settings.



hamburger button on the top right display から font size と UI density Edit.
Layout change
Thunderbird is popular for webmail vertical display or The folder pane is short and the message part is horizontally long Horizontal display You can change the layout to



hamburger button on the top right display から Layout Change with.
Account settings
After registering your email account in Thunderbird, format and sync settings.

Select the account you want to configure from the left sidebar and it will appear in the right pane Account settings Click
From and signature
Editing or signing the name displayed to the recipient of the message Account Setting Set with.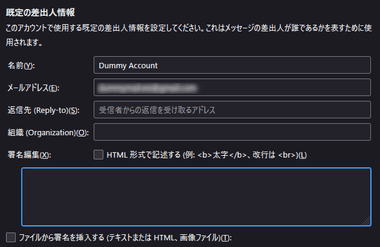 Enter the sender's information and signature.

If you are using multiple accounts, you can also specify the sending server.
Receipt confirmation
Confirmation of new messages is the default Every 10 minutes Is set to.

If you need to change it, in the left sidebar Server settings It is in Server settings Edited by item.
Where to save the message
Received messages are saved in the profile folder, which is a hidden folder, but only messages Account Setting You can change the save destination from.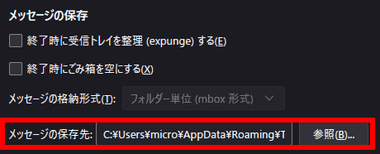 To change the save destination of the message Server settings Of Save message Edit with.
Email formatting
Thunderbird will send messages in plain text format if the message does not use style formatting, and in HTML format (with a plain text fallback) if style formatting is used.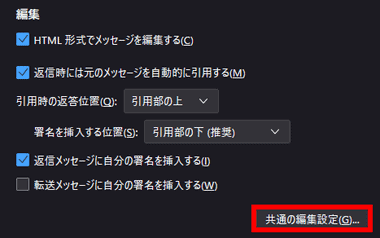 If you want to change the default settings,Edit and address input Of Edit Click "Common edit settings".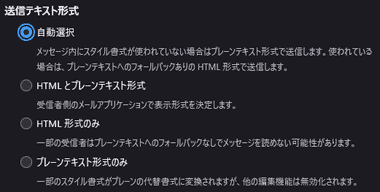 Transmission text format Select from.
Sync settings
By default, accounts added to Thunderbird are set to download all emails, so you can access past emails even when you're offline, but you can save disk space by setting a sync period.

Account Setting From the left sidebar of Synchronization and disk space Select andDisk space で Download messages for recent ○ days Check the box and specify an arbitrary period.
Account deletion
To delete the created account Account Setting On the left sidebar of Account operation Done in.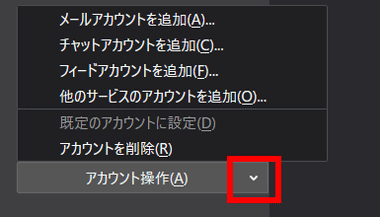 After selecting the account to delete, Account operation から Delete account .
even if i delete all my accounts プ ロ フ ァ イ ル, and the deleted account information is displayed in items such as SMTP. Create a new profileOr after uninstalling Thunderbird Delete profile folderTo do.
Profile management
Thunderbird provides email account information, messages, etc. プ ロ フ ァ イ ル It is saved in and automatically set up. default A profile is created.
Create a new profile
If you create a new profile and change the profile to be used, you can switch between multiple Thunderbirds with different registered accounts and settings.
When creating a profile Win + R で Run Open thunderbird.exe -p And click OK.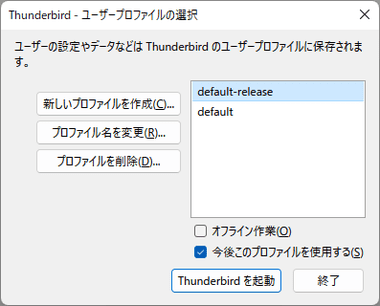 The profile manager will open Create a new profile Click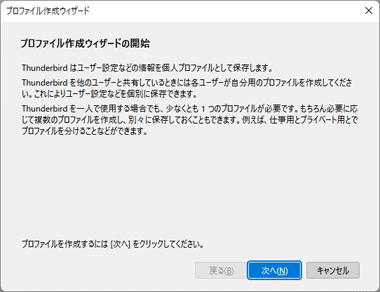 The profile creation wizard will start. Follow the instructions to create a profile.
Uninstall Thunderbird
Profiles are not removed when Thunderbird is uninstalledSo reinstalling Thunderbird will restore it to the state it was in when it was uninstalled.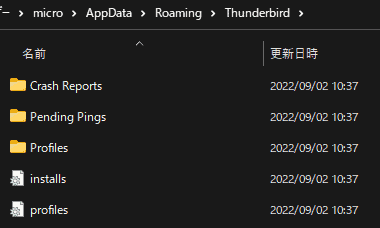 when uninstalling AppData In the folder roaming With folders Location In the folder Thunderbird You can install Thunderbird with the initial installation by manually deleting the folder.
AppData The folder is a hidden folder and in File Explorer's address bar % Appdata% When you enter roaming A folder opens.
Add-ons – extensions
Thunderbird can be customized by installing themes and extensions.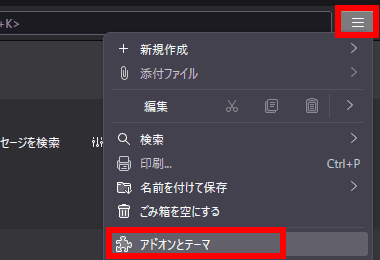 To add an add-on, click the hamburger button on the upper right. Add-ons and themes When you select Add-on manager Opens in a new tab.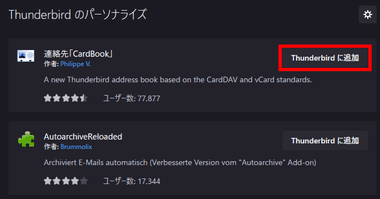 Recommend The add-ons listed in can be installed with "Add to Thunderbird".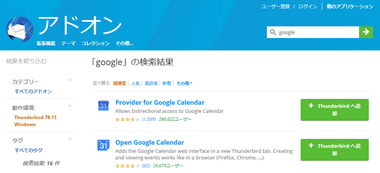 The search bar opens the add-on page in a new tab.
Installed add-ons and themes Add-on managerIn the left sidebar of Extension , Theme can be enabled/disabled or deleted.
Address book
Thunderbird address book Address book for recording と Personal address book There, Address book for recording Is automatically added when sending an email, and the email address added by the user is Personal address book It is saved in.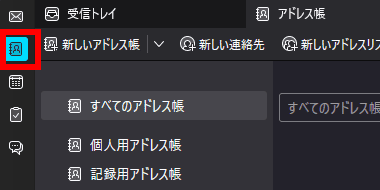 Open Address Book by selecting Address Book from the Space Toolbar on the far left.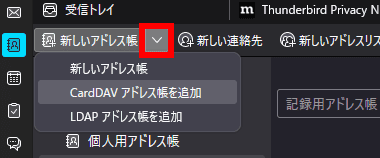 To add a new address book New address book Click or CardDAV , LDAP from the list.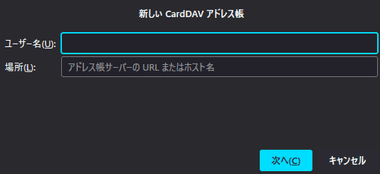 For CardDAV, enter your login information and access URL.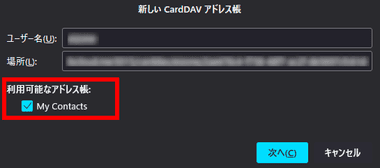 When I connect to the server available address book , so add it with "Next".
Using CardBook
Outlook.com If you want to use your contacts in Thunderbird, CardBook To use.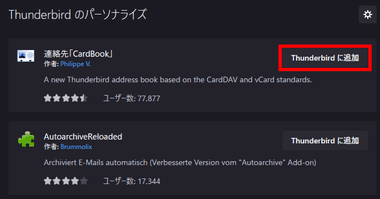 Add-ons and extensions Of Recommend から CardBook Install.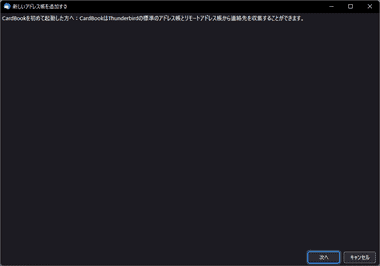 After installation, the screen for adding an address book will be displayed. Click "Cancel".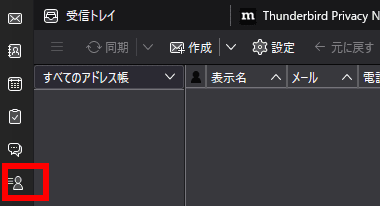 CardBook icon has been added to the space toolbar, so click it to select it.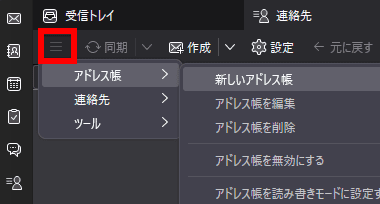 In a new tab Contact Opens, so from the hamburger button on the upper left Address book Select New address book Click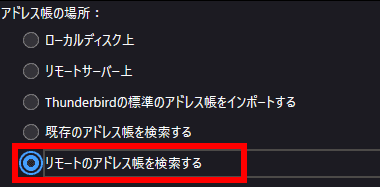 If you have added an Outlook.com email account Search remote address book choose.
To synchronize only the address book without registering an Outlook.com email account On a remote server choose.

Since Outlook.com is detected, enter the password and then "Verify feed",Verified When it becomes , click "Next".
On a remote server from the list of remote addresses if you select Outlook , enter your login information, and then 'Verify'.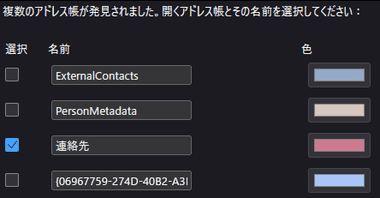 Enable the address book to synchronize and proceed with "Next", and the address book will be added with "Create".
Calendar
The calendar implemented by Thunderbird is iCalendar , CalDAV You can connect to a web app that supports.

Select an account from the left sidebar Set up another account から Calendar Click
Specify where to save the calendar and click Next.
Save to this computer
Select if you want to use the calendar only in Thunderbird.
Save to network server
Google calendar Select when connecting to a web app using CalDAV or CalDAV.

Save to network server If you select, when logging in to the remote calendar User name Was issued on the remote calendar side URL of CalDAV account Enter Search Calendars .

Enter your password to log in and a calendar will be added.
Related article

Windows standard mail app that can centrally manage web mail and POP mail Mail pre-installed on Windows 10/11 is a mail client app developed by Microsoft […]

Mozilla Thunderbird is a wholly owned subsidiary of Mozilla Foundation MZLA Technologies Corpora […]