Zero-knowledge secure note-taking app that is end-to-end encrypted even in the free version
notesnook is based in Pakistan Streetwriters is an open-source memo app that prioritizes privacy protection.
zero knowledge is a method of encrypting and decrypting data on the device of the user (client) side, and since the encrypted data is stored on the server, the service provider cannot view the data.
Plan comparison
Basic - free
・Number of notebooks: 3
・Tag : 5
・Attachments: No
・Bold (safe) use: Not allowed
・Use of Assignment Color : No
・Use of checklists/tables: Not allowed
・Font change : Impossible
・Image/video embedding: Not allowed
・Use of markdown/code blocks: No
・Output: text format only
・Backup : Manual only
Pro – 49.99 USD/year
・Number of notebooks : Unlimited
・Tag : unlimited
・Attached files: Yes (Unlimited with a maximum size of 500MB)
・Use of bold: Yes
・Use of assignment colors : Yes
・Use of checklists/tables : Yes
・Font change : Yes
・Image/video embedding: Yes
・Use of markdown/code blocks: Yes
・Output: Text format, Markdown, PDF, HTML
・Backup: In addition to manual and automatic, encrypted backup is also possible
Notesnook for Android

Notesnook, a memo app that supports Markdown notation and can be used for free synchronization, sharing, and backup, is an open source development by Pakistan-based Streetwriters that prioritizes privacy protection.
System requirements
Version 2 Currently
OS: Windows
Where to get the software
Creating a Notesnook account
Create a Notesnook account if you don't have one.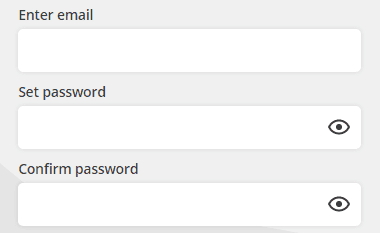 Account creation page Enter your email address and password to "Create account".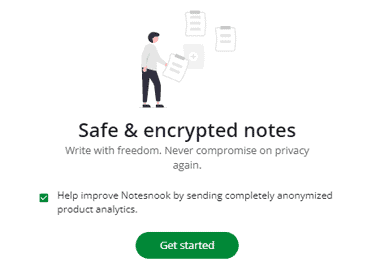 To opt out of anonymous usage submissions Help improve Notesnook by sending completely anonymized produce analytics Uncheck "Get started".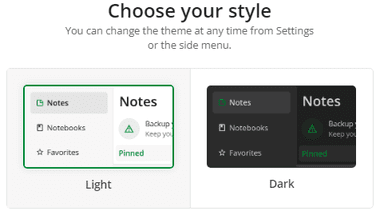 Select the theme you want to use and click Next.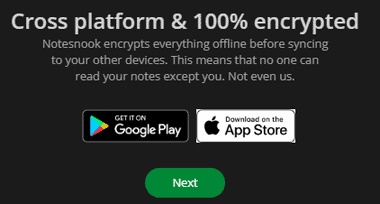 Since it is displayed about cross-platform, "Next".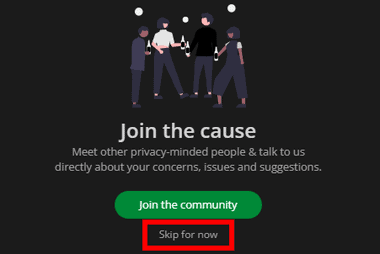 If you don't want to join the community Skip for now .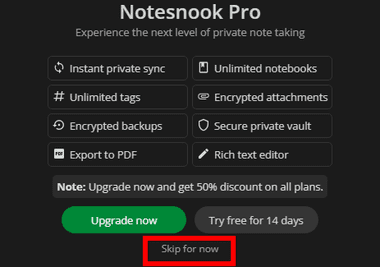 "Try free for 2 days" for a 14-week trial of Notesnook Pro with full functionality, or Skip for now .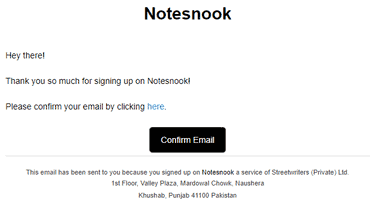 When Notesnook opens, you will receive an email to confirm your registered email address.
Click Confirm Email to verify your email address.

Continue Notesnook is available at
Installing Notesnook
Notesnook for Windows installer does not contain adware or spyware.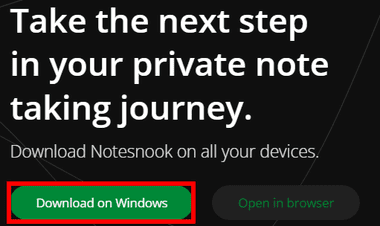 Download the installer by clicking "Download on Windows" on the download page.
If you launch the downloaded installer and it is blocked by Windows Defender's SmartScreen Detailed information to 'run'.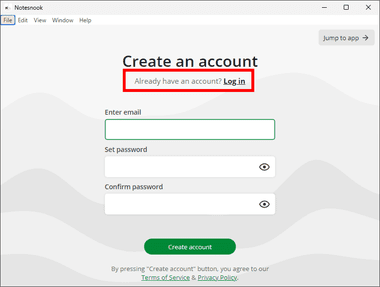 When the installation starts automatically and the account creation screen opens Log in Click
Enter your Notesnook account information and log in with "Login to your account".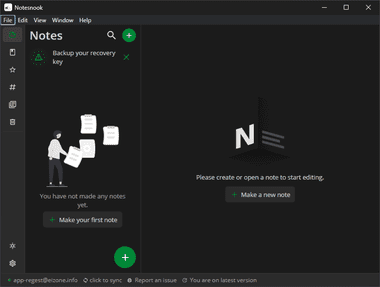 Notesnook becomes available.
Get recovery key
Notesnook expands the password used in the account and uses it as an encryption/decryption key, so data can be recovered if the password is lost. recovery key To get.

note list Backup your recovery key Click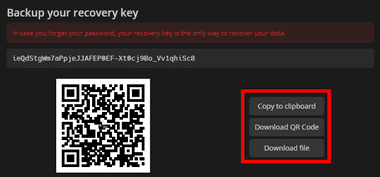 Save the displayed recovery key as a file or QR code.
The set password is strengthened with a password extension algorithm and used as an encryption key, for zero knowledge.

If you forget your login password and recovery key at the same time, you cannot decrypt encrypted notes.

.
Using Notesnook
Notesnook does not limit the number of notes or access devices even in the free version, and notes are protected at the same level as the paid version, but if you want to attach files to notes, you need to upgrade to the paid version.


Add a new note with "+" at the top/bottom of the note list.


Enter a title and text.
The green plus displays menus available in the paid plan, such as inserting a list, adding an image, and adding an attachment.
Garbage can
Items moved to Trash Auto delete after 7 daysIs done.


To move a note or notebook to the trash, open the context menu (right-click menu) on the list. Move to trash Run with.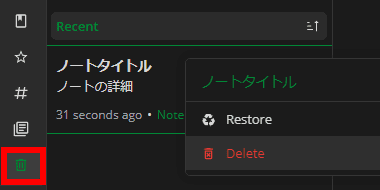 in the left side panel within 7 days after moving to the Trash. Garbage can Open the item's context menu from Restore can be recovered with
Restrict edits and lock notes
Notesnook has a function to prohibit note editing/updating and a lock function, and note lock is available in the paid version.


Prohibit note editing To do so, open your notebook and click the 3 dots on the top right Read only To enable.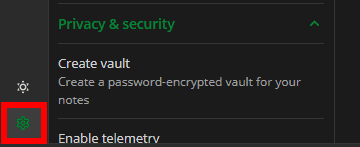 If you want to lock your notes, tap on the left side panel beforehand. Configuration から Privacy & security Unfold Create vault で safe Created.


From the 3-dot leader on the top right Lids and enter the password you set for the safe.
Organize your notes
the notebook is notebookと Tag Manage using.

notebook is like a folder to save notes.To create a new notebook, select Notebook from the left side panel and add with "+".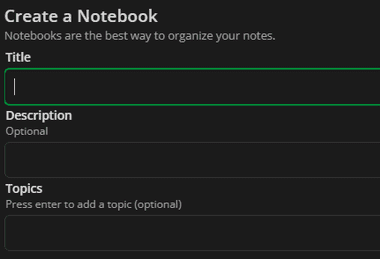 of the notebook to create title と Topics Enter.
Topics corresponds to a subfolder and is optional, but notes cannot be saved directly under a notebook, so at least one topic is required.
The free version limits the number of notebooks and tags that can be created, so notes are managed in Topics.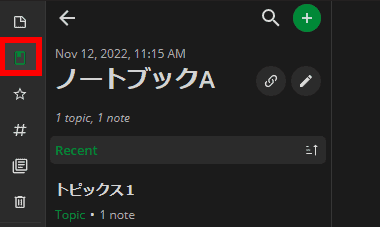 Topics is added to the notebook, and clicking it will list the notes in the topic.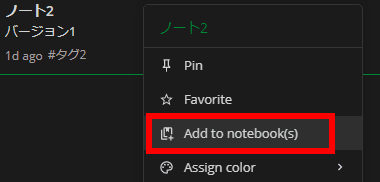 To add an existing note to a notebook, from the note's context menu Add to notebook(s) to specify the Notebooks and Topics to add.
Tag
Tag Is a management keyword attached to a notebook.

under the note title Add a tag Click and enter a keyword for a new tag. + Create tag Add with or select an existing tag from the list.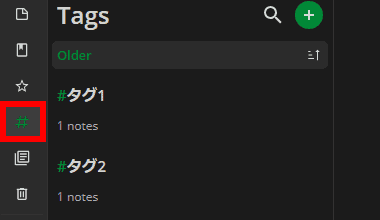 The added tag is in the left side panel TagYou can extract notes by selecting with .
Pinned
Pin a note to pin it to the top of the list.


From the notebook's three-dot leader PinTo enable.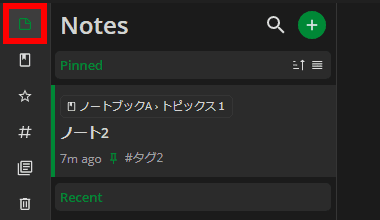 Pinned notes are located in the left side panel Note , notebook Of Topics to pin it to the top of the list.
Wishlist
Frequently used notes managed by different topics or tags are Wishlist can be registered and listed.


To add to favorites, from the 3-dot reader on the note FavoriteTo enable.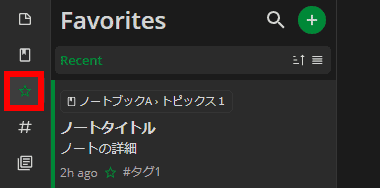 You can add notes to your favorites by clicking on the left side panel. FavoritesIt can be accessed from.
Shortcut
If the number of topics and tags to manage your notes becomes complicated, you can create shortcuts for frequently used topics/tags and add them to the left side panel.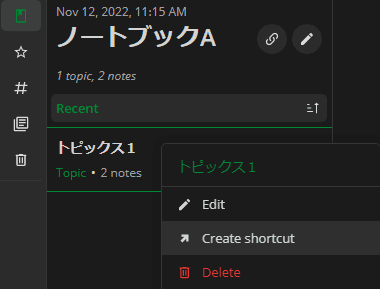 Create a shortcut from the context menu of topics or tags Create shortcut Select to add it to the left side panel.
Restore from version control
Notesnook stores a version history of your notes, but since the history is stored locally, it is not synced between devices and the history is deleted when you log out of your account.


If you want to restore a note from history, from the note's three-dot reader Previous Sessions Select the history displayed in .

Since the contents of the note are previewed, click "Restore" to restore.
Publishing Notes – Monograph
Notesnook allows you to publish your notes, which can be password-protected or self-destructing when published.

To publish a note, open the note to be published and click "Publish".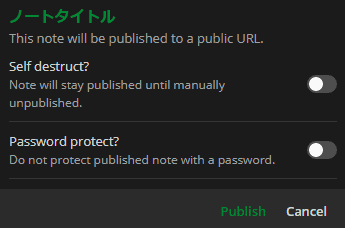 Self-destruction that prevents access once displayed is self destruct? to enable and password protect Password protect? Enable and set a password.

To unpublish a published note, press Unpublish Click
backup
Perform regular backups in case of data corruption due to synchronization or other problems.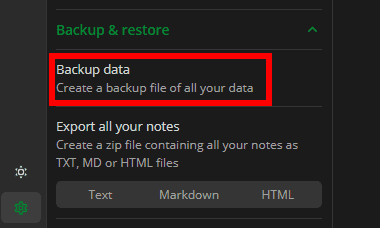 Configuration Of Backup & restore から Backup data Click and enter your account password to save the backup file in your Documents folder.
The saved backup files are unencrypted but retain account information, so they cannot be retrieved by Notesnook logged in with a different account.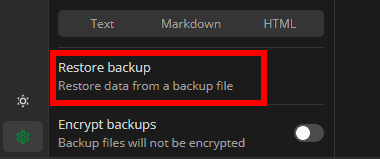 To restore from backup data Configuration Of Backup & restore から Restore backup Specify the backup file with .
Related article

An easy-to-use multi-functional organizer app that is ideal for personal use UpNote is a multi-functional organizer app that supports Japanese, developed by Mr. Thomas Dao ( Dao Xuan Dung ) of Vietnam […]