Verification of the risk of using PC Cleaner/Driver Updater that is advertised
Canadian software vendor PC HelpSoft Is developing PC Cleaner/Driver Updaterproducts such as with some security apps Potentially unwanted apps ( PUA/ PUP ).
PUAs/ PUPs
PUA/ PUP (Potentially Unwanted Application/ Potentially Unwanted Application Program) are programs that affect performance, programs that advertise and promote, apps that avoid security software, apps with bad reputation, bundled apps, etc. Malware is a clearer danger. Generic term for grayware that does not exist but has a risk of being exploited.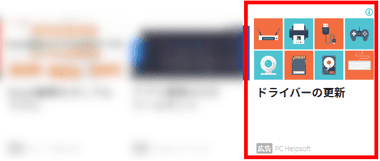 PC HelpSoft of apps are served with ads.
Response of security software
Kaspersky and Trend Micro were also detected as PUAs until around 2019, but there are only a few security software that react to the current PC Cleaner (ver 9.0) and Driver Updater (Ver 6.2) installers, and Windows Defender with PUA enabled. Even if you download and install using Edge, it does not respond.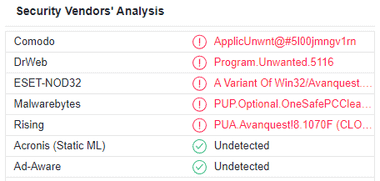 VirusTotal Then. ESET-Dr.Web-Malwarebytes etc. are detected as PUAs/PUPs, but only 8% of security apps were judged as risky.Sophos-Kaspersky was installed, no PUA was detected.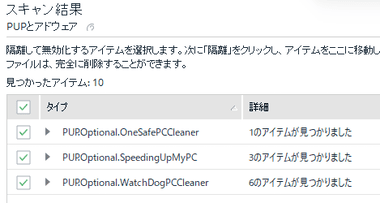 Adw cleaner will isolate PC Cleaner and then uninstall it on reboot.

ESET Then from PC Cleaner or Driver Updater Avanquest Detect PUAs bearing the name of
Avanquest Software
PC HelpSoft is a French listed company claranova (former BVRP Software SA ) under the umbrella of BVRP Software SA in 2003 Avanquest Global Software Publishing and released Avanquest Fix-It Utilities and Driver Genius. OneSafe Softwareare sold under the brand of
In Japan, in 2006, a joint venture company invested by Avanquest Software and Softbank Avanquest BB was established and initially sold overseas apps, but now the site is closed.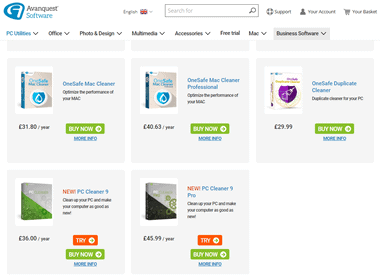 Avanquest Software The site also sells Avanquest Fix-It Utilities, as well as PC Cleaner and OneSafe PC Cleaner.
usage risk
Implemented in Chrome 2018, December 12 release Ability to regulate unauthorized redirects Due to the detection of PUAs by security apps, rogueware targeting PC beginners has decreased dramatically, and PC HelpSoft products have reached a level where security software does not detect them as a threat.
Rogueware (Rogue Security Tool)
The website you are browsing is prompted to install a disguised security app with a pop-up display that seems to be infected with a virus, and if you install the app, you will need to purchase a paid version to remove the fake virus, and personal information and credits Card information is stolen.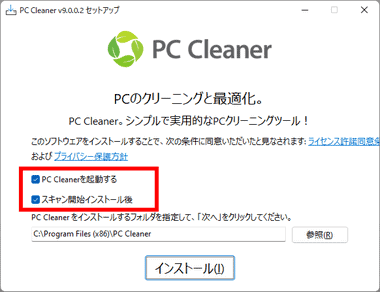 Autorun is enabled during installation, so if you install without disabling it, the scan will start automatically.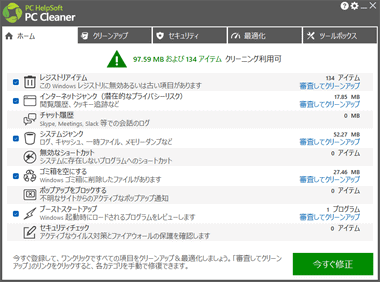 After scanning Examine and clean up Individual cleaning is possible with , but batch processing with "Fix Now" requires an upgrade to the paid version.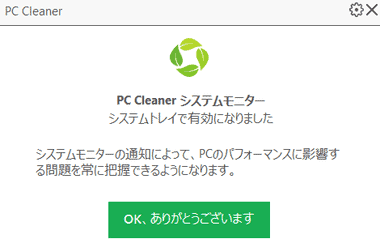 Since system monitoring and notifications are enabled by default, notifications are displayed when the app is closed and it runs in the background.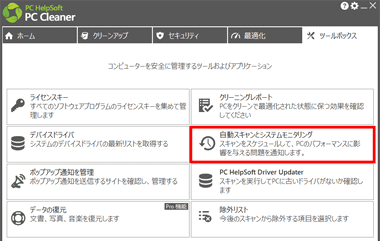 Monitoring can be disabled in the settings, but the settings screen is Configuration not the menu Toolbox Placement is unique.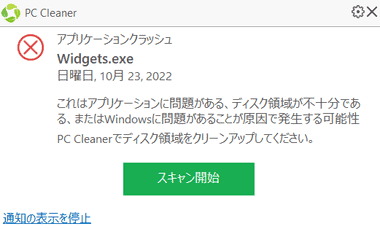 With automatic scanning and monitoring enabled, you'll be notified if anything goes wrong, and in some cases repairs may require you to upgrade to a paid version.
problem
The user interface is confusing due to the mixture of functions that can be used for free and functions that require updates. provoke user anxiety It can be said that there is a problem that the contents may be displayed,Products that can be installed for free by restricting the functions of paid products have more or less a lead to upgrades, so it is difficult to conclude that they are riskware.
Uninstall
The current version of PC Cleaner and Driver Updater are normal apps, so Windows Apps and features You can uninstall from.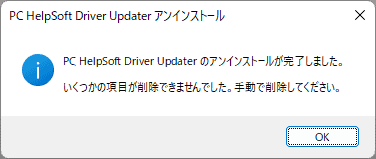 Apps and features If you uninstall with, the PC Cleaner folder and registry in the ProgramData folder will remain without being deleted, so if you are concerned Revo Uninstaller Uninstall with an uninstall support application such as
Related article

Data such as usage is transferred to China Dangerous VPN app Turbo VPN is a VPN app provided by Singapore-based software vendor Innovative Connecting, Goo […]

Why IObit is criticized and the dangers of apps IObit is a Chinese software vendor that develops system utilities and security software, and while it is notorious, it is highly rated by IObit Uninstaller and others […].

Verification of the risk of using PC Cleaner/Driver Updater that is advertised PC Cleaner/Driver Updater developed by Canadian software vendor PC HelpSoft […]