VPN service that enables the highest level of secure communication even with a free plan
ProtonVPN Is a Swiss email / VPN provider Proton AG It is an open source VPN application provided by, but Japanese is not supported, but there is no limit on the amount of data used even with the free plan, kill switch and DNS leak countermeasures are applied, user active logs are not saved, and advertisement display is also done. not.
transparency
The internal processing of VPN apps is opaque, so there is a potential risk, and while it is rare for providers to publish audits of third-party organizations, ProtonVPN released the source of VPN apps ahead of other companies in January 2020. It proves the reliability of the app.
GitHub Official ProtonVPN Android app
SEC Consult Audit Report
Proton VPN Free
・ Number of devices that can be used with one account: 1
・ Connection server: Japan, the Netherlands, and the United States
・ Communication speed: Medium speed
-P2P connection: Not supported
-Secure Core: Not supported
· NetShield (adblock): not supported
・ Streaming service: Not supported
· Connecting to Tor: Not supported
Proton VPN Plus
・ Number of devices that can be used with one account: 1
・ Connection server: More than 64 units in 1800 countries
・ Communication speed: High speed (up to 10Gbps *)
· P2P connection: Support
· Secure Core: Support
· NetShield: Support
· Streaming service: Support
· Connecting to Tor: Support
See below for VPN
Benefits of using a VPN service and indicators when selecting a VPN provider Using a VPN service offers the benefits of secure communication, concealment of communication content, and anonymization of communication, and the location of the connection source by specifying a connection server. […]
See below for Android version

A free Android VPN app that enables secure communication, ProtonVPN is an open-source VPN app developed by Swiss e-mail/VPN provider Proton AG.
System requirements
Version 2 Currently
OS: Windows
On March 2020, 3, ProtonVPN will update the system, and Windows 30 users will be upgraded to the latest version because ProtonVPN will stop in environments running ProtonVPN version 7 or earlier on Windows 1. necessary.
Where to get the software
ProtonVPN official site plan selection page
ProtonVPN installation
Proton VPN requires a login to use, so create an account before installing the app.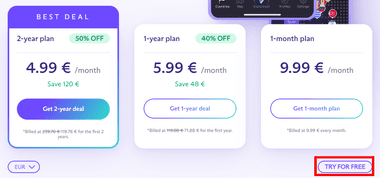 Plan selection page If you want to access and use it for free, please refer to " TRY FOR FREE ", Select a subscription for paid plans.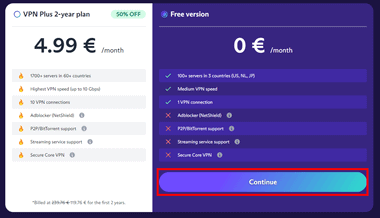 A confirmation screen for the selected plan will be displayed, so click "Continue".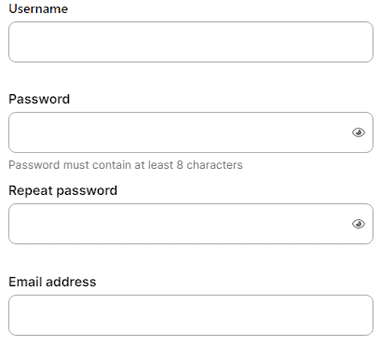 Enter your user name, password, and email address.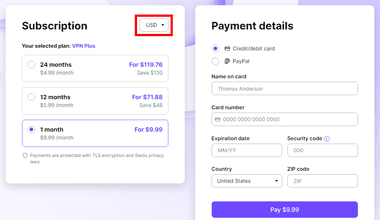 If you select a paid plan, select the subscription to use and the currency to settle, enter the payment information, and settle.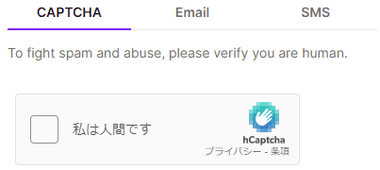 Confirm that the free plan is not a robot CAPTCHA Is displayed, check it and select the specified image.
hCaptcha Is a service provided by Intuition Machines that collects data such as IP addresses, so if you do not want to use it, issue an authorization code by email address or SMS.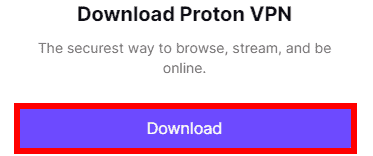 Once the account is created, click "Download".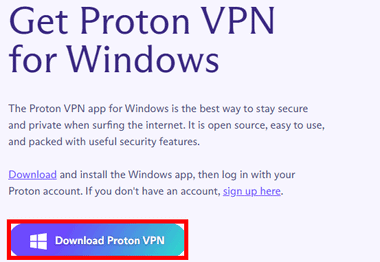 download page will open, click "Download Proton VPN" to download the installer.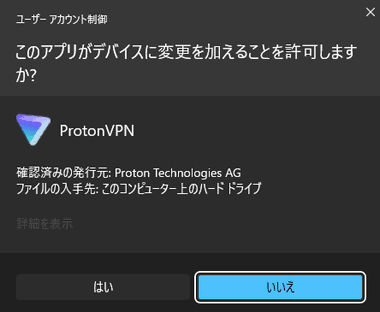 If the User Account Control dialog is displayed after starting the installer, click "Yes" to allow it.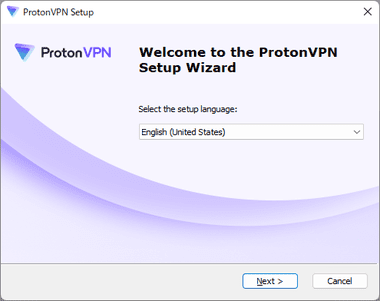 The language selection screen will appear, but Japanese is not supported. English As it is, "Next".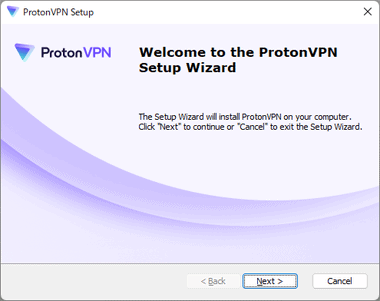 The setup wizard will start, so click "Next".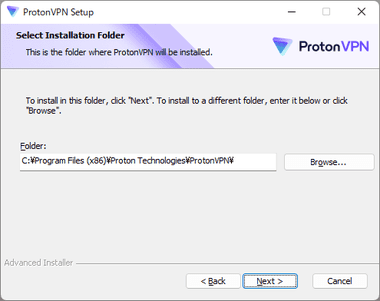 If you are not particular about the installation destination, the default setting is "Next".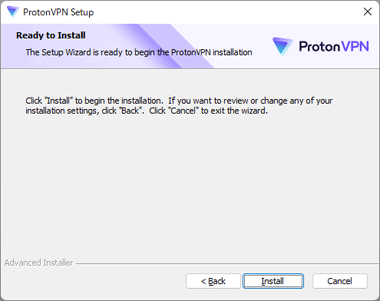 The installation is ready, so if there is no problem, click "Install".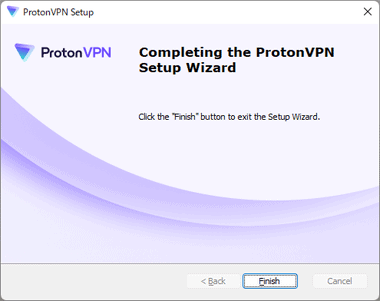 Setup is completed with "Finish".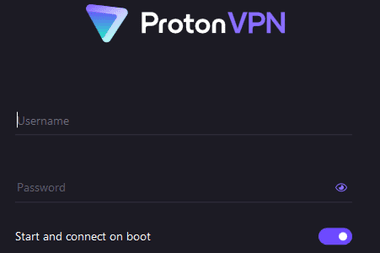 When ProtonVPN starts and the login screen opens, enter the registered user name and password and click "Login".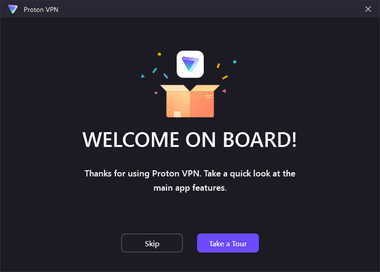 A welcome message will be displayed, so click "Skip".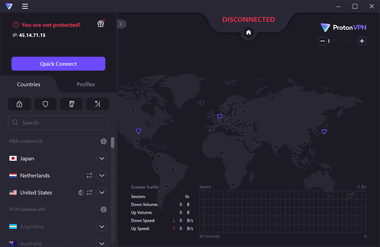 Setup is complete when the world map is displayed.
Configuration
Set the automatic startup when Windows starts and the protocol to be used.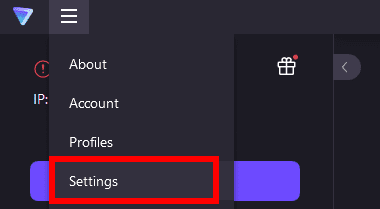 From the hamburger button on the upper left Settings choose.
Basic settings – General
General Now, set the settings when starting ProtonVPN.

Start Minimized Set the startup style with.
to Systray
Starts while stored in the system tray
to Taskbar
Start in minimized state
Disabled
Normal startup

Quick Connect Specifies the behavior of the Quick Connect button.
Fastest
Connect to the fastest server available
Random
Randomly select a connection server

Windows startup settings.
Start on boot
ProtonVPN automatically starts when Windows starts
Connect on app start
Automatic connection to VPN when ProtonVPN starts
Show Notifications
Display notifications
Connection settings – Connection
Connection Now, set up the VPN connection.

Protocol Automatically selects the optimal protocol (communication protocol) Smart Is the default, and you can also specify the protocol.
wire guard
It is a protocol that uses the latest encryption technology, consumes less system resources than OpenVPN, and can be expected to improve communication speed.
OpenVPN – UDP (User Datagram Protocol)
Communication speed is faster than TCP.
OpenVPN – TCP (Transmission Control Protocol)
It is more stable than UDP.
VPN Accelerator Is a ProtonVPN proprietary technology that distributes VPN traffic using a multi-core processor and improves VPN speed, and is enabled by default.
Auto reckoning Is a function that automatically reconnects to the last connected server when the VPN connection is disconnected for some reason.Kill switchBy using in combination with DNS leakStay online while preventing.

Moderate NAT Enables if you have problems with online games or video conferencing when connecting to a VPNCustom DNS Server Is set when using a DNS server other than the ProtonVPN DNS server.
ProtonVPN provides excellent privacy protection by default Strict NAT Is enabled, butStrict NAT Has disadvantages such as slow connection speed and high ping rate, and when there is a problem playing online games when connecting to VPN Moderate NAT Improvement can be expected by enabling.
Advanced Settings – Advance
Advance With the network adapter to use Split tunneling Set.

Port forwarding Is available to paid plan users, and when enabled, the active port number is displayed on the home screen, and the port can be set for P2P such as BitTorrent and online games.

Select a network adapter if you are using the OpenVPN protocol.
The TUN adapter is faster than the TAP adapter and switches to the TAP adapter if there is a connection problem.

ProtonVPN does not use a third party DNS server,DNS queries are being processed by the connected VPN serverFor,DNS leak protection (DNS leak protection) is always enabled.

Hardware acceleration Enables GPU parallelism by default for items that use the feature, but disables it if it causes problems with screen rendering.
Split tunneling
Split tunneling Is a function to exclude from VPN connection, and registers applications and IP addresses that cannot be used with VPN connection.
Split tunneling When registering apps / IP addresses to be excluded from VPN connection withExclude apps/IPs from using VPN tunnel Select andAPPS Specify the browser to be excluded from or specify the application to be excluded from "Add App +".
Adding an app to Split Tunneling will add ProtonVPN Reconnect A message will be displayed asking you to do so, but it will be reflected more reliably if you restart your computer.
Add profile
When connecting to a specific server, register it as a profile.
In the left pane of the home screen Profiles Select the tab and click "Create Profile".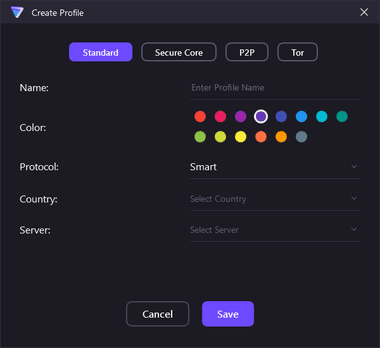 Specify the profile name, display color, and connection server, and click "Save".
The set profile is Manage Profiles Can be re-edited from.
How to use ProtonVPN
If you log in during setup, ProtonVPN will start logged in until you manually log out, and if you have enabled automatic connection, the VPN connection will be enabled when you start Windows.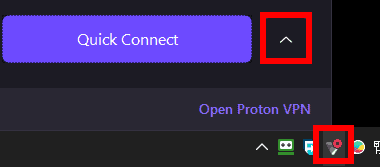 You can connect/disconnect to VPN from the ProtonVPN icon in the task tray.
On the home screen Quick Connect Click Countries- Profiles Tab or MAP Specify any connection destination from.
The availability of the server is displayed in three stages, and in order to obtain a stable communication speed, select the server with the lowest load.
Green: Server load 1 ~ 49%
Yellow: Server load 50 ~ 90%
Red: Server load 90-100%
The free plan can be used even on domestic servers FREE Server Limited to.
Kill Switch
Kill Switch is a feature that blocks the system from connecting to an unencrypted DNS server to stay online if the VPN connection is lost for any reason.
The kill switch is enabled by default.
The kill switch enabled by default is ProtonVPN's Automatic reconnection (Auto Recconection) protects the IP address when recovering the disconnected communication, and the Internet line is cut off only when the communication to the VPN server is not restored, but it is not protected when the VPN connection is manually disconnected. Connect to a normal line.
NetShield
NetShield Is a function that queries the domain list of advertisements and trackers in addition to malware and spyware on the VPN server and blocks the corresponding domain.BasicAvailable to paying members above the plan.
Paid plan users are enabled by default.
By default, blocking only malware / spyware is enabled, and if you want to block ads / trackers as well Block malware, ads, & trackers choose.
Secure Core
Secure Core The MoreProtonVPN's unique architecture that can be used by paying members above the plan, by attackers who are concerned about using a normal VPN server VPN server monitoring Function to avoid.
In countries where the Internet is regulated, such as China, Russia, and Turkey, and countries such as the United States and the United Kingdom, where the Internet is monitored and legally enforced by VPN providers, traffic on installed servers is monitored. There is a potential risk of losing the VPN's anonymity.
Secure Core Is disabled by default.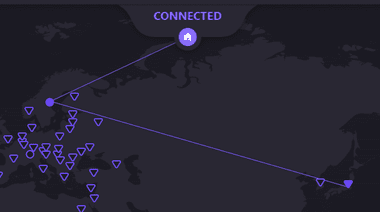 Secure Core When enabled, privacy protection is enhanced Switzerland / Sweden / Iceland Since it connects to the server in the specified country after going through one of the servers installed in 55 countries, even if the traffic is monitored, it can only track the server that went through in the middle.
port forwarding
Toggle enable/disable of port forwarding.
If you want to enable port forwarding, click the button Port Forwarding On, To disable Port Forwarding Offchoose.
The home screen shows the active port number.
P2P/BitTorrent
Paid members with Basic plan or above can use P2P / BitTorrent compatible servers, sosyncthing , Resilio Sync な ど P2P An app that connects with (Peer to Peer) can be used in a VPN environment.
For P2P compatible servers Double-headed arrow The icon is displayed.
Tor overVPN – Connecting to an Onion domain
MorePaid members with plans or above can use onion domain compatible servers and can access onion domain sites in a VPN environment.
To the site of the onion domain Tor browser , Brave It can be accessed only with a browser that can connect to Tor.
For servers that support Onion domains, Onions The icon is displayed.
smart routing
smart routingis a technology that enables VPN connections in countries where physical servers may not be available.Servers that are actually in another country Works like a regular VPN connection while connected to
smart routingin the place of 地球 icon is displayed.
VPN connection problems
Depending on the application, an error may occur if you do not start it before connecting to the VPN, so if you have problems after starting with automatic connection, turn off automatic connection and restart the computer to reproduce the problem. Check.
Server maintenance and removal
ProtonVPN is undergoing extensive maintenance on an ongoing basis, adding new servers and deleting existing servers, and it may be necessary to change the settings of the connection server if it is registered in the profile.
Check for DNS leaks
Use a dedicated site to check if the IP address is properly protected when connecting to the VPN.
With a VPN connection established ipleak.netAccess toYour IP address と DNS Address If is the same IP address and the country of the connected VPN server is displayed, the IP address is anonymized.
Password Reset
If you forget the password you set, you can reset and reset the password.
See below for password reset and data recovery

Password reset and data recovery procedures used with Proton Mail and ProtonVPN The password set in your Proton account recovers encrypted and stored data such as messages and contacts […].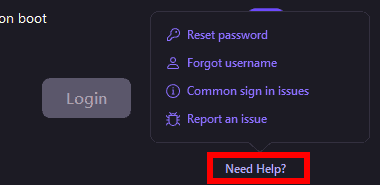 Password reset ProtonVPN app On the login screen of Need Help? から Reset Password choose.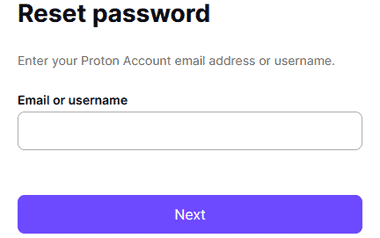 Reset Password Select to open the browser. Enter your user name or email address and click "Next".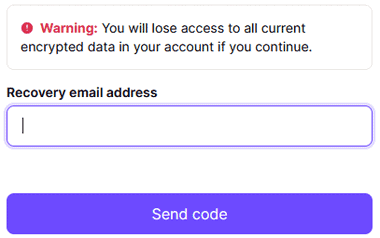 Recovery email address Enter the email address you registered when you created your account in "Send code".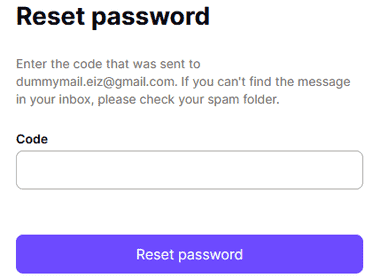 Enter the reset code sent to the email address you entered and "Reset password".
"Reset password" if you agree that all services in your Proton account will not be able to recover encrypted data.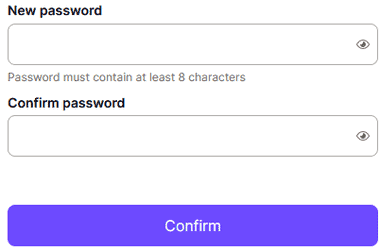 Enter the new password twice and click Confirm to display the dashboard when the password is updated.
ProtonVPN upgrade
Full-featured ProtonVPN for paid plans Proton VPN Plus And Proton Mail and ProtonVPN are available at full functionality Proton Unlimited There is.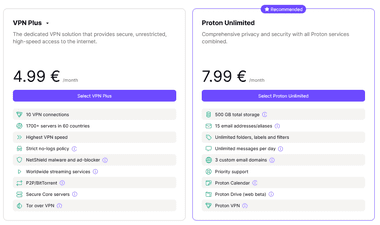 ProtonVPN official website Go to and enter your account information from "Sign in" in the upper right corner DashboardWhen you open Plans Since the plans that can be selected with are displayed, specify the plan to purchase.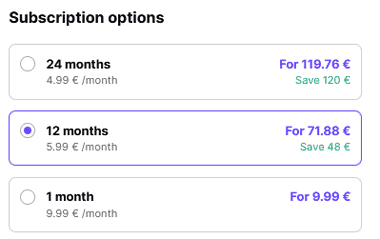 Select the subscription you want to purchase.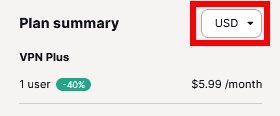 Select a payment currency.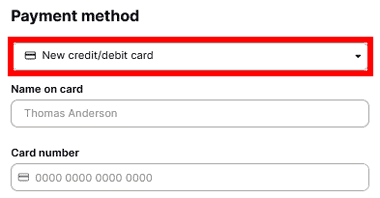 Enter payment information and settle.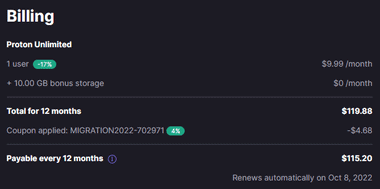 Of the dashboard Billing The payment status is displayed in.
Account deletion / subscription cancellation
To delete an account or cancel a subscription Dashboard Operate from.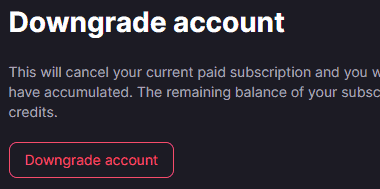 To cancel your subscription, go to the left sidebar Dashboard Select Account downgrade Downgrade to a free plan at.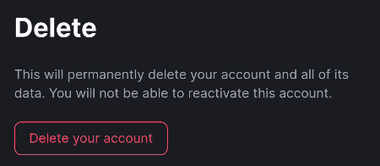 To delete the created account from the left sidebar Account Select and click "Delete your account" to execute the deletion.
Related article

Password reset and data recovery procedures used with Proton Mail and ProtonVPN The password set in your Proton account recovers encrypted and stored data such as messages and contacts […].