A secure and easy-to-use high-performance password management app
RoboForm Is a US software vendor Siber Systems A password manager developed by , which balances security, ease of use, and price, encrypts data with zero knowledge (encrypts data on the local device side before sending) to ensure the safety of synchronization between devices. A free version with limited functionality is also available.
System requirements
Chrome extension version 9 as of now
Desktop version 9 Currently
OS: Windows Vista / 7/8/10
Supported browsers
Microsoft Edge / Mozilla Firefox/ VPN extensions for Google Chrome/ Opera / IE 8 or later
Where to get the software
RoboForm Free Official Download Page
---

RoboForm, a high-performance password management app that is secure and easy to use, is developed by US software vendor Siber Systems. Password management that balances security, ease of use, and price […]
RoboForm installation
RoboForm does not contain adware or spyware.

download page Of Get RoboForm Free Click

It recognizes your browser and redirects you to the extension page.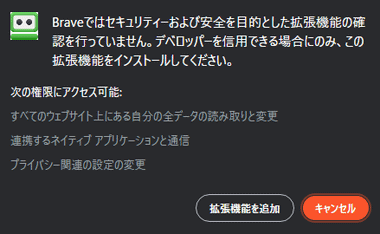 Added extensions to the browser.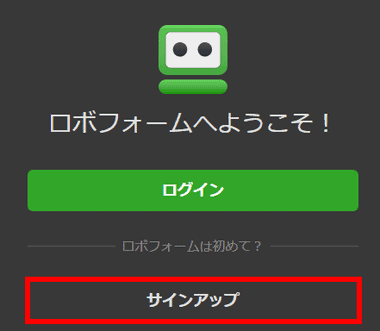 When the extension is added, the login screen will appear, so new users select "Sign up".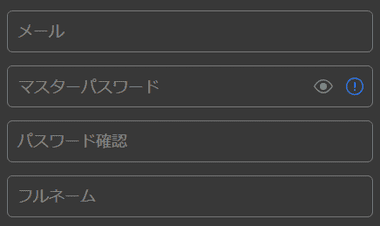 Email Address-Master password Register and click "Create Account".
Master password The

Used by PBKDF2 to generate a unique encryption key to access RoboForm user data

It 's not backed up by RoboForm,If you forget it, you will not be able to recover.Therefore, keep it in a memo, etc., so that it will not be lost.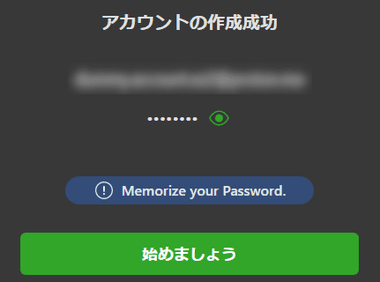 After creating an account, click "Get Started".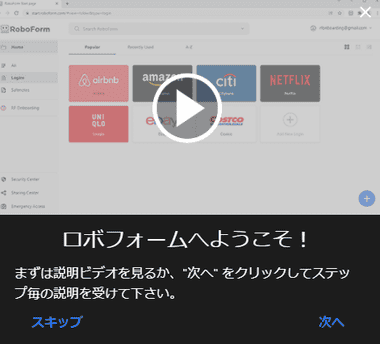 It will be available when you finish the tutorial.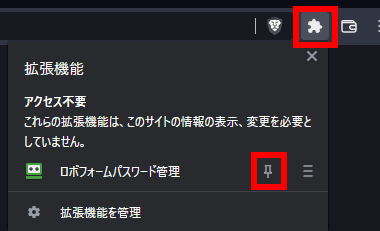 RoboForm is used frequently, so pin it down.
Email address verification
After creating a RoboForm account, authenticate your registered email address.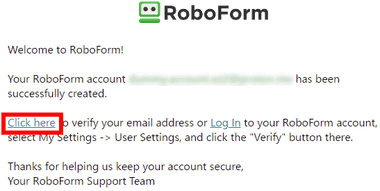 To the email address registered from RoboForm Account Creation Notification I received an email with the title, so in the text Click here Click the link to verify your email address.
Once you've created your account, RoboForm will email you tips on how to use it every day during the 30-day trial period, so if you don't need it, it's at the bottom of the email. Cancel reception Change the settings from the link.
Two-factor authentication settings
Receiving settings for one-time passwords used in two-factor authentication are RoboForm's Account management screenCan be edited with.
Two-factor authentication is recommended as a measure to prevent unauthorized access, as it is necessary to enter the passcode sent to the specified recipient after entering the normal account password when accessing the RoboForm account.

RoboForm Account Management Page When you access, you will be asked for a one-time password, so enter the password that will be sent to the email you are using for your account.

When the RoboForm administration screen opens My settings から Security choose.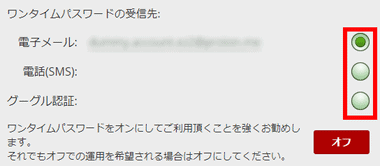 By default 電子 メ ー ル Is enabled andSMS -Google certification Can be changed to.
Phone (SMS)
Set the mobile phone number for phone (SMS).
Google certification
Provided on Android / iOS Google Authenticator App With the authentication method using, scan the displayed QR code with the app and set it.
Setting automatic logoff
The master password is stored in main memory (RAM) when you log in to RoboForm, and RoboForm will automatically log off for your safety if you haven't used RoboForm for 120 minutes by default, switch users, or lock your screen. The memory master password is cleared.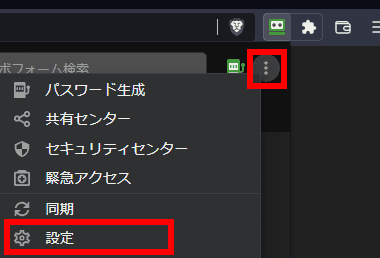 If you want to edit the automatic logoff time, start with the RoboForm Extension 3-Point Reader Configuration choose.

Set the time to log off.
Do not use master password Doesn't require you to log in to RoboForm without logging in, but you'll be prompted to enter your master password every 30 days.
Install RoboForm for desktop
The desktop version of RoboForm is an app that resides in the task tray.Offline access , Enter your app login information,Unlock with Windows HelloEtc. become possible.

download page It is in Other options for Windowsから RoboForm Windows Click "Install" to download the installer.
From the RoboForm Extension 3-Point Reader Installation Select to open the download page.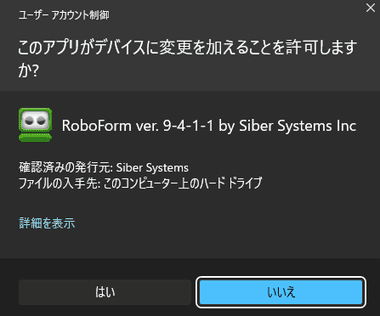 Launch the downloaded installer, and when the User Account Control dialog is displayed, click "Yes" to allow it.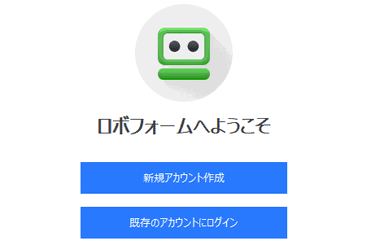 Enter the account information you created from "Login to an existing account" and log in.
Authentication method
In an environment where the desktop version of RoboForm is installed, you can log in with Windows Hello or fingerprint authentication in addition to the master password.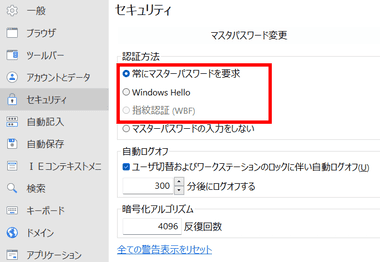 To change your login settings, go to the RoboForm icon in the system tray. Options Select and on the left sidebar Security から Authentication method Changed RoboForm authentication method in.
How to use RoboForm
RoboForm detects the login form of your website, so you can operate it seamlessly like the password function of your browser.

After starting the PC, RoboForm is logged off, so click the RoboForm icon in your browser and enter the master password to log in.
Register with RoboForm
Registering with RoboForm Login information と Personal Information The login information is website login and app login.
Website login information
In addition to automatic registration, website login information can be saved in irregular forms that cannot be handled by automatic registration.
Automatic registration of login information
RoboForm detects new logins and automatically registers.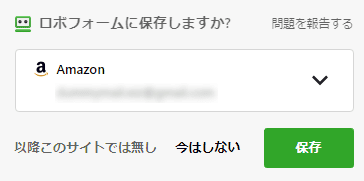 When you log in to a site that is not registered with RoboForm, a dialog will be displayed, so select the operation.
save
Register the login information you entered in RoboForm.
I don't do it now
I do not register, but the dialog is displayed the next time I log in.
No more on this site
Do not save login information and do not display dialogs in the future.

save Select to add login information.
Save form
Save the login information and input form because auto-registration does not work properly on sites that do not use the normal login form, such as banks.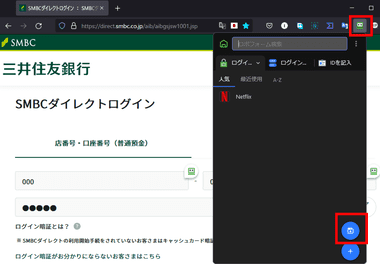 Enter all login information including passwordThen click on the RoboForm extension in your browser Floppy Click the icon.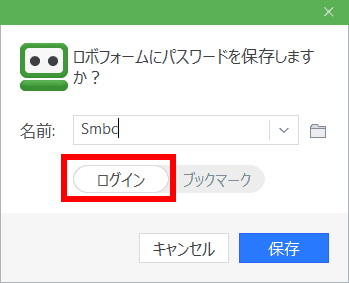 Edit the name Login "Save" after confirming that is enabled.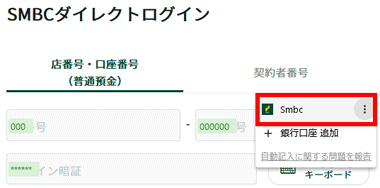 Automatic input will be possible from the next time.
Displayed in online bank Add bank account RoboForm icon identity You can't log in even if you add your account information to your identity.
App login form
Desktop version of RoboForm Can also register login information for apps that perform online authentication.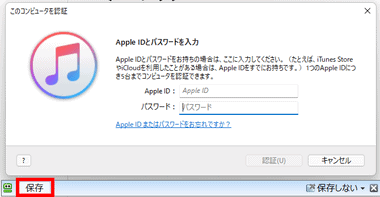 When RoboForm detects your app's login form, RoboForm's "Save" button will appear below the form, so if you want to register Press Save and then enter your login information to log in.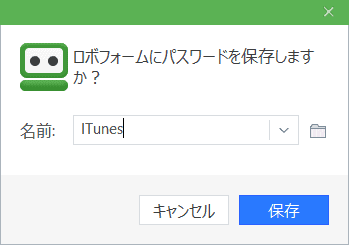 Name it and register it with "Save".
Identity-Personal Information
identity Then, you can register personal information such as name, address, date of birth, My Number, driver's license number, and use the bank account and credit card added to the registered personal information when filling out the form.

From your browser's RoboForm extension Enter ID choose.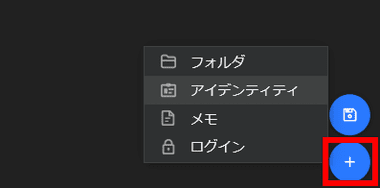 Click "+" identity choose.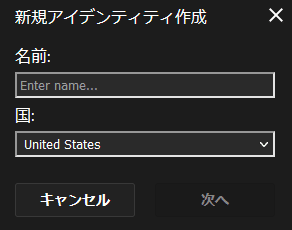 The new identity creation screen opens, so enter your name etc. according to the wizard to create.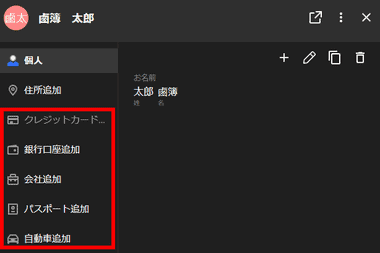 Select the item you want to add from the left sidebar and register your account, credit card, etc.
Login
The login information registered in RoboForm will display the RoboForm icon when the form is activated.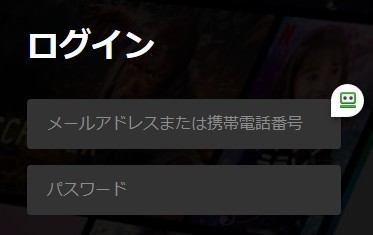 Click the RoboForm icon displayed on the form.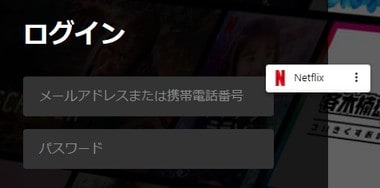 Since the registration information is displayed, select the login information to use, and the login information will be reflected in the form and login will be executed automatically.
App login
For apps too, RoboForm will be displayed when the form is activated.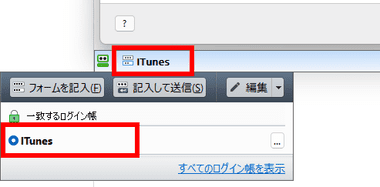 The application name registered in RoboForm is displayed at the bottom of the form, so if you click and select the login information to use, the login information will be reflected and login will be executed automatically.
Password generation
The password generator can generate a strong password by specifying conditions such as the number of characters, the presence or absence of symbols, and the presence or absence of numbers.

From extensions Password generator Click the icon.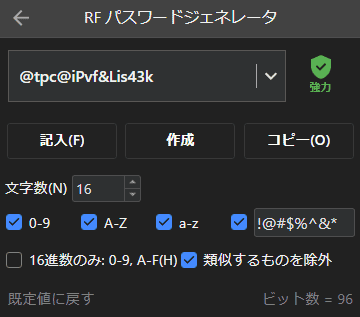 Set the conditions and click "Create" to generate the password, and if the password input form is displayed, click "Fill" to fill in the form, and when you log in, the RoboForm login information will be updated with the new password.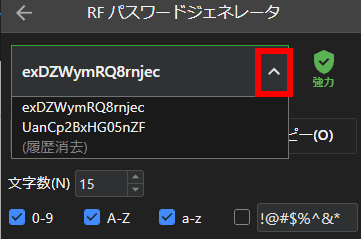 The created password can be referenced from the history.
Password import
RoboForm supports imports from major password managers as well as passwords stored in the browser.
Supported password managers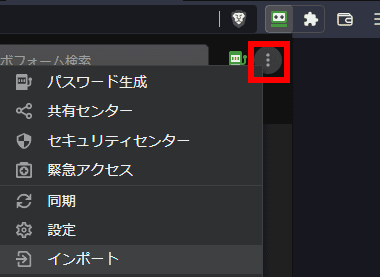 When importing from the extension's 3-point reader import choose.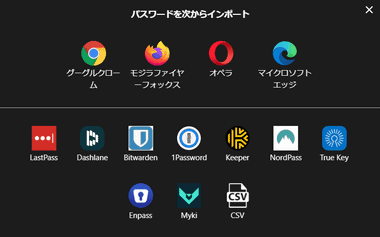 You can see how to export and import passwords by selecting what you want to import.
RoboForm data import
need to pay RoboForm EverywhereRoboForm's data is encrypted and stored on an online server, so if you use the same account, the data will be synced across multiple devices, but the free RoboForm doesn't have a sync feature, so you'll need to manually sync.Data export is only possible with the desktop version of RoboForm.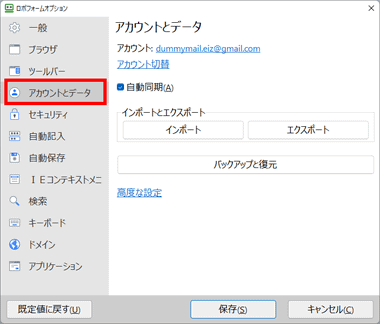 Export data from the RoboForm icon in the system tray Options OpenAccount and data Select Import and export Click "Export".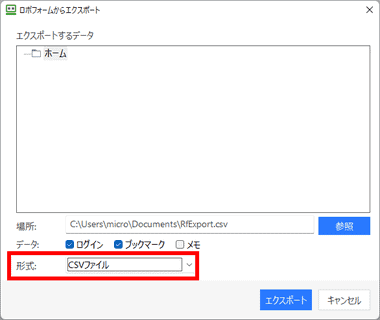 Output format CSV fileSet to.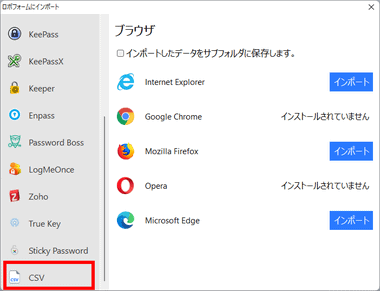 Import is Account and data で Import and export Open "Import" from the left sidebar CSV Select Import from file Specify the CSV file output by export with.
Device removal
RoboForm allows you to deactivate your device from the admin screen if it is stolen or lost.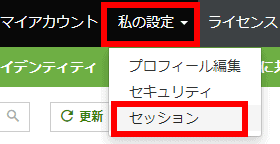 Click the RoboForm icon in the system tray HELP から RoboForm Account Management Do you choose RoboForm Account Management Page After accessing My settings Select a session from.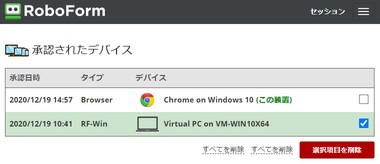 Approved device Check the devices you want to remove from and click "Delete Selection".

A confirmation dialog will be displayed, and the device selected with "Yes" will be deleted.
The deleted device will be an unregistered device the next time you start it, and you will be prompted to enter a one-time password if you have set up two-factor authentication.
How to buy RoboForm
RoboForm allows unlimited devices available with a single license and automatic synchronization between devices.
RoboForm Everywhere Purchase Page
The license is a subscription format that is not an automatic renewal, and you can choose from 1 year, 3 years, and 5 years (list price does not include tax).
If you want to change the currency used for payment, please use the upper right corner. currency Changed from the list of.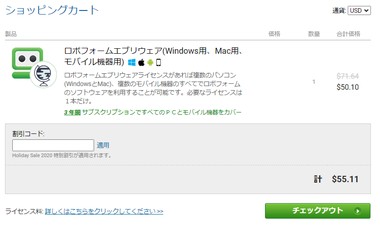 The price including tax will be displayed, so check out after confirming.

Payment is made by credit card or PayPal.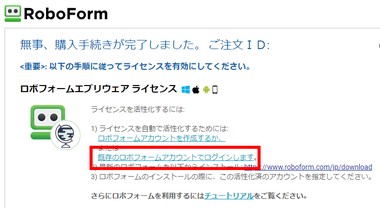 When the payment is completed, you will be returned to the RoboForm screen. Log in with your existing RoboForm account. Click the link.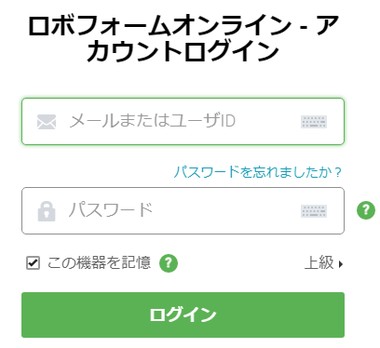 Enter your RoboForm login information and click Login.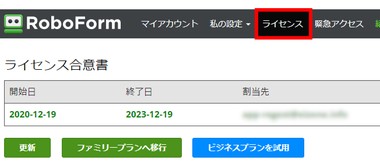 The purchased license is license You can check the end date with.
Related article

Enpass Password Manager, a highly secure password management software that is essential for securely managing huge passwords, was developed by Indian software vendor Sinew Software Systems […].