Required BD drive for ripping 4K UHD Blu-ray
4K UHD Blu-ray The intel sgx It cannot be played unless the hardware conditions such as support forUHD Friendly Drive , LibreDrive By using, it is possible to play even on a computer that does not meet the playback conditions of 4K UHD BD.
When watching 4K UHD BD on a computer,intel sgx A CPU and MB that support the was a requirement, but was released in 2020 11th generation Tiger lake から intel sgx Is not supportedFor,Tiger lake 4K UHD BDs cannot be played on the latest models with subsequent CPUs or models with AMD CPUs such as Ryzen, even with UHD BD drives.
UHD Friendly Drive
I used a specific version of firmware Made by ASUS / LG Of BD drive with BDXL supportWith, you can access the disc without the parental control of 4K UHD BD.
LibreDrive
Some models made by LG, ASUS, and Pioneer that have been rewritten to the firmware developed on the MakeMKV forum.Since you can access the disc without the restrictions of the firmware, you can avoid the viewing restrictions of 4K UHD BD.
UHD Friendly drive
UHD Friendly drive DVDFab , Leawo The support list is open to the public atMakeMKV ForumBut it is listed as a recommended drive.
HLDS BH14NS58 BL
HLDS BH16NS58
ASUSTek BW-16D1HT
ASUS Tek BC-12D2HT
In addition to the above models, Ultra HD Blu-ray drives used in FUJITSU / Dell / NEC notebook PCs LG BU40N Etc. are also supported.
ASUS BC-12D2HT does not support writing to BD-R / BD-RE.
Firmware update
The current model is makemkv Flash the firmware using the flash tools and firmware published in the forums for free UHD Friendly drive , LibreDrive Can be.
See below for firmware updates on MakeMKV

MakeMKV Beta, a free ripping app that can back up DVD / BD / UHD BD and output to MKV files without deterioration, is a lippi that implements the copy protection release function developed by Guinpinsoft […]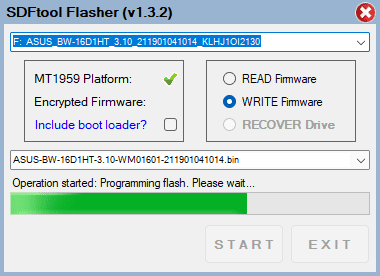 LibreDrive Customized the latest firmware MK firmware UseUHD Friendly drive Is the official firmware of the old version DE firmware To use.
MK firmware / DE firmware compatibility
Results when using MK firmware 16, DE firmware 1 with ASUS BW-3D10HT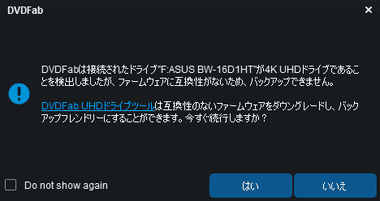 In DVDFab 12, drives updated with MK firmware will display a compatibility dialog and can read discs. An error occurred during processingTo do.
Drives supported by the DE Firmware pack
ASUS
BC-12D2HT / BW-16D1HT
LG
BH16NS40 / BH16NS50 / BH16NS55 / WH14NS40 / WH14NS50 / WH16NS40 / WH14NS50 / WH14NS60
DVDFab / Leawo UHD Drive Tool
DVDFab All-in-One , Leawo Prof Media Downgrades firmware UHD drive tool It is possible to downgrade the firmware of the model that is not supported by DE firmware.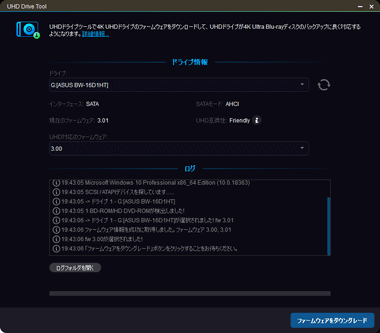 The drive is automatically analyzed to determine if the firmware can be downgraded, so the user simply specifies the firmware version to downgrade and the process is complete.
A tool to downgrade the firmware of certain UHD BD / BDXL playback drives DVDFab UHD Drive Tool is a Chinese software vendor DVDFab Software (formerly Fengtao Sof […]]

Leawo UHD Drive Tool is a Chinese software vendor Leawo Software (Shenzhen Moy […] in China.
4K UHD Blu-ray playback
You can avoid AACS 2.0 by using a UHD Friendly drive or LibreDrive, but you need a media player that supports 4K UHD BD for playback.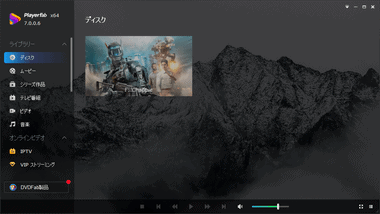 CyberLink Power DVD Ultra And Corel Win DVD Pro Besides, of DVDFab PlayerFab But you can watch it.

A media player that can play video files, DVD/ BD/ UHD BD, and IP TV PlayerFab Ultra HD player is a Chinese software vendor DVDFab Software (formerly Feng […]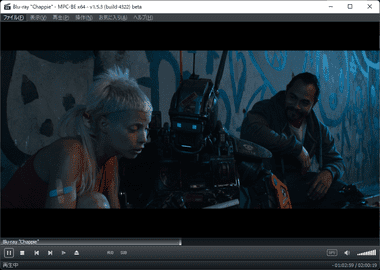 DVDFab Passkey for Blu-ray / RedFox AnyDVD HD With 4K UHD BD MPC , VLC It will be playable on media players such as.

DVDFab PassKey, a DVD/Blu-ray protection removal tool for DVDFab that also supports CPRM, is a copy guard developed by Chinese software vendor Fengtao Software […]
RedFox AnyDVD HD, a DVD / Blu-ray unprotection tool that has been revived, is a utility software that removes copy protection developed by Hong Kong software vendor RedFox Technology […]
Related article
Introducing Leawo's sale information, purchase procedure and license registration method Leawo is a brand of multimedia tools developed by software vendor Moyea Software based in Shenzhen, China, China […]