Video conversion app that supports upscaling and upmixing using AI
UniFab Is a Chinese software vendor DVDFab Software(formerly Fengtao Software) is a video conversion app that allows you to encode/transcode video files as well as edit such as cropping and effects. UniFab Pro allows for upscaling and upmixing using AI.
DVDFab Video Converter and similar in function, but DVDFab 12 Video Converter requires separate upscaling Enlarger AI , and the video codecs that can be selected are limited, while UniFab allows the selection of major video codecs and also supports normal upscaling without AI.
System requirements
Version 1. 0 Currently
OS: Windows 7/8/10/11
CPU: Intel Core i3 or higher
RAM: 4 GB or more
Storage: 40 GB or more free space
When using the AI ​​Enhancer function
OS: Windows 10/11 (64bit only)
CPU: Intel Core i7 (7th generation) 4 GHz or higher recommended
RAM: 16 GB or more recommended
Storage: 40 GB or more free space
GPU: Nvidia RTX series or higher (with 6 GB or more VRAM) recommended
Where to get the software
Installing UniFab
UniFab installer does not contain adware or spyware.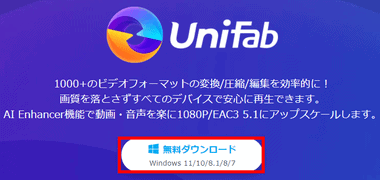 Download the installer by clicking "Free Download" on the UniFab download page.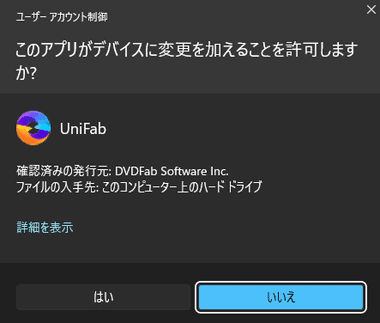 Launch the downloaded installer, and when the User Account Control dialog is displayed, click "Yes" to allow it.

When the setup wizard opens Custom Click , and if there is no problem with the license agreement, start installation with "Quick Install".
When the welcome screen opens, click "Trial".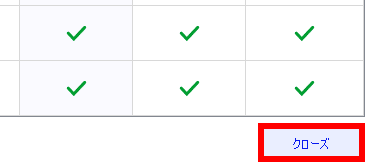 Since the function comparison table is displayed, click "Close".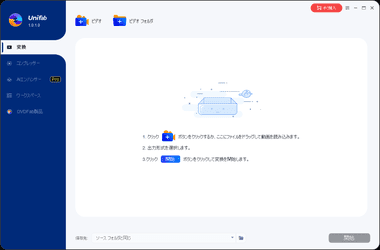 UniFab becomes available.
How to use UniFab
UniFab is conversion-compressor (Compression)・AI Enhancer The menu is divided in , but the procedure for adding videos and output settings is the same.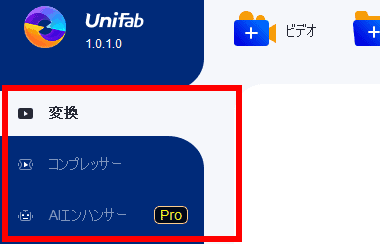 Select the menu you want to use from the left sidebar.
conversion
Convert file formats and video codecs, change resolutions, and more.
compressor
Files can be compressed and output, and the output size will be smaller even with the same settings as "Convert".
AI Enhancer
Upscaling and upremixing using artificial intelligence.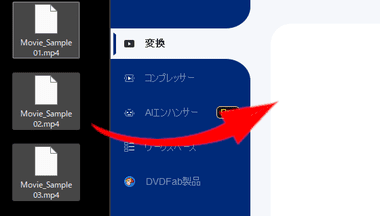 Add video files/folders to convert by dragging.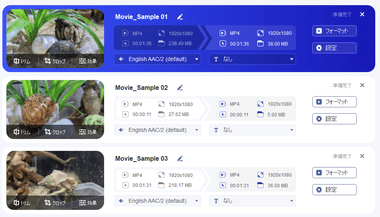 Multiple files can be set individually and batch output.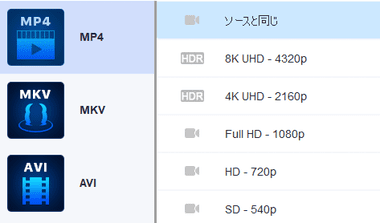 Specify the file format and resolution to be converted from "Format".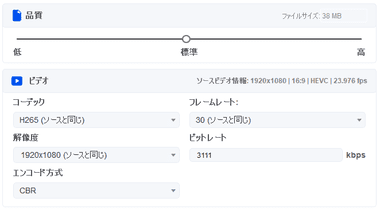 You can check and edit the codec, bit rate and frame rate to be used from "Settings".

if the source stores subtitles rendering (burning) or Remax Select (Store).

Destination Specify and output with "start".

Output progress and output tasks are Workspace Is displayed in.
AI Enhancer
UniFab Pro Available at AI Enhancer is a module using artificial intelligence,TensorFlow can be used to perform upscaling (higher resolution) and upmixing (multiple channels).
AI Enhancer is a heavy load on the computer and takes a considerable amount of time to process, so if you want to use it, you need specs comparable to a gaming PC.GeForce GTX 1650 It takes nearly two hours to upscale a three-minute video with an entry-level graphics card such as
TensorFlow
TensorFlow Is an open source framework developed by Google that supports deep learning, a technique for running TensorFlow on the GPU. TensorFlow GPU Support NVIDIA's GPGPU enables parallel processing by GPU CUDA Is adopted.
AMD ROCm ecosystem CUDA compatible, Intel OpenVINO Supports TensorFlow, soTensorFlow is available for non-NVIDIA graphics cards.
Deep learning
Deep learning (Deep learning) is an algorithm similar to neurons (nerve cells) that process and transmit information in the brain. neural network It is a machine learning that can perform various analyzes from one piece of information, and a general image enlargement algorithm analyzes a specific range of pixels to increase the approximate color, so the larger the enlargement ratio, the more The image quality looks blurry, but in theory, deep learning can be used to obtain clearer image quality than the source.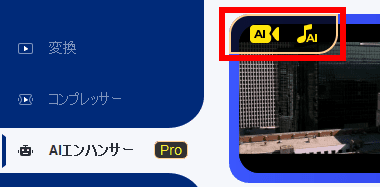 Tasks that use AI Enhancer have an AI icon.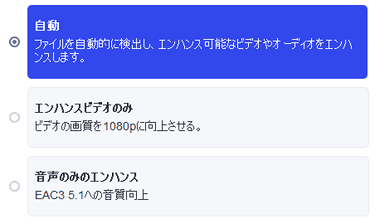 You can also set upscaling only or upmixing only from "Settings".
When outputting, download the video/audio plug-in.
image quality
AI Enhancer The image upscaled with is corrected for contours, but the aspect ratio is forced to 1980 x 1080 px, so if the aspect ratio of the source is different, the finish will be stretched vertically or horizontally.
Since the original is 720 x 304 px, it will be stretched vertically when upscaling with AI Enhancer.換-compressor In , a letterbox (black band) is inserted and the aspect ratio of the image is preserved.
Depending on the scene, the image quality will be like an oil painting or a crayon drawing, and an SD image quality video like a DVD will not have the same image quality as a Blu-ray.
Edit
editing is trim-Crop-Effect (Effects) are available.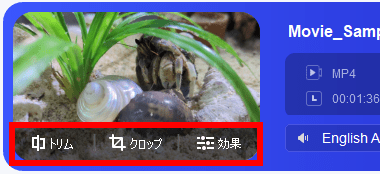 Select the menu displayed on the thumbnail.
trim
Edit the output range by cutting at the specified point.
Crop
You can set the output screen range (size) and rotate/mirror.
Effect
Apply color filters.
透 か し (Displayed when crop/effect is selected)
Add text/image watermarks.
字幕 (Displayed when crop/effect is selected)
Load external subtitle files and add them to your videos.
voice (Displayed when crop/effect is selected)
Adjust volume etc.
speed
Adjust playback speed.
Since the work screen opens, edit.
UniFab Purchase Instructions
UniFab License does not expire and can be permanently updated Indefinite edition And the license has an expiration dateSubscription version Is provided and the subscription version will be automatically renewed Cancellation procedureIf you do not, you will be billed regularly.
UniFab download page Select the edition to buy from.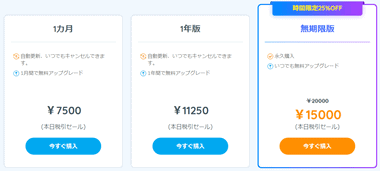 Click "Buy Now" in the plan you want to purchase to proceed with the purchase procedure.
After paying with a credit card, register as a member of DVDFab and activate the product with the registered email address and password.
Latest sale information and purchasing method ・ Cancellation of subscriptionSee the page below
DVDFab sale information and purchase procedure ・ Introducing license registration method DVDFab can remove the copy guard developed by DVDFab Software (formerly Fengtao Software) in China […]
Related article

Download Amazon Prime Video and Netflix content on your Android device StreamFab for Android is a Chinese software vendor DVDFab Software (formerly […]