Easy-to-use multi-functional organizer app ideal for personal use
UpNote is a multifunctional organizer app with Japanese language support developed by Mr. Thomas Dao ( Dao Xuan Dung ) in Vietnam. Evernote The user data is stored in Google's encrypted storage. Saved.
Plan comparison
Basic - free
・Number of memos: Up to 50
・Attachments: No
・Add table/code block : No
・Output : Impossible

Premium – $24.99 (Buy Out)
・Number of memos: unlimited
・Attachment: Yes (Maximum size 20MB)
・Add table/code block : Yes
・Output: Text format, Markdown, PDF, HTML

See below for Android version
Upgrade to premium version is available for Android/ iOS/ Mac version.

An easy-to-use multi-functional organizer app that is ideal for personal use UpNote is a multi-functional organizer app that supports Japanese, developed by Mr. Thomas Dao ( Dao Xuan Dung ) of Vietnam […]
System requirements
Version 6 Currently
OS: Windows 10/11
Where to get the software
Installing UpNote for Windows
Create an UpNote account if you don't have one.

Microsoft store download page Click "Get in Store app".

A dialog will appear, so select "Open Microsoft Store".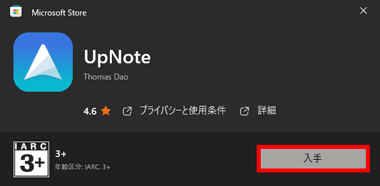 The Microsoft Store app opens, so start installing with "Get".
After the installation is complete, click "Open" to start UpNote.
Sign in to sync your notes Tap.
Register now Click
Enter your email address and password, and if there is no problem with the terms of use and privacy policy I agree to the following Check the box and click "Register" to complete.
edit lock
UpNote has an edit lock setting by default to protect your notes from accidental edits.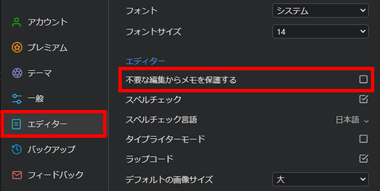 Configuration から Editor Select Protect your notes from unwanted edits To enable.
on the toolbar when protection is enabled Edit An icon will be displayed, and you will need to click the icon to edit the memo.
backup
UpNote is available for Windows and Mac only with an automatic data backup feature.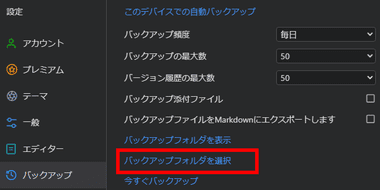 Set the backup frequency, etc. Select backup folder Specify the backup data save destination from .
Web Clips – Browser Extension
If you want to capture the web page you are viewing in your browser as a memo, install the browser extension.
Support browser
Edge and Brave Chromium browsers can use Chrome extensions.

depending on the browser you use chrome web store-Firefox ADD-ONS Install the extension from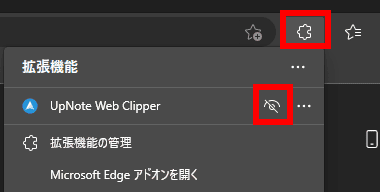 added to the extension UpNote Web Clipper pin the

If you want to clip a web page, save it as a note Open the web page and click the UpNote icon in Extensions.

When the dialog is displayed, click "Open" to add the contents of the page to the memo.
How to use UpNote for Windows
UpNote's free version also offers a nearly full-featured editor, with no restrictions on the devices or traffic you can access.
Add a new memo by clicking "New memo" on the upper right.

The first line of the memo defaults to Heading ( H1 ) and is automatically recognized as the memo title.
The editor is rich text, but you can use markdown notation,# # #When UpNote recognizes markdown syntax, the code part is hidden and displayed in the editor with the formatting reflected.
To change the format of the first line Configuration Of Editor It is in New memo first line style Edit with.

Insert images and checklists are available even in the free version.
To delete a note, click the three dots on the toolbar Move to trash choose.
Manage notes
UpNote notes notebook と Tag , and notebooks can be nested.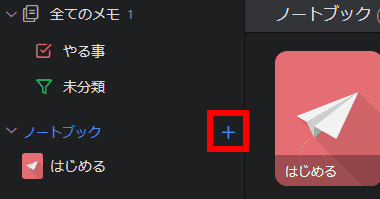 A notebook is like a folder, if you want to create a new notebook, go to the left side panel and set the notebook name and cover from the "+" of Notebooks.

If nesting in an existing notebook, from the 3-dot leader of the notebook you want to add new notebook choose.
at the bottom of the note add to notebook Click to specify the destination.

Notes that are not sorted into notebooks are Uncategorized , and if there is a checklist in the note things to do ( ToDo ) automatically.
Tag
UpNote's tags are the same as HTML's anchor tags and can be moved to the place where the tag is inserted.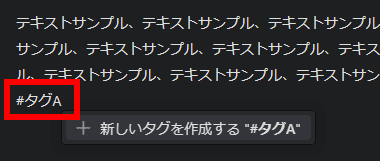 where you want to add the tag # (tag name) Enter + Create new tags Click to add a tag and open the left sidebar. TagIs displayed in.
Heavy use of tags clutters the left sidebar, so infrequently used tags can be found in the context menu. Remove from sidebar Hide with.
Pinned
By pinning a memo, you can pin it to the top of the list.

From the notes toolbar pin Click the icon.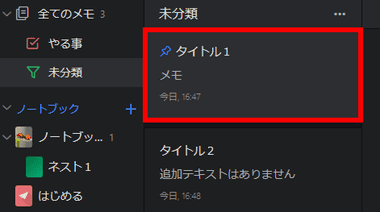 Pinned notes are pinned to the top of the list.
ク イ ッ ク ア ク セ ス
Frequently used memos can be registered in Quick Access and opened directly.

To add to Quick Access, from the Notes toolbar ★Click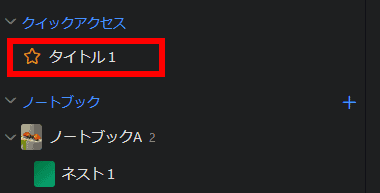 Added notes are in the left sidebar ク イ ッ ク ア ク セ スIt can be accessed from.
Restore from version control
Since version history is enabled by default in the Windows version of UpNote, history is saved up to 50 versions by default, and can be restored from any version.
If you want to restore a note from history, from the note's three-dot reader Version history choose.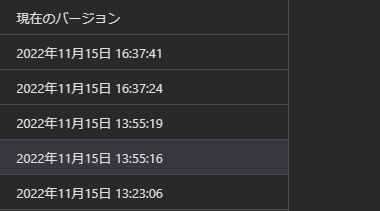 If you select Version History, the contents of the memo will be previewed and rollback will be executed with "Restore".
Publishing notes
UpNote notes can be made public by issuing a URL.

To publish a memo, Open the memo you want to make public. Total Click the icon.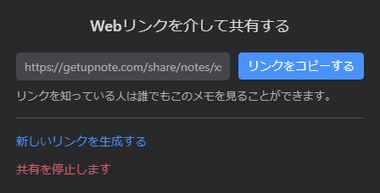 A link will be issued to access the note.
Related article

An easy-to-use multi-functional organizer app that is ideal for personal use UpNote is a multi-functional organizer app that supports Japanese, developed by Mr. Thomas Dao ( Dao Xuan Dung ) of Vietnam […]