A secure and simple VPN app with a zero-logs policy
VyprVPN is a Swiss VPN provider Golden frog Encrypt the DNS server with a VPN app developed by Zero Knowledge VyprDNS and Adopt a zero-log policy that does not store user active logs, protecting user privacy at the top level.
Swiss Federal Data Protection Law
Golden frog is based in Switzerland is not a territory of the General Data Protection Regulation (GDPR) enforced in the EU and has been amended in accordance with the GDPR Swiss Federal Data Protection Law ( FADP/ DPA ) protects personal information.
VyprVPN operates out of US locations Golden frog is incorporated in Switzerland.
transparency
U.S. Cybersecurity Company Becomes Independent Third Party in 2018 Leviathan Security Group audited byレポートis published.
Benefits of using a VPN service and indicators when selecting a VPN provider Using a VPN service offers the benefits of secure communication, concealment of communication content, and anonymization of communication, and the location of the connection source by specifying a connection server. […]
System requirements
Version 4 Currently
OS: Android 7.0 or later
Where to get the app
Windows version

A secure VPN service that adopts zero-knowledge VyprDNS and a zero-log policy VyprVPN is a VPN service operated on a completely in-house server developed and provided by Swiss VPN provider Golden Frog […]
Data collected
Email Address

crash log

Information about app performance

Device or other ID (IMEI number, MAC address, Widevine ID, Firebase ID, advertising ID, etc.)
Install VyprVPN for Android
VyprVPN requires a login to use, so create an account when installing the app.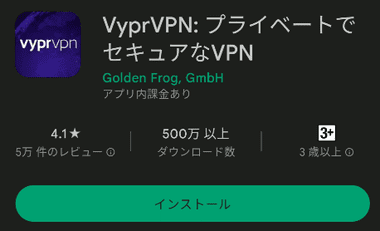 Install the app from the Play Store.

Once installed, launch VyprVPN andAccountIf you have, tap "Login", if not, tap "Sign up".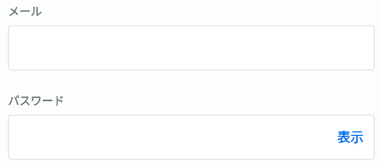 Enter your email address and password to "Sign Up".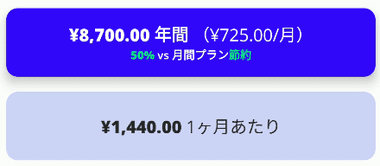 Select the price plan you want to purchase.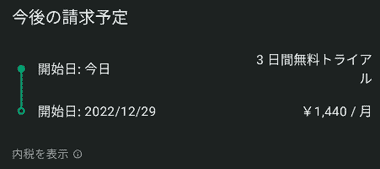 After confirming the billing date and tapping "Subscription" to purchase, a 3-day trial period will start.
public wifi protection
Automatically enable VPN when connecting to non-whitelisted Wi-Fi networks.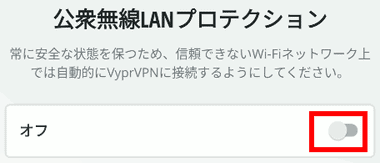 Customization から public wifi protection Tap public wifi protectionTurn on.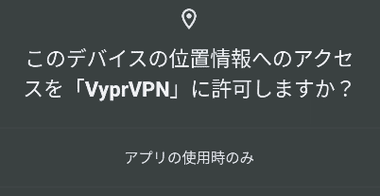 Since access permission to location information is required, tap "Set location information permission" and when the dialog is displayed Only when using the app choose.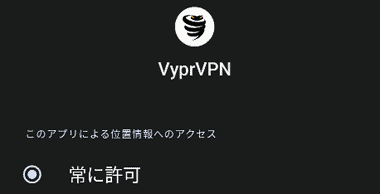 Tap "Set location permissions" again Location authority it becomes a screen Always allow choose.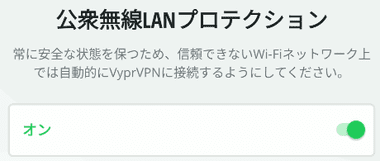 public wifi protectionTurn on.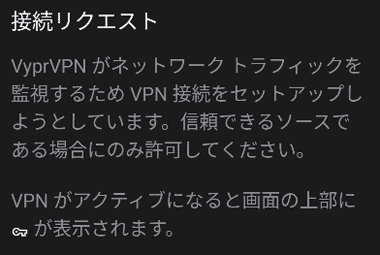 When the dialog is displayed, click "OK".
Reliable network
public wifi protection When is enabled, the Wi-Fi connection becomes a VPN connection, so if you do not want to use the VPN when connecting to Wi-Fi at home, etc. Reliable network Add to whitelist as


for a secure Wi-Fi connection public wifi protection Of Add a trusted network Tap to add networks from detected SSIDs to add to the whitelist.
Kill switch
If you use a kill switch turn off the switch To enable.
Kill Switch ) is a feature that blocks connections to unencrypted DNS servers to keep the system online if the VPN connection is interrupted for any reason.If enabled, anonymity and privacy protection can be ensured, but the Internet will be blocked until the VPN connection is restored.Is done.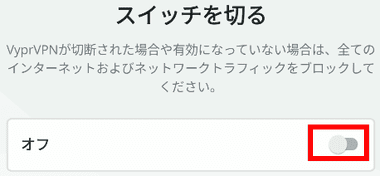 Customization から turn off the switch Tap turn off the switchTurn on.
protocol
The protocol is both speed and security by default wire guard is selected, depending on the environment OpenVPN or VyprVPN's own Chameleon You can choose the protocol.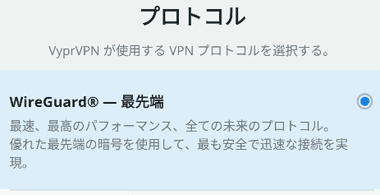 Customization から protocol Tap to select the protocol to use.
wire guard
A protocol that consumes less system resources, is fast and uses state-of-the-art encryption technology.
Chameleon
VyprVPN's proprietary protocol allows VPN traffic to be monitored and bypassed.
OpenVPN
A stable and reliable protocol.
When Chameleon/OpenVPN is selected Configuration から MTU (maximum data size during communication) can also be set.
DNS
To ensure anonymity DNS Is the default Vypr DNS To use.
connect on android startup
public wifi protection to enable to monitor your Wi-Fi connection. connect on android startup To enable.



Customization から connect on android startup Tap connect on android startup Turn on.
Always connected
public wifi protection without whitelisting atconnect on android startup If you enable it, you will be virtually always connected, but in Android's VPN settings Always connected can also be enabled.



Android Configuration から Network and internet Of VPN OpenVyprVPN , tap Settings.

Always-on VPN To enable.
Block non-VPN connections Activating has the same effect as a kill switch, blocking your internet connection until you connect to a VPN.
How to use VyprVPN for Android
VyprVPN connects to the nearest server when you tap the Connect button.
・Number of devices that can be connected simultaneously with one account: Up to 1 devices
・Connection server : 70 countries
· P2P connection: Support

・Streaming service: Supported only in some regions such as the United States, Canada, and Germany
・Connection to Onion domain : Support
・Traffic monitoring avoidance enhancement function : Not supported
・Malicious domain blocking function : Not supported
・VPN traffic block avoidance function: Chameleon protocol


Of the toolbar 接 続 から fastest server Tap "Connect" to connect to the nearest optimal server based on server distance and server load.


To change the connection server, tap Current Server and select from the displayed server list.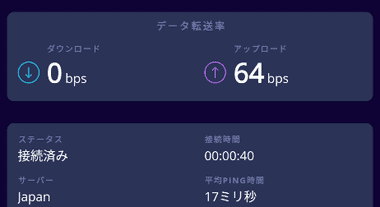 When connected, the location of the connection destination and connection time are displayed, but you can check the detailed information of the connection by tapping the graph icon in the upper right.
Check for DNS leaks
Use a dedicated site to check if the IP address is properly protected when connecting to the VPN.

With a VPN connection established ipleak.net Access toYour IP address If the country of the VPN server connected to is displayed, the IP address is anonymized.
Unsubscribe
Your subscription will auto-renew, so unsubscribe if you no longer want to use it.



Play storeOpen the app and tap the account icon Payment and subscription から Subscription choose.


Select VyprVPN and execute cancellation with "Cancel subscription".
Related article

A secure VPN app that applies kill switch and DNS leak countermeasures even on the free plan TunnelBear VPN is a VPN service provided by Canadian VPN provider TunnelBear LLC […]