Wake On LAN settings to start Windows remotely
Wake On LAN (WOL) is a function implemented by a network adapter (NIC) that can send a signal called a magic packet to the NIC to start a personal computer.
Even if the computer to which the power cable is connected is shut down, standby power is supplied to the motherboard, so when WOL is enabled, Start button It will be possible to boot the PC from a local network or an external network using an application that replaces.
Power status
ACPI (Advanced Configuration and Power Interface) is a power management standard.S0 ~ S5 The sleep state up to is specified.
| | |
| --- | --- |
| S0 | Normal operating condition |
| S1 | stand-by |
| S2 | suspend |
| S3 | sleep |
| S4 | Pause / hibernation (hybrid shutdown) |
| S5 | Power off |
sleep (S3) is a state where power supply other than memory is stopped, and Windows is shut down. Power off (S5).
Shutdown / Hybrid Shutdown
Windows 8 or later Windows shut down The Power off Of S5 から S4 Of Hybrid shutdown ,All devices have the lowest power state (D3) It has becomeWake On Lan booting from classic shutdown (S10) and hybrid shutdown (S11) states is not supported on Windows 5/4.
Microsoft Hardware Dev Center Ethernet
· Wake On Lan is only supported from sleep (S3) or hibernate (S4) state.· Wake On Lan is not supported in Classic Shutdown (S5) and Hybrid Shutdown (S4) states.

Windows settings
On windows Network adapter-Static IP address settings Besides Shutdown settings I do.
Network adapter settings
WOL is a feature implemented by the network adapter, so enable WOL on the network adapter.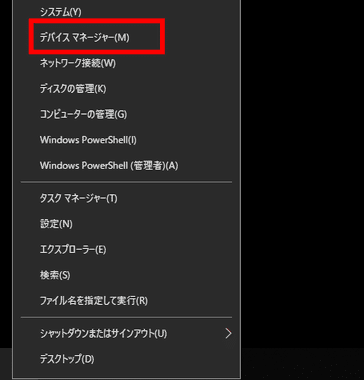 Windows 10/11 スタート From the context menu (WIN + X) Device manager choose.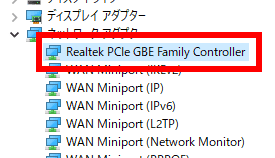 Network adapter Expand and double-click the network adapter you are implementing.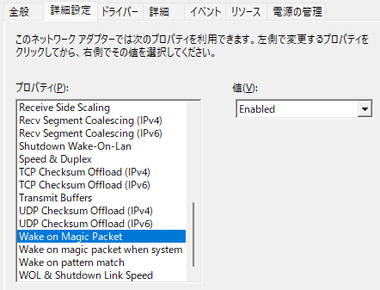 Property Because it opens Advanced Setting On the tab Wake On ~ , Small & Medium Entreprises Find the item value The Effectiveness Set to (Enable).

Network adapter Property To Power management If you have tabsAllow this device to bring the computer out of standby と Allows the computer to be released from standby only with Magic Packet Check both of.
Fixed IP address
When using the broadcast address described later, there is no problem even if the IP address is not fixed, but it is recommended to fix it when the support status of the router is unknown.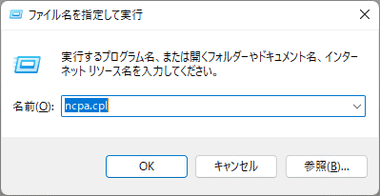 Win+R With the key Run Call,ncpa.cpl Enter Network connection open.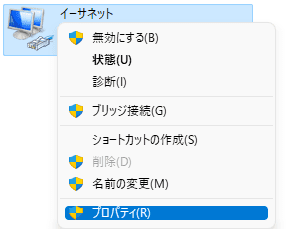 From the context menu of your network adapter Property choose.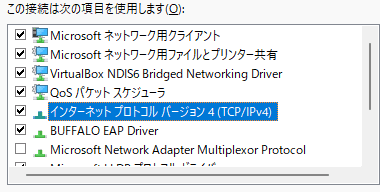 Internet Protocol Version 4 (TCP / IPv4) Select and click "Properties".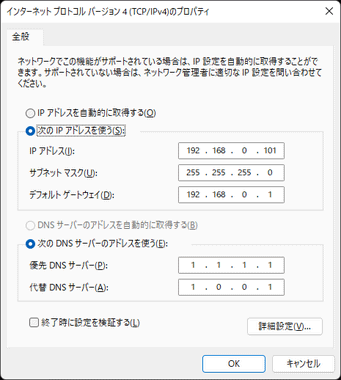 Use the following IP address Check the boxIP address-sub-net mask-default gateway と DNS server Enter.
IP address
Set the host address (end value) in the range 1 to 254 (1 to 2 because the router uses 254) to match the router's initial value (default gateway IP address).
sub-net mask


255.255.255.0

Set to.
default gateway
The IP address used by the router.
Preferred DNS server
Enter the same IP address as the default gateway (ISP DNS) or the IP of the Public DNS server.
Alternate DNS server
Enter the IP of the alternate DNS server provided by your ISP or Public DNS server, or leave it blank if you are not sure.
Shutdown settings
Classic shutdown S5 And hybrid shutdown S4 Is not supported by WOL, but on Windows 10/11 Shutdown settingsBy changing, you may be able to boot the computer in S5 / S4 state with WOL.
For Windows 10
Default setting in Windows 10 Disable hybrid shutdown By S5 There is a possibility that the computer in the state can be started by WOL.
スタート From the context menu (WIN + X) Power options choose.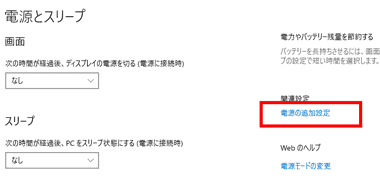 Related settings It is in Additional power settings Click
On the left sidebar Select the operation of the power button choose.
Change settings that are not currently available Click
Enable fast startup Uncheck and close the screen with "Save changes".
If "Enable fast startup" is not displayed
When you perform a major upgrade of Windows 10 Enable fast startup と Hibernation May be hidden.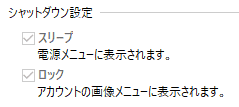 Shutdown settings To sleep と On the rocks Only displayed.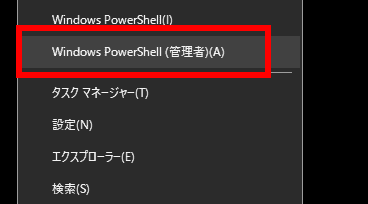 When redisplaying スタート From the context menu of Windows PowerShell (administrator)Start.

In Windows PowerShell started Powercfg.exe / hibernate on Enter.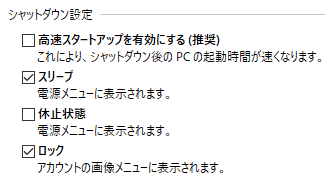 Close Windows PowerShell Power options When you openEnable fast startup と HibernationIs displayed.
For Windows 11
Disable hybrid shutdown on Windows 10 S5 In some cases, a computer that started with WOL from the state cannot start with WOL after upgrading to Windows 11.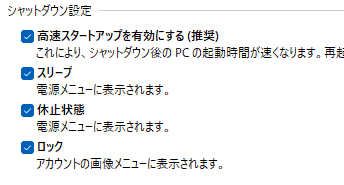 S5 (shutdown)You can't boot from S4 (hibernate) Since it is possible to boot from, set the shutdown setting Hibernation To enable.

On the power button Hibernation Is displayed, so use your computer Hibernation If you finish with, you can start with WOL.
BIOS / UEFI settings
WOL works before Windows boots, so in BIOS / UEFI Boot from PCIe と Boot from LAN Setting is required.
Typical keys to call the BIOS / UEFI setup are F1, F2, F8, F10, F12, Delete Refer to the manual because it depends on the PC manufacturer and motherboard.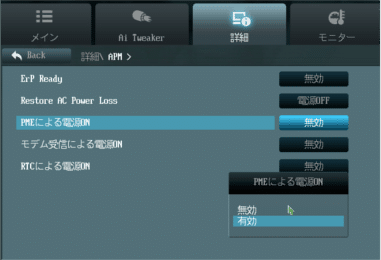 Details , Advanced On the tab APM (Advanced Power Management) ACPI ConfigurationOpen the item labeled asSmall & Medium Entreprises (Power Management Event) Power on by , PCIE Device Power ONSuch,Enable PCIe booting (Enabled).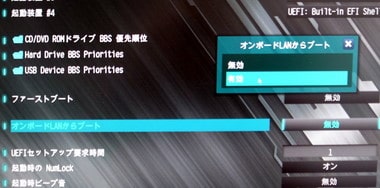 BootOn the tab Boot from onboard LANIf there is an item like EnabledAnd when the change is complete ESC Press the key several times to open the exit screen andSave settings After that, start the PC normally and complete.
Router settings
The WOL signal sent to the router is MAC address , Node ID It contains a unique identification number attached to the network adapter, also known as, and the router sends a WOL signal to the IP address previously associated with the MAC address.
The standard that identifies the MAC address from the IP address ARP (Address Resolution Protocol) where the data was saved ARP table However,Depending on the router model, the ARP table will be destroyed after a certain period of time.Therefore, even if a magic packet is sent, the router loses track of the IP address associated with the MAC address, the transmitted WOL signal does not reach the specified PC, and as a result, the PC does not start.After setting WOL, the PC can be shut down and started within tens of minutes, but if you try to start with WOL after waiting for several hours or more, a special phenomenon occurs that it does not respond..
Port open
The router that connects the Internet to the computer has security to protect the computer from threats such as worms, and the router also sends WOL signals from the outside. Suspicious signal It is necessary to set the signal to pass because it is cut off.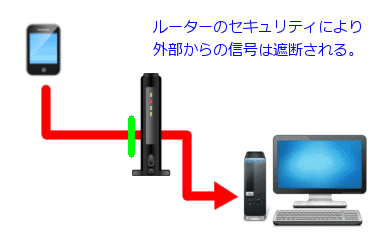 Routers on the road to the internet port Since we are monitoring to prevent suspicious persons from passing through, we open one door (port) to allow communication from the outside to pass through. Port open Set.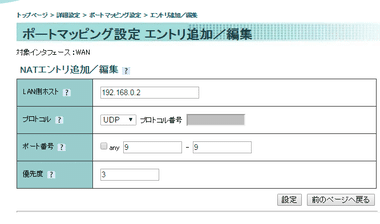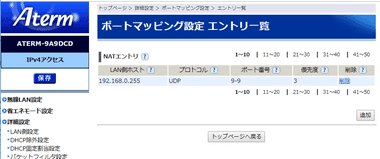 Access the router management screen Port mapping settings Edit on the port open setting screen.
LAN side host: IP address of the booting PC
Protocol: UDP
Port number: Port number to open (It is common to use port 9)
Boot switch device settings
After setting up Windows, BIOS / UEFI, and router Start button Set the device to be.
WOL app for Windows

WakeOnLAN, an open source multi-functional Wake On Lan app for Windows, is a free computer developed by Basildane in open source to remotely boot a PC with Wake on LAN […]
WOL app for Android
Wake On Lan, an Android app that sends WOL magic packets, is a simple, easy-to-use, free magic packet sending app developed by Mike Webb that has no ads and minimizes access rights […].
Use of broadcast address
If you can shut down the PC after opening port 9 and start it within tens of minutes without any problem, but WOL does not respond after a few hours or more. Suspicious ARP table destructionTherefore, use the broadcast address.
The broadcast address will be used when the WOL signal arrives at the open port.Send WOL signals to all devices connected to the routerTherefore, the signal reaches the device even if the ARP table is destroyed.
Aquila Wake On LAN By default Broadcast address(255.255.255.255) is set, and it is recommended to use the broadcast address unless there is a specific reason.
Related article
How to display Quick Launch (Quick Launch) that was hidden from Windows 7 Quick Launch (Quick Launch) was able to be displayed on the taskbar up to Windows Vista Windows implemented […]